This post may contains affiliate links for your convenience. If you make a purchase after clicking a link we may earn a small commission but it won't cost you a penny more! Read our full disclosure policy here.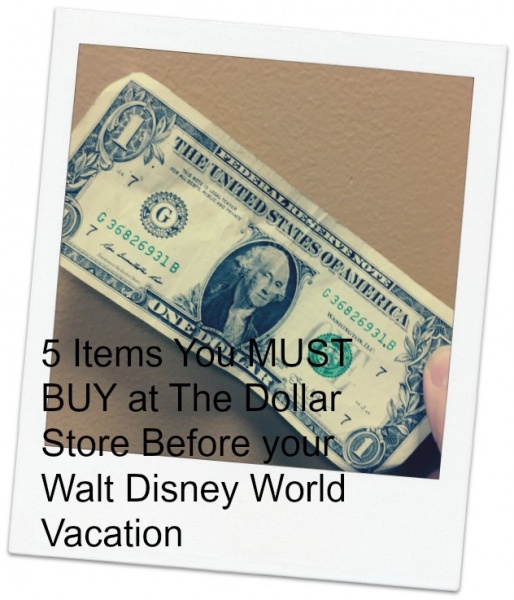 Stretch your vacation dollar at your local Dollar Store
The Dollar Store can be a treasure trove for Walt Disney World Vacationers. Let's face it Walt Disney World Vacations are not cheap. Saving some money purchasing commonly needed items for a dollar beforehand, rather than MANY MANY dollars after the fact can be a budget saver.
1) Reusable Water Bottles
Walt Disney World is HOT. With temperatures in the upper 90s during parts of the year and a HIGH humidity index, making sure your family drinks enough is crucial to enjoying the parks ( and staying HEALTHY!!)  Bottles of water in the parks can be three dollars each or a snack credit. Staying hydrated is important, but wouldn't you rather save that money or credit for a Mickey Bar or Dole Whip? A quick tip is that all counter service locations will give you a free cup of ice water. Bringing your own reusable water bottle to pour this into gives you a handy refillable drink on the go.  Picking one up at the dollar store is a great way to save some cash. You can sometimes even find Disney themed water bottles.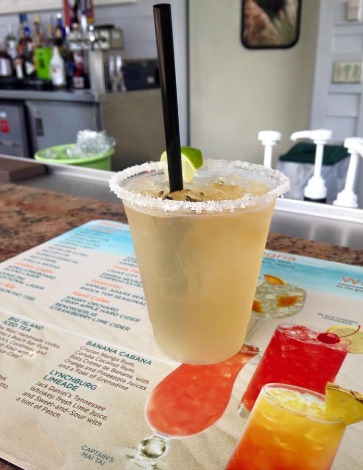 Save money on water, so you can drink more of these!
2) Drink Mix Single Serving Size
The downside to the tip above is that the free water from the counter service restaurants is filtered tap water. Some people dislike the taste of Florida tap water. If you would rather have lemonade or an iced tea, drink mix singles are a great product. You can buy a package of 6 ahead of time at the dollar store and throw a few in your park bag. Mix in your reusable bottle with your free water and voila,  a refreshing and hydrating drink for pennies on the dollar.  You can even find these single serving packets in sports drinks to help replace some of the electrolytes you are losing sweating all day in the parks
3)Souvenirs
Everyone wants to take home a little something from their trip. Whether it is that special shirt with your favorite character, a frame to hold your vacation memories or another trinket, for many souvenir shopping is an important part of a vacation experience. When traveling with small children however it can be easy to go overboard on gifts and souvenirs. Between rides that end in a "gift shop" and kids with a case of the " give mes" it can be easy to overspend. Visiting the dollar tree before you leave and picking up a few Disney themed toys can do a lot to cut down on overspending in the parks. At the dollar store you can often find fun Disney trinkets such as pens, puzzles, " magic" towels, and even plastic action figures for only a dollar each. One strategy I use is to tell my son that Mickey and Goofy will be dropping off a special gift for him during the day at the hotel, but ONLY if is a good boy who listens and doesn't whine for souvenirs. Then I hang back a few minutes and put the toy under his pillow while his Dad takes him down to the lobby. Using the dollar store in this instance is a great way to stretch your dollar and bring a little extra Disney Magic to your family
4)Ponchos
It rains a whole lot in Central Florida. From June- September almost every day has at least a mid afternoon pop up storm that rolls in after lunch time. In order to stay dry and continue your planning it is important to have a plan to deal with the weather when touring Walt Disney World during these months.  Some people plan for a break at the resort, others plan for a sit down meal or a show, but the best way to maximize time in the park is to keep on touring. Since many people leave during the downpour the lines can be very manageable during a sudden storm. Disney anticipates people will want to stay in there parks during rain showers and sells ponchos for over nine dollars EACH. Or you can buy them for a buck each at the dollar store and use that extra cash for more snacks! YUM!
5) Glow Sticks/ Glow Products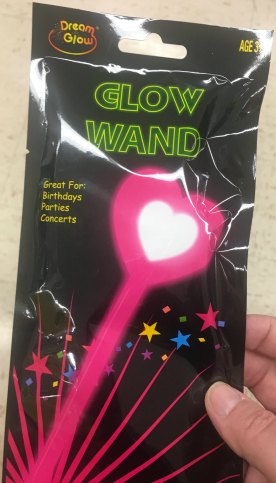 This cute heart glow wand was one dollar
Night time spectaculars and firework shows are a favorite of most Walt Disney World Resort Guests. Now with night time entertainment happening MOST nights in all four parks, it is even more likely that you will be seeing fireworks or another form of night time entertainment at least once during your vacation. Kids love all the glowing fun toys that can be bought for quite a few dollars at the carts that come out right before the show. The dollar store can save your wallet in this case too. Pick up a BUNCH of these in all sorts of colors and sizes and hand them out to kids waiting for the show. A great way to spread some Disney Magic around and save a bunch of money. I also like to get holiday themed glow products for events such as Mickey's Not so Scary Halloween Party and Mickey's Very Merry Christmas Party.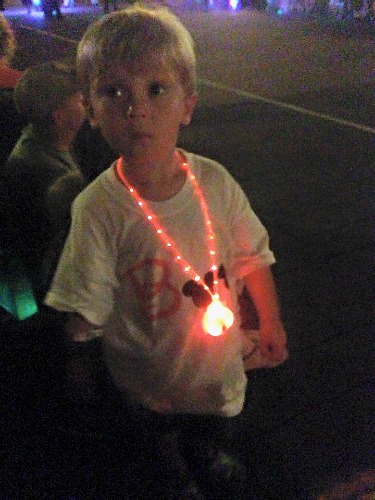 You too can look this cute waiting for the Boo to You Parade with your one dollar glow necklace!!
What are some of your favorite things to buy at the Dollar Store? Share your suggestions in the comments!
Did you like this article? Make sure to share it with your friends! Check below for easy ways to share!
Incoming search terms:
https://www themouseforless com/blog_world/dollar-store-items-you-must-buy-walt-disney-world-vacation/