This post may contains affiliate links for your convenience. If you make a purchase after clicking a link we may earn a small commission but it won't cost you a penny more! Read our full disclosure policy here.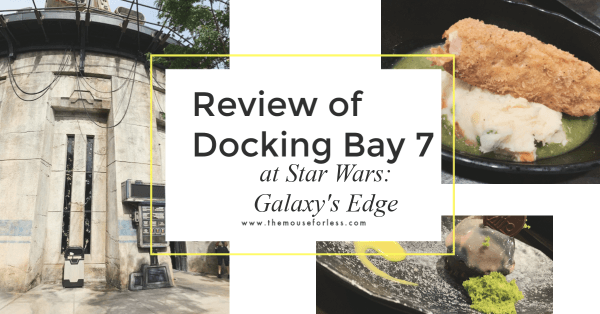 This past weekend, I was able to experience the Annual Passholder preview of Star Wars: Galaxy's Edge. Walking into the land, I was instantly mesmerized. The land is full of great detail that needs to be explored, but as a non-Star Wars fan, I didn't feel like I was "missing" anything either. I know enough to get me by, but am not entrenched in the details. My biggest suggestion for those visiting the land is to explore the land first. Get a good understanding of where things are and you'll be able to enjoy things a little better.
For those who want to see my experience in the land, make sure you go back and look at our Instagram feed. (Which PS: we will have a presence at the D23 Expo this weekend, so we'll be posting lots of content from the event!)
Anyway, let's get to the food of Star Wars: Galaxy's Edge, because it is Foodie Friday, after all.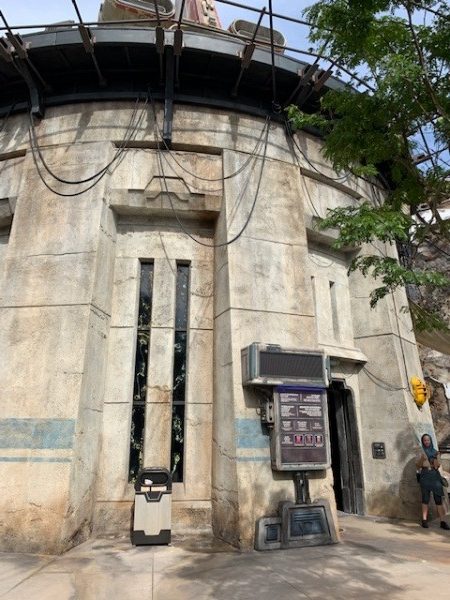 Walking into Docking Bay 7 feels a little industrial….which makes sense….it was an old hangar. There are also details that abound here, so make sure you take a good hard look around. I thought there could be a tad more seating inside, but know there are some places to sit outside. It definitely reminded me of Satu'li Canteen though.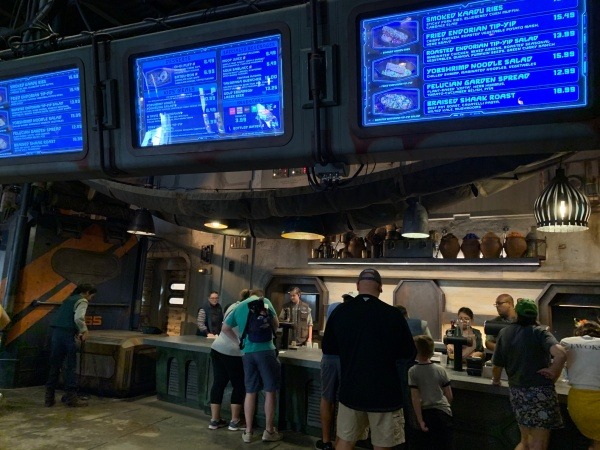 Once you place your order, you'll head up to the counter to retrieve your food. This is a traditional counter service restaurant, for sure.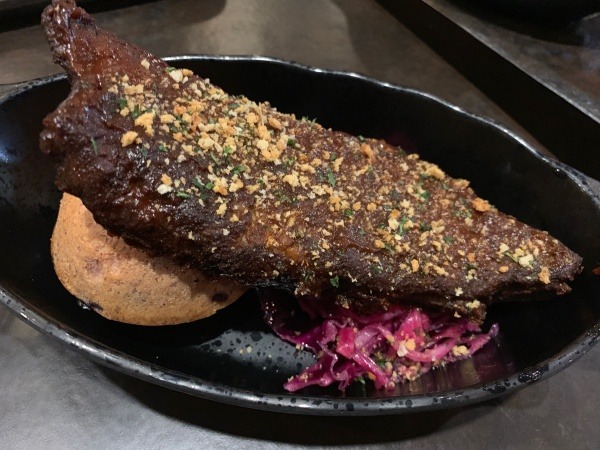 We ordered the Smoked Kaadu Ribs, which are Sticky Pork Ribs, Blueberry Corn Muffin, Cabbage Slaw. These were my biggest disappointment. This was a tiny amount of ribs. I've had ribs at restaurants outside of Walt Disney World for not much more than this and they were WAY bigger. I felt like these were the ribs you serve a small child, not a grown adult. I also found the ribs to be very dry, but have heard that others had better luck. In addition, I found the cabbage slaw to be uneatable. They were exceptionally vinegary. The best thing was the blueberry corn muffin and I don't even like blueberries, but this muffin was quite delicious.
We also got the Fried Endorian Tip-Yip, which is Fried Chicken, Roasted Vegetable Potato Mash, Herb Gravy. I liked the chicken and thought it had good flavor. I even liked the herb gravy, and the mashed potatoes were quite delicious. What I did not enjoy was that it was one chicken cutlet that wasn't much bigger than a large chicken tender. One…..for $15.49. Seriously…I needed at least one more to get the value out of this one.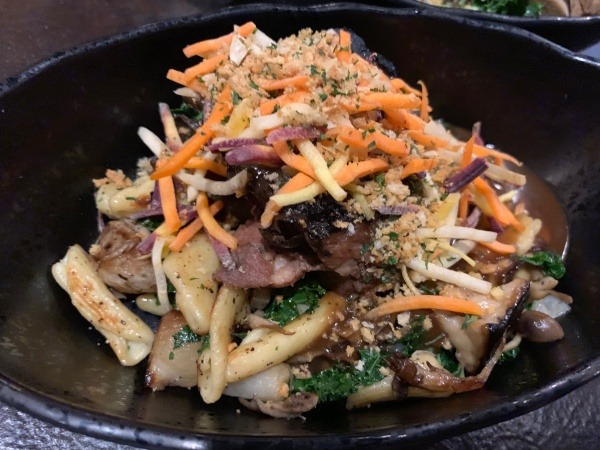 I also tried the Braised Shaak Roast, which is Beef Pot Roast, Cavatelli Pasta, Wilted Kale, Mushrooms. The flavors here were exceptionally good. I liked them a lot. I think flavor-wise, this is a winner.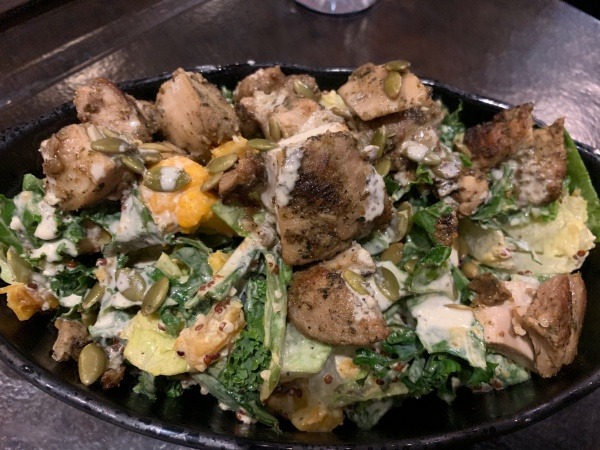 The last entree I tried was the Roasted Endorian Tip-Yip Salad, which is served with Marinated Chicken, Mixed Greens, Roasted Seasonal Vegetables, Quinoa, Pumpkin Seeds, Green Curry Ranch. This was a really good salad. I though it was very fresh and the chicken had really good flavor. Everything worked really well together and I feel like this may be the best "deal" at the restaurant.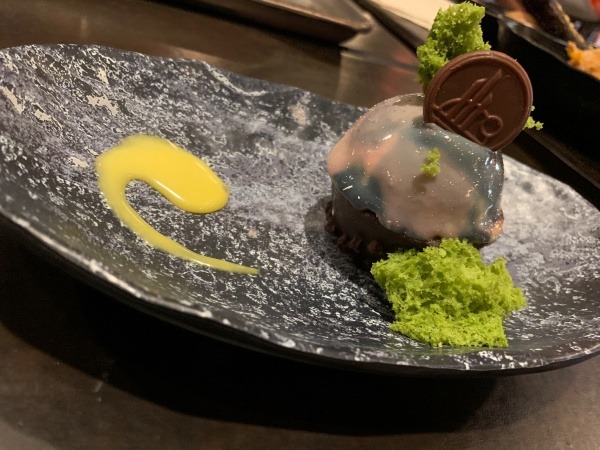 Finally, I wanted dessert, so I got the Batuu-bon, which is Chocolate Cake, White-Chocolate Mousse, and Coffee Custard. I really liked this dessert a lot, but again, when comparing it to the one that they have in Satu'li Canteen that is similar, I found the size to be much smaller than what is offered at Satu'li and the price to be more than you pay at Satu'li.
Now, I don't want to judge the restaurant too harshly based on the quality of the food. I know it was a preview, but feel like there are some small things that could be done to improve the Guest experience. Mainly, they either increase the amount of food given to Guests or decrease the pricing by a couple of dollars. When comparing this restaurant to Satu'li Canteen, which I feel like it's the best comparison, the value is just not here. My biggest issue though is I spent almost $50 on what I ordered and left hungry. Matter of fact, I left starving. That's a big negative, in my opinion.
I definitely think if you are looking for dining, you try Docking Bay 7. Just know that it is a pricey restaurant for what you get. You are certainly paying for the experience of eating in Star Wars: Galaxy's Edge. As for me….I'll try Ronto Roasters next time instead. I'm curious about their Ronto Wrap.
Have you experienced Docking Bay 7 yet? If not, what are you looking forward to trying? Let us know your thoughts in the comments, or on Facebook or Twitter!
Did you like this article? Make sure to share it with your friends! Check below for easy ways to share!
Want to visit Star Wars: Galaxy's Edge? Contact The Magic for Less Travel for more information and a free, no-obligation quote.

Incoming search terms:
https://www themouseforless com/blog_world/docking-bay-7-review/