This post may contains affiliate links for your convenience. If you make a purchase after clicking a link we may earn a small commission but it won't cost you a penny more! Read our full disclosure policy here.
In our family, I'm the one that has taken and documented our girls' lives in photographs since they were born.  My husband has always been the one with the video camera until our oldest daughter discovered her video making skills.  I had to always remember to make sure that I was in some of those photos and spent many a day at Disney looking at our vacation through the camera lens.  I wasn't sure if I'd ever get to go to the parks without my camera and just enjoy the moments.
Then Disney introduced the PhotoPass.  Originally, we would go and look at the photos they'd taken but typically bought only one because the per print price seemed more than we wanted to spend considering I had already taken about 500 or more photos of our trip.
Then Disney introduced the pre-purchase CD option.  I received information about pre-ordering the CD when I booked my vacation package but my travel agent at The Magic For Less Travel also gave me great information about this option.  I thought I'd died and gone to heaven.  For our last two trips, I have preordered our CD and let Disney take most of the photos for us.  I seek out the Photopass photographers at each park and let them know that I have ordered the CD and they happily snap away for me.  They've included special "magical" photos and are also willing to take my suggestions for poses that I'd like to have.  On this last trip, we had a great photographer on the bridge between the Castle and Tomorrowland that took photos of my Prince Charming asking for my hand all over again (after 18 years).  It was a staged shot for sure, but one I thought would be fun to have.  Obviously, the PhotoPass photographer thought so too.  To make sure that we don't lose any of these special photos, we always use our cell phone cameras or digital cameras to take pictures of the back of any PhotoPass cards we get.  This way, if we lose one, I have the number to upload the photos when I'm getting ready to order the CD after we get home.  I like to get one for each park.  Since I carry a Sharpie marker in my suitcase (it's on the Ultimate Packing list), I can mark them with the park name in case we visit a park more than once.  Before I purchase the CD, I can crop my photos and add borders to make them special.  Then I have the option of using either the original photo or the edited photo for souvenir purchases through the PhotoPass website or using the photos in my scrapbook albums or in picture frames.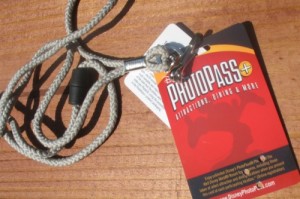 So I was ecstatic to learn that Disney had added one more special feature to their PhotoPass offering.  The new PhotoPass Plus option could be preordered or upgraded when you arrive and includes many of the popular ride attractions and dinner photo packages that weren't included in the PhotoPass option.  But was it going to be worth it?  I decided to try it on this last trip.  We preordered the PhotoPass Plus option and a voucher was sent to us in the mail along with a Photo CD of stock photos.  When I tell you these photos are gorgeous, it's an understatement.  I can't wait to use them in my next scrapbook album.  That CD alone was nearly worth the money.  I didn't have to take any park photos and could focus on any candid shots that I wanted.  I turned our voucher in at the Magic Kingdom in the little shop next to the Town Theater while my family stood in line to see the characters.  They gave me our PhotoPass Plus card and lanyard and we were off!  Splash Mountain?  I'll take the photo please.  Space Mountain?  Two photos there since we rode it twice.  Buzz Lightyear?  Four photos there since we were with friends and split up among four cars.  Wow.  The ride photos were really adding up.  We ate dinner at Cinderella's Royal Table and received not only the digital photo but also a set of prints.   We had lunch at Akershus a few days later and again, we received the photos.  By the time we returned home, we were eligible for 16 photos on the PhotoPass Plus card.  That brought the normal $14.95/photo cost down to less than $5.00/photo.  At that price, I thought it was a great value.
So if you love the idea of having all of those ride and special lunch/dinner photo packages check out the list for the PhotoPass Plus option photos (they can be found at the bottom of the link page) and consider prepurchasing the PhotoPass Plus CD before your next trip.  Then let Disney PhotoPass photographers do the work!