This post may contains affiliate links for your convenience. If you make a purchase after clicking a link we may earn a small commission but it won't cost you a penny more! Read our full disclosure policy here.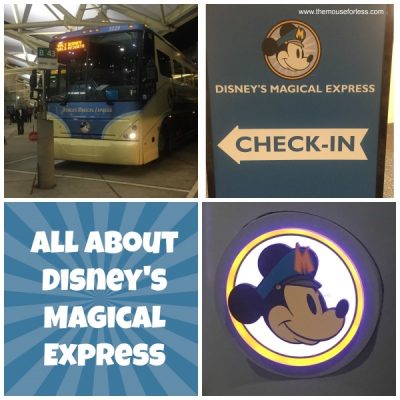 Disney's Magical Express is a free motorcoach transportation service provided by Walt Disney World from Orlando International Airport.  Guests that stay at a Walt Disney World resort are eligible to receive this free service when they fly into MCO.  Interested in using this free service?  Here is what you need to know about Disney's Magical Express.
Before leaving for your Walt Disney World Vacation, reserve your ride on Disney's Magical Express either with your travel agent, when you book online or over the phone, or by calling directly.
Two to three weeks prior to your departure, you will receive information about Disney's Magical Express included luggage tags.  Make sure to read through this information to ensure that you are prepared and know what to expect.  The most important part of this information includes directions on how to attach the luggage tags to your checked luggage as well as a nice map of Orlando International Airport to show you where to find Disney's Magical Express upon your arrival.
When packing, make sure to take into consideration that you may not receive your luggage for 2-3 hours after arriving in Orlando.  Items that you will need immediately such as your MagicBand, medicine and swimsuit should be taken onto the plane with you.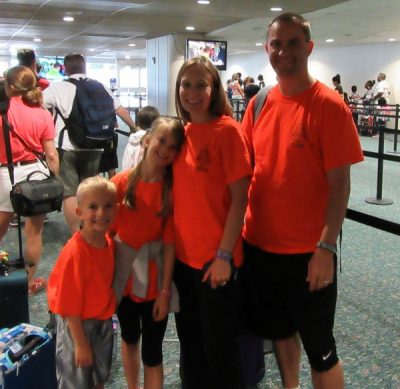 Waiting to board Disney's Magical Express
Once your flight has arrived in Orlando International Airport, you will need to take the train from your gate to the main terminal.  From there you can head directly to Disney's Magical Express which is located on the Ground Transportation Area on Side B, Level 1.  If you checked some luggage and it includes the yellow tags that get sent to you, Disney will claim this for you and deliver it directly to your hotel.  (If for some reason you don't have the yellow tags, don't worry! You can still use Magical Express, you'll just have to let the Cast Member know what your bag looks like when you visit the Magical Express area.)
You will be greeted by Cast Members with big smiles and maybe even some Mickey hands when you arrive at the Magical Express area.  Once you are here, Disney will confirm your information with your MagicBand or by using your travel documents sent to you prior to your vacation.  Cast Members will then direct you to a specific gate number depending on which Disney resort you are staying at during your vacation.  Sometimes you will have to wait in this area depending on where the motorcoach for your resort is at the time.  Waiting shouldn't be long and does give you time to take a breath and watch the video that explains your next step.
When your specific motorcoach arrives, a Cast Member will check your information once again and then you will load up.  The motorcoach driver will let you know what order you will be dropped off, as motorcoaches transports Guests to multiple resorts at once.  At this point, it is time to sit back, relax and enjoy.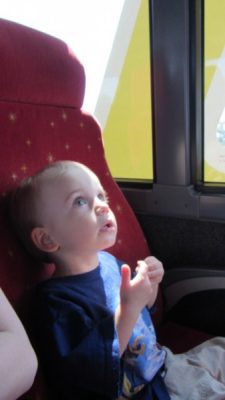 Little Ones Love the Video
Disney's Magical Express gets the magic of your vacation started right away.  A video will play throughout your ride that is sure to help get you excited for your vacation.  The video shows highlights of each of the four parks as well as the water parks and Disney Springs.  We personally love this video, as for us it is that realization that after all those months of planning you are actually at Walt Disney World!
Finally being dropped at your resort, you are ready to start your vacation.  Again, if you had bags that were checked, those will be delivered directly to your room so you can take off to the pool or park.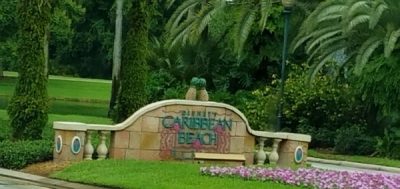 Arriving at the resort
When staying at a Walt Disney World resort, you are also able to take advantage of Disney's Magical Express when returning to the airport.  The day before you leave, Disney's Magical Express will deliver information regarding your departure to your room.  This will give you the pick up time and place for your ride back to Orlando International Airport.  Pick up times are normally scheduled around 3 hours prior to your flight departure time if traveling domestic.  Make sure you bring your departure information (Transportation Notice) with you when it is time to load Disney's Magical Express.  Disney's Magical Express will then take you back to the airport once it has picked up all resort guests from scheduled resorts.
Some guests might be able to take advantage of Resort Airline Check-in service when they use Disney's Magical Express.  This allows guests to receive their boarding pass as well as check luggage at their Disney resort. Guests can then bypass airport check-in and head right to security without having to carry bags around the airport.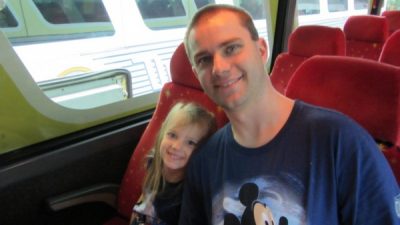 Adults love that they can sit back and relax
Why should you use Disney's Magical Express:
Sit back, relax and enjoy the ride
One of the biggest advantages of Disney's Magical Express is that you don't have to do any of the driving.  After a long flight, you are able to sit back and enjoy the ride to your resort.  Then after a long vacation where you might be a little worn down, you won't have to worry about returning a car, getting to the airport on time, but instead you can sit in comfort as you are delivered to the airport in Disney style.
 No baggage
When you fly into Orlando International Airport, Disney will collect your checked bags for you.  This means no lugging suitcase around while trying to keep track of the kids, backpacks and everything else.
 Smooth Check-in
For many airlines,  you are able to check-in to your flight prior to heading to the airport.  This is a great advantage as it allows  you to skip those ticket counters that can have long lines and head right to the security.
Disney's Magical Express is one of the great perks of staying at a Disney World Resort while on vacation.  We love the convenience of this service and are grateful that we are able to use it after a long flight and after a magical vacation.
Have you utilized Disney's Magical Express? What are your best tips? Share in the comments.
Did you like this article? Make sure to share it with your friends! Check below for easy ways to share!
n>