This post may contains affiliate links for your convenience. If you make a purchase after clicking a link we may earn a small commission but it won't cost you a penny more! Read our full disclosure policy here.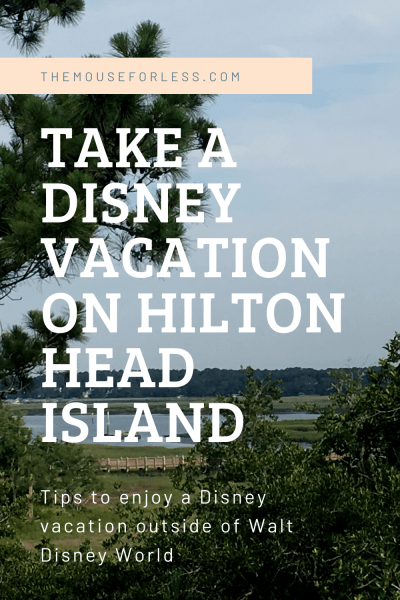 Looking for a Disney vacation without the stress and uncertainty of Walt Disney World? Look no further than Disney's Hilton Head Island Resort! This Disney Vacation Club property in South Carolina is a great option for Disney fans looking for a relaxing getaway. With the recent news that Disney would reopen their properties on Hilton Head Island and in Vero Beach, many Disney fans are looking at these properties as a chance to enjoy Disney hospitality until they can once again return to the theme parks. Although this resort is a Disney Vacation Club property, non- Disney Vacation Club members can also book reservations at this beautiful location in South Carolina.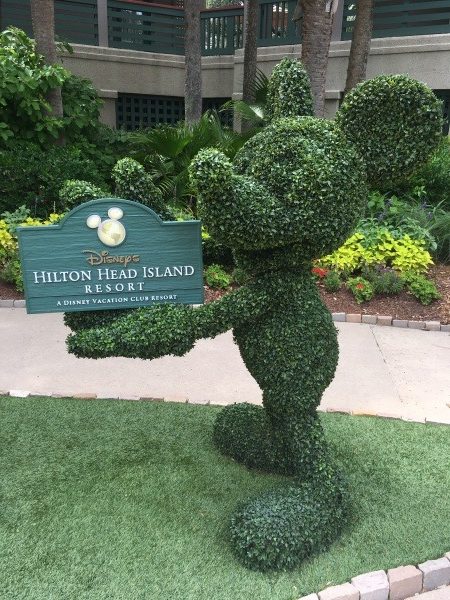 A getaway to this island resort is far from the heavily-planned, never-stop mentality surrounding a typical Walt Disney World trip. Here, guests can enjoy all kind of amenities and activities with the charm and attention typical of a stay at a Disney Resort. Enjoy crabbing and dolphin watching in the surrounding marshes. Spend time relaxing by the Big Dipper pool or in one of the many hammocks. Or, make your way to the private beach on the Atlantic Ocean to spot stingrays and build sand castles. No matter how you choose to spend your time, you're bound to leave relaxed and refreshed—a far cry from a Walt Disney World vacation that usually leaves you needing a vacation!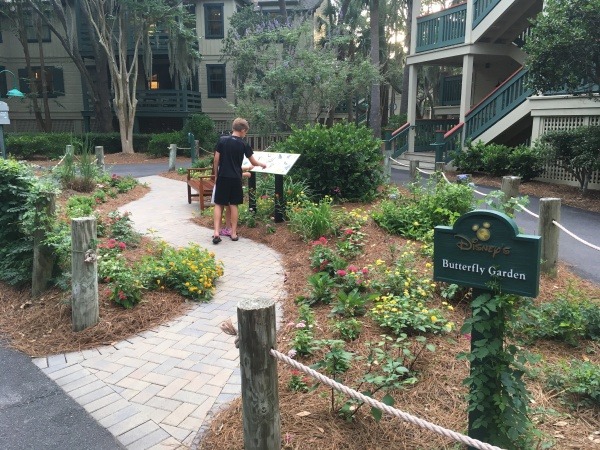 The rooms at Disney's Hilton Head Island Resort are located in multiple different buildings around the resort, including the main building called Live Oak Lodge. This is the only building with an elevator, so if you need one, make sure you request a room here.  The rest of the studios and villas are located in buildings throughout the resort surrounded by marshland. The Studio rooms sleep up to 4 and have a small kitchenette. All of the other villas (one-, two- and three-bedroom) come with a full kitchen and can sleep anywhere from five to twelve people, depending on the size of the villas.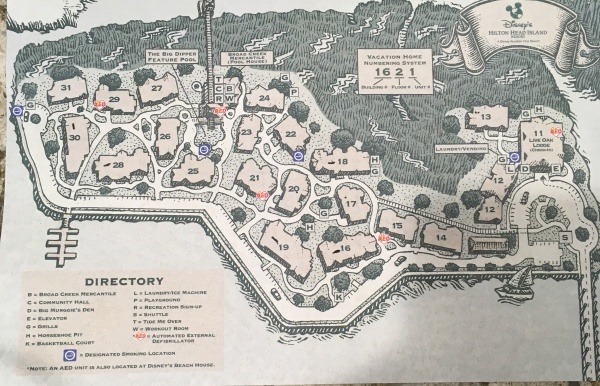 As you look into booking a trip to this beautiful resort for a relaxing stay, here are five tips to make your stay incredible:
Tip # 1: The resort is located about a mile and a half from the beach.
That's right- this resort is NOT beachfront. At first, I thought this would be a deal-breaker for us, but I found it actually wasn't too big of a deal. Disney offers a free shuttle to the Beach House. The Beach House also has a private pool, pool table, tables and chairs and a quick service location. Our family loved spending whole days here. We'd then make our way back to our room mid-afternoon to get cleaned up for an evening out exploring. There is also a path that guests could walk or ride bikes along to get to the beach, but it was just a little too far for our family with our six-year-old and all of our beach gear.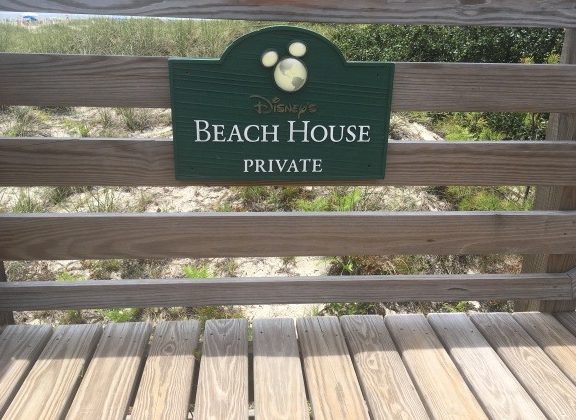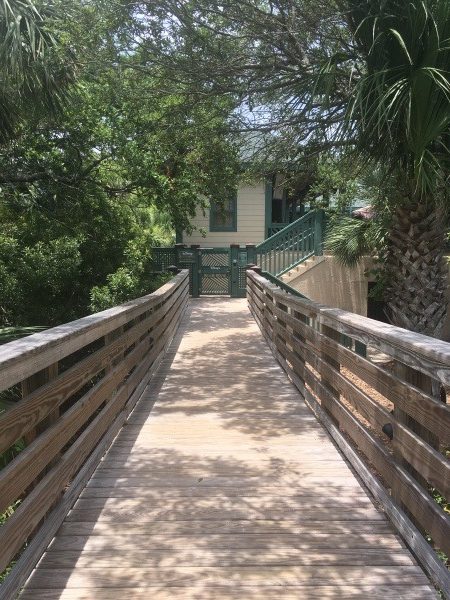 Tip #2: There are no full service dining locations at the resort.
Because all of the rooms have at least a kitchenette, many guests can eat breakfast and lunch in their rooms. Then, for dinner, guests can explore local restaurants. There is a counter service location at the private Beach House, as well as at the resort near the pool, but these locations typically shut down early in the evening. This means there are also no dining plans for this resort. However, they do have refillable mugs!
Tip #3: Many guests find it helpful to have a car.
Like I mentioned above, the resort doesn't have any full-service sit-down restaurants. Several restaurants are within walking distance, but we liked the option of being able to drive a little bit further to find some hidden gems. We also liked the flexibility to drive over to the Beach House if we wanted to, though we never did. Because we came here directly after a Walt Disney World trip, we actually rented a car near Walt Disney World and drove to Hilton Head Island and used the rental car during our stay.
Tip #4: The resort offers activities throughout the week that appeal to people of all ages.
During our visit, we signed up for a marsh walk to learn more about this beautiful area. This experience taught us more about marsh life. We learned all about spartina grass and the little periwinkle seas sails that live in it. These little creatures come out of their shells when they feel the vibrations of your vocal chords. We also spotted dolphins and crabs along our walk. Be sure to ask about activities that are taking place when you check in.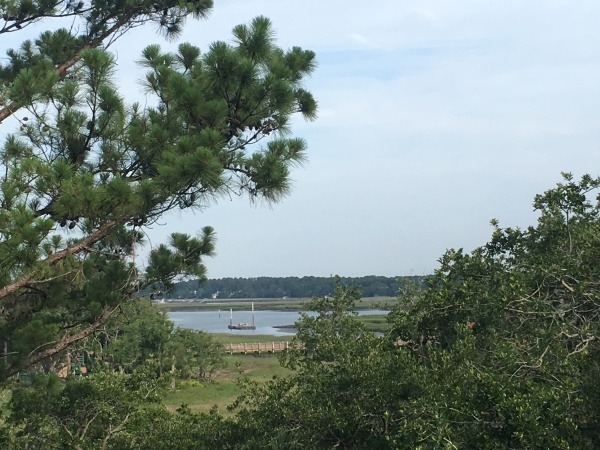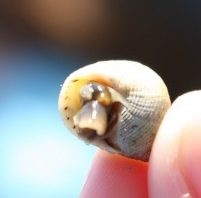 Tip #5: Consider spending a day exploring the island beyond the resort.
Although the beach and resort could easily consume all of your time, it's also fun to explore the island. Many people enjoy visiting Harbour Town Lighthouse and shopping nearby. The Harbour Town Playground as also a big hit with our kids. And golf courses are plentiful in the area, if that interests your family.
What do you think? Have you ever visited Disney's Hilton Head Island Resort? What tips would you share for future guests? Leave us a comment below or on Facebook or Twitter!
Did you like this article? Make sure to share it with your friends! Check below for easy ways to share!  
Want to visit a Disney Destination? Contact The Magic for Less Travel for more information and a free, no-obligation quote.

Incoming search terms:
disney beach palmetto funes