This post may contains affiliate links for your convenience. If you make a purchase after clicking a link we may earn a small commission but it won't cost you a penny more! Read our full disclosure policy here.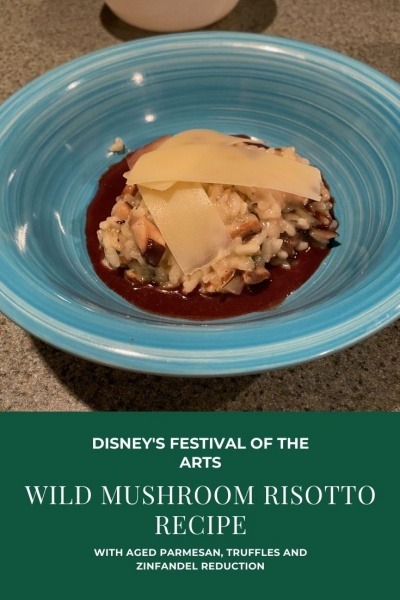 When looking back at last year's Walt Disney Trip with our son Stu we realized that we did not get the chance to enjoy the Festival of the Arts food as much as we could.  So, we decided to make a little of the food at home.  This week we will cook and share three recipes from the Festival of the Arts starting with Wild Mushroom Risotto with aged parmesan, shaved truffles and a Zinfandel Reduction.  It sounds really fancy but I promise it is a lot easier than it sounds.
First you should gather all your ingredients.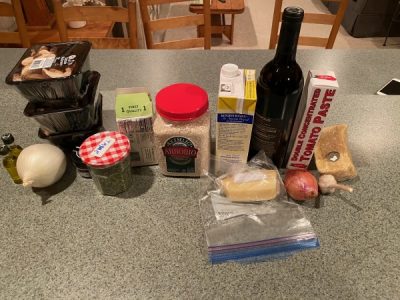 For the Zinfandel Reduction
1 Cup of Dry Zinfandel (other dry red wine will do)
2 Cups of Chicken Stock
1/3 cup of chopped Shallots
1 Tablespoon Tomato Paste
1 Sprig Thyme or 2 Teaspoons Dried Thyme
5 Teaspoons Butter
For the Risotto:
4-5 Cups of Chicken Stock
12 Ounces of Wild Mushrooms (we used Shitake)
1 Small Onion Chopped
2 Garlic Cloves Minced
1 1/4 Cups of Arborio Rice
3/4 Cup of Dry White Wine
1/2 – 3/4 Ounce Truffles (We used pre-sliced Black Truffle Carpaccio because it's less expensive)
1/2 Cup of grated Parmesan Reggiano
3 Tablespoons of Unsalted Butter
1 Tablespoon Chopped Parsley
Salt and Pepper (to Taste)
Aged Parmesan for shaving
Make the Zinfandel Reduction First
The zinfandel reduction just takes a few short steps, but they take time.  First, in a sauce pan bring the two cups of chicken stock to a slow boil.  Reduce this for twenty minutes.  You should have about a half a cup left.  Place this in a bowl and keep warm.
Next, in the same sauce pan, bring the wine, shallots, tomato paste and thyme to a boil.  At a boil cook this for about 8 minutes or until it reduces to about a third to a half  cup. add back the reserves stock.  Then pour into a bowl through a sieve to remove solids.  Stir in the five teaspoons of butter one at a time.  That's it, you are done with the sauce.  Set the sauce aside and cover.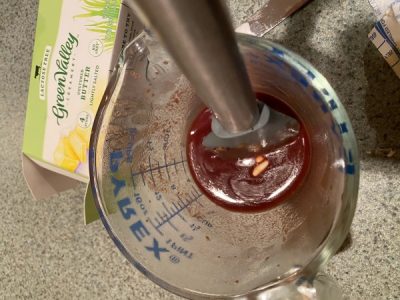 By the way you can save the reduction solids.  They are mostly wine flavored shallots.  The next night we added them to a very plain pizza and made it special.
Finally it's Wild Mushroom Risotto Time
First, in a sauce pan heat the stock so that it almost simmers.
Heat a sauté pan with high sides or a stock pan over medium heat.  Add 1 1/2 tablespoons of olive oil.  When the oil is heated add the mushrooms.  Sauté the mushrooms for about five minutes until they caramelized and the liquids are cooked off.  It's best if you don't use a non stick pan because the mushrooms caramelize better.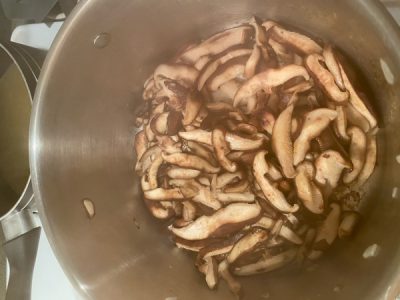 Next, add another one and 1/2 tablespoons of olive oil.  Sauté the onions for five to seven minutes or until they are translucent.  Add the minced garlic and cook for 30 seconds.  Finally you are ready for the rice.  Add the rice to the pan and cook for a minute while constantly stirring.  The rice should develop whiter dots in the center.
When the rice is toasted add the wine.  Use the wine to deglaze the bottom of the pan and continue to slowly stir while the wine is absorbed. When you can use the spatula to separate the rice in the pan and the rice does not run together, you are ready for the chicken stock.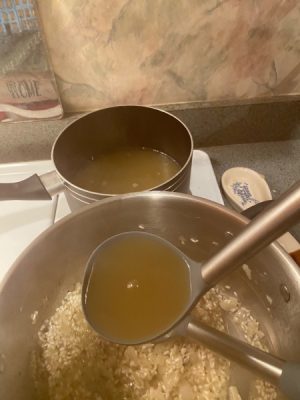 Add one ladle of chicken stock to the rice.  Continue to slowly stir the rice.  When the rice does not come  together when separated add the next ladle of chicken stock.  Repeat this step until you can taste the rice and it is creamy and the rice is soft when you taste this.  This can take 1/2 hour to 45 minutes.  Don't rush this.  Need a break?  While the rice is cooking take a moment and chop the mushrooms smaller.
Finally, stir in the remaining ingredients; the mushrooms, Parmesan Reggiano, truffles, parsley and butter and let sit for five minutes covered. While the risotto rests shave the parmesan.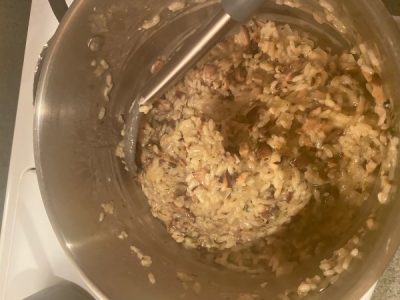 To assemble spoon the Zinfandel reduction in the bottom of the dish or bowl.  Mound the risotto atop the Zinfandel Reduction.  Place the shaved parmesan across the top of the risotto.   Enjoy!
Our Adjustments to the Festival of the arts Wild Mushroom Risotto
Here's where we went a little off script.  We had really nice aged  Parmesan Reggiano for grating and fresher parmesan for shaving.  We also could not get fresh parsley and dislike parsley flakes so we used a a couple of teaspoons of dried basil instead for a pop of freshness.  Finally, we did not add the butter.  We have a lactose issue and adding the butter is great but uncomfortable.  We promise it's great without it.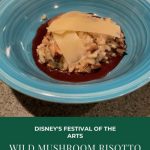 Print Recipe
Festival of the Arts Wild Mushroom Risotto with Aged Parmesan, Truffles and Zinfandel Reduction
This is a traditional risotto enhanced by a simple red wine reduction, truffle carpaccio and a nutty aged parmesan.
Ingredients
Zinfandel Reduction
2

Cups

Chicken Stock

1

Cup

Zinfandel

The dryer the better

1/3

Cup

Shallots

Chopped

1

Tbsp

Tomato Paste

1

Sprig

Fresh Thyme

Or tw Teaspoons Dry

7

Tsps

Butter

By Teaspoon
Wild Mushroom Risotto
4-5

Cups

Chicken Stock

3

Tbsps

Olive Oil

Separated

12

Oz

Wild Mushrooms

Such as Shitake

1

small

Onion

Chopped

2

Cloves

Garlic

Minced

1 1/4

Cup

Arborio Rice

3/4

Cup

Dry White Wine

1

Tbsp

Parmesan-Reggiano

Grated

1

Tbsp

Parsley

Chopped

3/4 to 1

Ounce

Truffle Carpaccio

3

Tbsps

Butter

Aged Parmesan

For Shaving
Instructions
Zinfandel Reduction
Place Chicken Stock in a small saucepan over medium-high heat; bring to a boil. Cook until reduced to 1/2 cup (about 20minutes). Place stock in a bowl; keep warm.

Combine wine and next 3 ingredients (through thyme) in pan over medium-high heat; bring to a boil. Cook until reduced to 1/3cup (about 8 minutes). Stir in reserved stock; return mixture to a boil. Cook until reduced to 2/3 cup (about 7 minutes). Strain mixture through a sieve over a bowl; discard solids. Stir in butter, 1 teaspoon at a time, stirring until butter melts. Stir in salt and pepper.
Wild Mushroom Risotto
Heat the chicken stock to a simmer in a saucepan

Melt 1½ tablespoons of olive oil in a large skillet with high sides over medium heat. Sauté until the mushrooms are brown and the liquid evaporates.  8-10 minutes. Remove, set aside and chop when cooler.

In the same skillet the remaining olive oil.  Cook the onions for 5 to 7 minutes or until translucent.  Add the garlic and sauté for 30 seconds more.  Add the rice and coat it in the oil, let it cook for about a minute.

Add the wine and allow it to reduce for about a minute as well. Add a ladle full of the simmering chicken stock to the rice, stir constantly and continue to add the stock one ladle at a time making sure to wait until the rice has soaked it all up before adding in another.

When the rice is just about fully cooked, add in one more ladle full of chicken stock and season with salt and pepper. Add in the Mushrooms, Parsley, Parmesan Reggiano and butter, turn the heat off and place a lid on the pan. Let it sit for 5minutes covered.
Assembly
Mound the rice in the center of a bowl. Place truffle shavings along the edge. Drizzle the reduction along the edge of the rice.  Shave aged parmesan over the top.
Incoming search terms:
https://www themouseforless com/blog_world/disneys-festival-of-the-arts-wild-mushroom-risotto-recipe/
disney mushroom risotto recipe
Festival of the arts wild mushroom risotto balls