This post may contains affiliate links for your convenience. If you make a purchase after clicking a link we may earn a small commission but it won't cost you a penny more! Read our full disclosure policy here.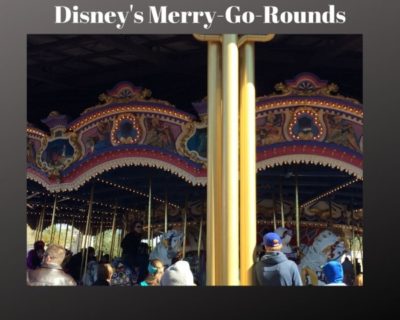 Prince Charming Regal Carrousel
Walt Disney used to take his daughters to a merry-go-round in Griffith Park, in Southern California. He would watch them ride happily while he sat on a bench. He thought to himself, "If only there was a place where families could go where the kids and the adults could have fun together!"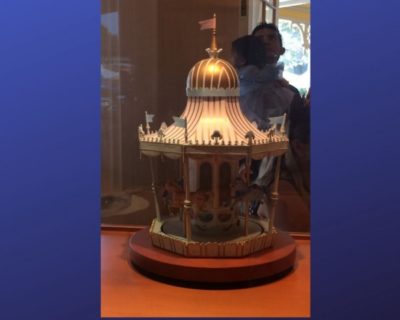 A miniature merry-go-round in the Jolly Holiday Bakery Cafe, Disneyland
The rest, as they say, is history. Walt went on to develop this idea into Disneyland, and made grand plans afterwards that would become Walt Disney World. So it's fitting that merry-go-rounds feature in both these locations.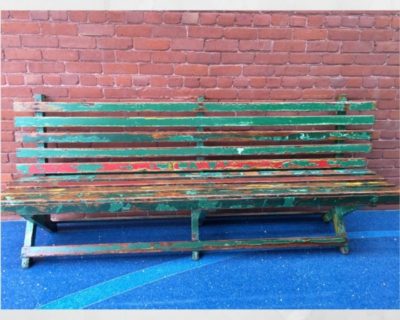 Bench from Griffith Park, at the Walt Disney Family Museum
(Incidentally, you can still ride the merry-go-round at Griffith Park, and you can sit on one of the benches that used to surround it at the Walt Disney Family Museum in San Francisco!)
Fantasyland has had a carrousel from opening day at Disneyland. King Arthur's Carrousel is still spinning merrily along in the heart of Walt's original theme park. If you look closely, you can spot Jingles, a horse that is festooned with small golden bells. This horse was dedicated to Julie Andrews in 2008.
Although Disney is famous for Imagineering theme park rides, this carrousel was not constructed by Disney. It was built nearly a hundred years ago in Pennsylvania and then moved to Canada before Walt found it and bought it for his new theme park.
Disney Imagineers have given the carrousel quite a few refurbishments over the years. Now, when you ride, you chose from a host of white horses, and listen to Disney music play as you ride past painted scenes from Sleeping Beauty.
JESSIE'S CRITTER CAROUSEL – CALIFORNIA ADVENTURE
When California Adventure opened in 2001, a charming carrousel called King Triton's Carousel of the Sea took guests on a gentle ride on top of sea creatures in the area known as Paradise Pier. When Paradise Pier got a makeover and become Pixar Pier earlier this year, this carousel got a makeover as well, and became Jessie's Critter Carousel. Now, lovable critters from Woody's Roundup will give you a ride!
PRINCE CHARMING REGAL CARROUSEL – MAGIC KINGDOM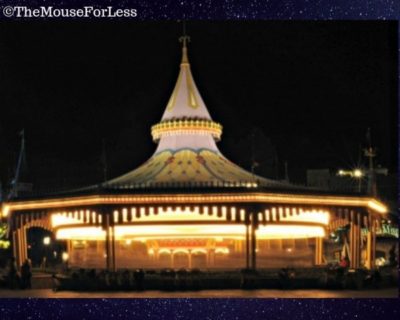 Walt Disney World also has had a carrousel in their flagship park since opening day. And just like Disneyland's, this merry-go-round was constructed in Pennsylvania a century ago. It was found in Michigan, and Disney Imagineers brought it to Central Florida so that it could delight guests in Fantasyland.
Just as in Disneyland's version, all the horses were painted white for Disney guests. Although there were no chariots on opening day, in the late nineties, one of the original chariots was found and installed on the ride.
MARKETPLACE CAROUSEL – DISNEY SPRINGS
You don't even have to have park admission to ride this Walt Disney World carousel! In the heart of Disney Springs, you'll find this small, charming merry-go-round. Guests of all ages are welcome to ride for $3. Children under 42 inches tall must have an adult to accompany them, but that adult need not pay to ride.
Which carousel is your favorite? Let us know in the comments, or on Facebook or Twitter!
Did you like this article? Make sure to share it with your friends! Check below for easy ways to share!
Want to visit the Walt Disney World Resort? Contact The Magic for Less Travel for more information and a free, no-obligation quote.

Incoming search terms:
https://www themouseforless com/blog_world/disneys-carrousel/
https://www themouseforless com/blog_world/disneys-carrousel/#:~:text=PRINCE CHARMING REGAL CARROUSEL – MAGIC in Pennsylvania a century ago
https://www themouseforless com/blog_world/disneys-carrousel/#:~:text=Walt Disney World also has could delight guests in Fantasyland
merry-go-round disney world florida
When was the disney carousel built?