This post may contains affiliate links for your convenience. If you make a purchase after clicking a link we may earn a small commission but it won't cost you a penny more! Read our full disclosure policy here.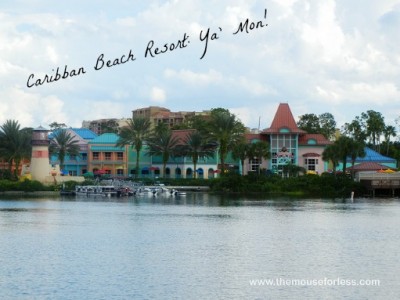 Living in the snowy, wintery, cold Catskill Mountains of New York leaves me longing for the hot sun of summer, sand between my toes and the sound of steel drums playing dreamily in the background. Of course, I am not going to the "Islands" anytime soon, but I can reminisce about my last trip to Disney's Caribbean Beach Resort and warm my soul.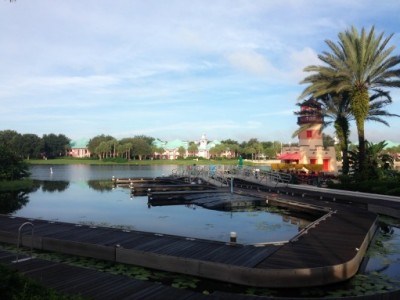 Disney's Caribbean Beach Resort is a Moderate resort at Walt Disney World that opened in 1988. The landscape is full of lush, green foliage and tall shady palms. The resort is set on the 45 acre Barefoot Bay Lake and is comprised of six villages; Martinique, Jamaica, Trinidad North, Trinidad South, Aruba and Barbados. The lake is beautiful and serene and each "Island" has it's own sand beach with relaxing hammocks. Guests are allowed to use the beach, but not allowed to swim in the lake.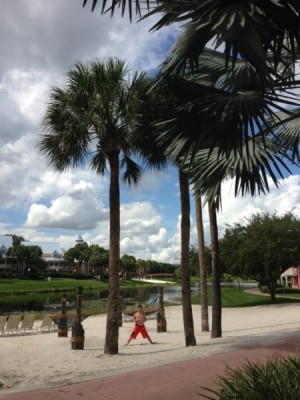 Upon arriving at the resort, we pulled up to the Custom House. The Custom House is where guests check in and receive their Welcome Packet. In the packet you will find a parking voucher, a map of the resort, your room number, a list of park hours and a booklet full of information including the Bounce Back offer to use for your next stay, if there is one offered.
During check in, we were instructed to wait out front for the resort shuttle that would take us to the island of Martinique. The shuttle arrived within 15 minutes and we were off to our room. When I booked our adventure, I requested a Preferred room on the top floor and that is exactly what we received. We had a three minute walk to Old Port Royale and the bus stop was right outside our building across the parking lot.
When we opened our door in the morning, we had an exquisite view of the lake and the courtyard below. Upon arriving back to our room one evening, we heard fireworks on  the other side of the building. We were delighted and surprised to find we had an incredible view of the fireworks from one of the nearby parks. We took advantage of this "private" viewing area two of the seven nights we were there.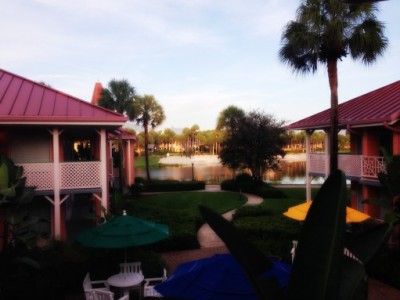 The other five "Islands" are spread out on the property with Aruba and Jamaica being the farthest away from Old Port Royale. Martinique and Trinidad North are closest and considered Preferred rooms.  Barbados is just on the other side Martinique; a good choice for a close building without Preferred prices. All of these rooms have been recently refurbished with new beds, bedding, paint and décor.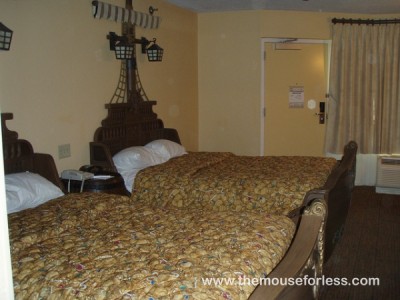 Trinidad South is  on the far end of the property, but offers pirate-themed rooms. The beds in the room are designed to resemble pirate ships, the floors are carpeted to look like wooden planks, the bed side tables are "rum barrels" and the main table is a compass. The rooms are very unique and keep the magic going long after you have left the parks. If you choose to stay in these rooms keep in mind that the walk to Old Port Royale will be a lengthy one that could be as long as 15 minutes. These rooms are higher in price than Preferred rooms, but for a once in a lifetime treat they could be perfect for you.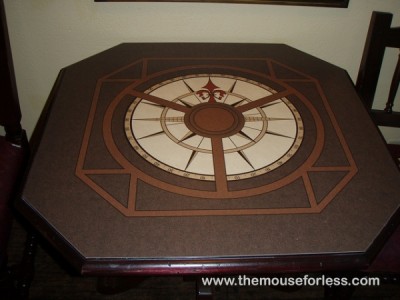 Old Port Royale is the main hub where the Calypso Trading Post and Straw Market (gift shop), Market Street (food court), Shutters restaurant and the resort information desk is located. Calypso Trading Post  has a basic selection of Disney tee shirts, mugs, beach towels and tchotchkes. There is also a selection of cold drinks and snacks. This can be a little high priced and leave you with less cash in your pocket for Dole Whips.  My suggestion is to avoid this area and order from Garden Grocer ( see my previous review).
Market Street is the food court and it serves breakfast, lunch and dinner. The fare here for breakfast is typical Disney; Mickey waffles, muffins, pastry, eggs and bacon/ sausage and beverages. Lunch and dinner is a little more resort specific and includes items such as Caribbean Salad with Chicken, Caribbean Catch Sandwich with Chayote Slaw, Jerk Chicken with Crispy Onions and Chipotle Sauce, the Royale Sandwich (turkey, ham, salami, roast beef, provolone, lettuce and tomato with red pepper ranch spread on Foccacia), Mojo Pork and Ropa Vieja (braised beef). There is also the usual fare for the not so adventurous, hamburgers, pizza and chili hot dogs. There is  a refillable mug station and the dining area is clean,  brightly lit and offers more than ample space to score a table. The only complaint I have about this resort is the food court. I have been to this resort twice and on both week long stays the Quick Service was anything but quick. I'm not sure if this is part of the "laid back island feel", but if you are planning on catching a bus plan on an extra 20 minutes in order to accommodate your schedule.
I have never dined at Shutter's. The menu seems very Caribbean styled and intriguing and I plan on making a reservation for our next visit.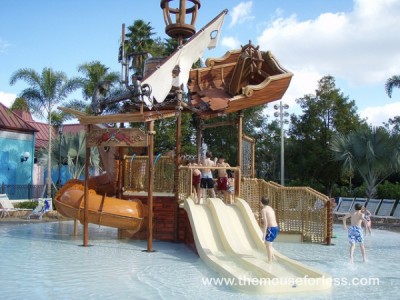 After a morning of parks, it is always a relief to relax by the pool area. The pool at Caribbean Beach Resort is split into two sections. There is a Shipwreck splash area with a small slide and enough water for little ones to splash around. There is also a water bucket that fills and cascades a waterfall of fun on the unsuspecting (or awaiting) swimmer. The other section of the pool is Fuentes del Morro, it is designed to imitate a Spanish fortress. The pool is a zero entry pool, with a slide that offers young and old (and this writer) hours of fun.
After we cool off in the pool, we always make our way to the Banana Cabana pool bar and quench our thirst with one of their fun frozen drinks. If you're not in the mood for an alcohol beverage, you can always get a non-alcoholic version of the many beverages they create.
If your in the mood for the pool, but maybe looking for a quieter space to relax in, don't worry there are six quiet pools available throughout the resort. They are usually not as crowded and make for a wonderful place to recharge your batteries.
Caribbean Beach Resort is a terrific choice on the Moderate level. Sand, sun and fun are at you door and the calypso drums will lull you into a tranquil rest. Now that I have warmed my soul, it's time to go shovel some more snow and start planning for my next Disney adventure. Maybe I could make some snow cones while I'm out there!
What's your favorite part about staying at Disney's Caribbean Beach Resort?