This post may contains affiliate links for your convenience. If you make a purchase after clicking a link we may earn a small commission but it won't cost you a penny more! Read our full disclosure policy here.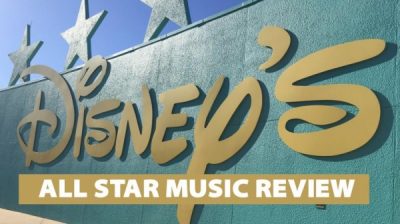 Disney's All-Star Music Resort is listed under the umbrella of the value resorts category on Walt Disney World property and the way I see it, it's true, as the rooms here are a HUGE value!  You get all the glitz and Disney magic, at a price that allows you to spend your extra cash in the parks!
Disney's All-Star Music Resort has a great overall layout. Most of the rooms are close enough to the bus stop, pool and food court, however I like to always try to request a room right in the middle of the resort.  That way we are close enough to the conveniences, but also far enough away from the noise of the pool and bus stop!
Since there are many people who stay at the value resorts, I find that bus service is typically quick and painless.  Disney does a great job at having the buses arrive quickly.  On our week long trip, we never waited more than 5- 8 min for a bus.  This alone, to us, was the biggest value! (Editor's Note: Your mileage may vary, as Disney claims it could take up to 20 minutes for buses to appear.)
A while back, the Walt Disney World Resort started offering you the choice to skip Mousekeeping and in exchange, you would receive a gift card that could be used in the parks.  We opted to do this on our trip, however something to keep in mind if you do choose this option, is that you are always able to call to request extra towels, soap and such.
Now, are the All-Star Resorts glamorous? They definitely aren't the fanciest of hotels, but if you are person who goes to the parks early in the morning and stays in the parks all day, getting back to the resort late in the evening,  they are perfect for the few hours before bed and few hours in the morning that you are actually in your room.
Overall, we found the rooms at Disney's All-Star Music Resort to be extremely comfortable, as we had three adults and a 3 year old in the room for a week and had no issues.  There was plenty of room to move around – even with a stroller in the room!
One of the biggest things I think everyone looks for in a basic hotel room is, is the room clean?  While the bathroom was a little small and the decor of the room is in need of an update, we definitely found that the rooms here are super functional and clean!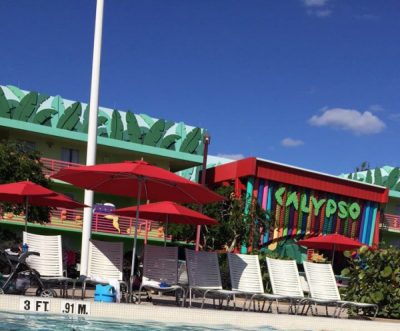 The pool area at Disney's All-Star Music Resort was a huge hit for us.  It had a kids wading pool with a lot of seating right around it!  You could be quickly in the pool with your child, or close by in a chair watching the rest of your group soak in the sun!
So, would I stay at Disney's All-Star Music Resort again? The answer is yes.
What are your thoughts of Disney's All-Star Music Resort? Share in the comments, or on Facebook or Twitter.
Did you like this article? Make sure to share it with your friends! Check below for easy ways to share!