This post may contains affiliate links for your convenience. If you make a purchase after clicking a link we may earn a small commission but it won't cost you a penny more! Read our full disclosure policy here.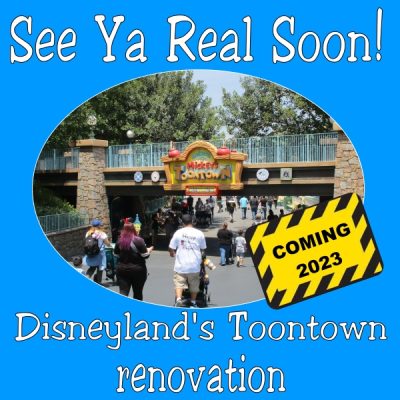 Disneyland closed down the kid-friendly Toontown recently for a year-long renovation. The addition of Mickey & Minnie's Runaway Railway spurred Imagineers to overhaul the entire land during construction, updating old attractions and adding on, including an all-new CenTOONial Park green area. Let's take a stroll through this city of classic characters and see what we'll be missing during Disneyland's Toontown renovation!
The entry to Toontown (now blocked off) goes under the tracks of the Disneyland Railroad. The constantly changing population sign makes a great photo-op.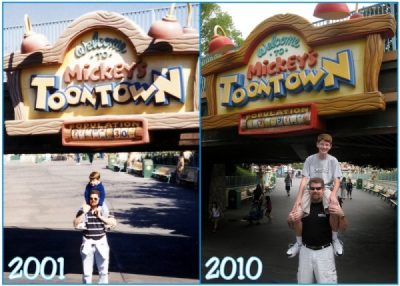 Or, you can risk back pain to use it to recreate a favorite family photo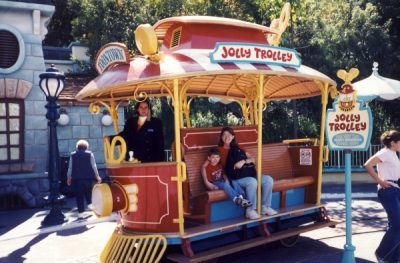 The Jolly Trolley was original to the land but stopped running many years ago. I feel lucky I rode it once in 2001. It never really worked well — low capacity, slightly dangerous in an area with high concentrations of small children — and everyone trips on the residual trolley tracks. Presumably Disney will remove the last remnants of this cute little diversion.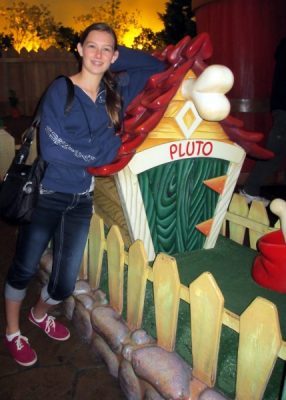 Two of the main purposes of Toontown are meet-and-greet locations for our Main Mice: Mickey and Minnie's houses. Each is decorated with clever touches that allow the Imagineers to show off their sight-gag skills. Mickey's home also hides a queue, funneling you through a leisurely tour before you have a chance to meet Mickey in one of three costumes.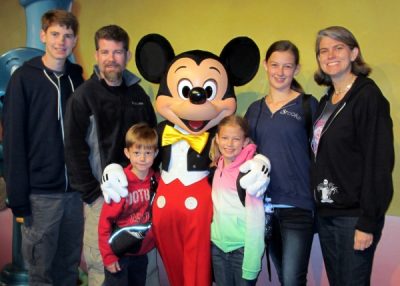 It's distinctly rude to go to Disneyland and not visit your host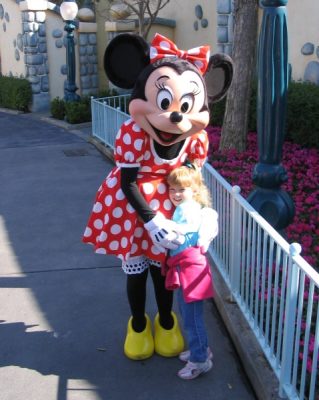 This picture outside Minnie's house is special because it was the first time my 5-year-old willingly let a costumed character near her!
Disney assures us that Mickey and Minnie's houses will survive the wrecking balls and be back next year. In the meantime, watch the Disneyland app for alternate character meeting places in Disneyland and California Adventure.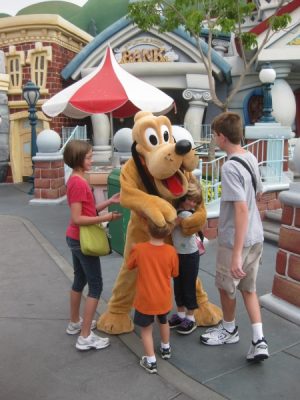 Character meeting are often spontaneous here — you never know quite who you'll run into. One morning we were walking past Toontown's City Hall when a musical fanfare started and Pluto popped out … to an almost-empty street. We hadn't planned to meet him, but who could ignore the sad puppy who had no one to play with?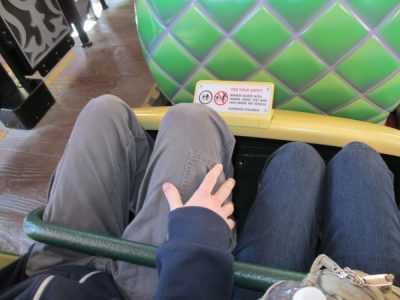 Six-foot-two legs don't quite fit in the Gadget Coaster's tiny ride vehicles
The Gadget Coaster is a great first rollercoaster for children — you can see exactly what you are getting into and it's a short ride (and usually a fairly short line). Imagineers plan to reopen this attraction after the renovation, probably re-themed.
Goofy's House and Donald's Boat will also be back, but Disney teases us that they will return "reimagined in new and exciting ways." Hopefully there will be some fun interactive areas included.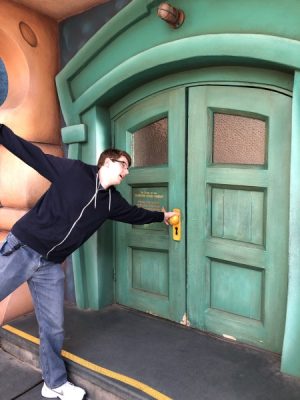 Speaking of interactive, we hope the fun gags near Roger Rabbit's Car Toon Spin get to stick around. With knobs to turn, boxes to open, and levers to switch, it's fun for any age.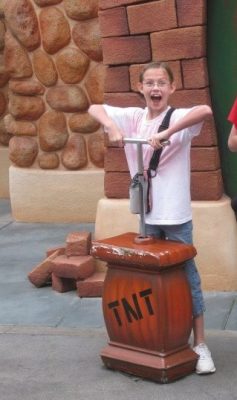 There will be some major demolition going on for the next year, but the results of Disneyland's Toontown renovation should debut early in 2023.
What changes are you looking forward to in the updated Toontown?  Share your thoughts in the comments or on Facebook or Twitter!
Did you like this article? Make sure to share it with your friends! Check below for easy ways to share!  
Want to visit a Disney Destination? Contact The Magic for Less Travel for more information and a free, no-obligation quote.

Incoming search terms:
https://www themouseforless com/blog_world/disneylands-toontown-renovation/