This post may contains affiliate links for your convenience. If you make a purchase after clicking a link we may earn a small commission but it won't cost you a penny more! Read our full disclosure policy here.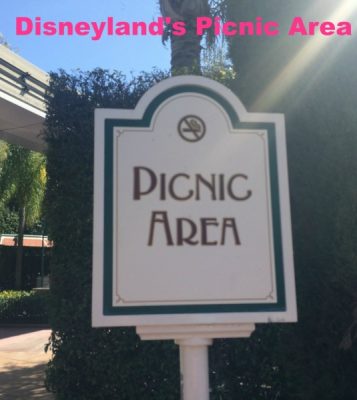 Like the sign says, the picnic area is nonsmoking
I've been enjoying the Disneyland Resort for about 22 years, so when I try something I've never tried before, it's a big deal. During my daughter's Spring Break this year, I did just that. We had a picnic lunch in Disneyland's picnic area.
Disneyland's Picnic Area is located to the left of the turnstiles to Disneyland Park. The monorail berm runs directly overheard. On the day we visited, the tram that took us from the Mickey and Friends Parking Structure deposited us right outside the picnic area.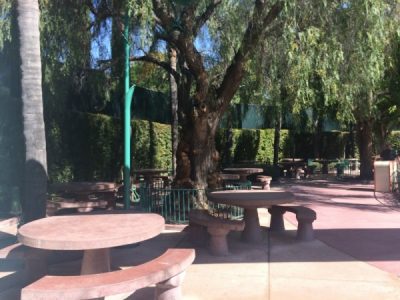 Lovely trees provide shade
Since this is outside the turnstiles, there is no admission fee to enter. Sturdy stone tables and benches are scattered throughout the area. The entire area is shaded by lovely trees.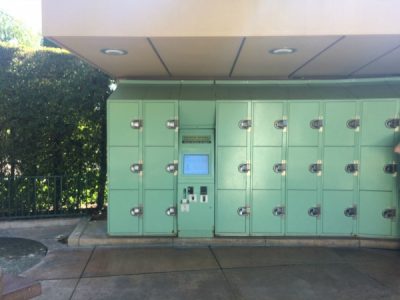 Lockers for rent
There are lockers in this area, which means you can store your picnic supplies while you enjoy a day in the parks. The price ranges from $7 – $15, depending on the size, and are available to use the entire day.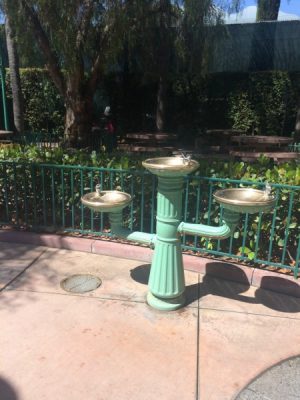 Water fountains are centrally located
Water fountains are located in the center of the area. The water was lukewarm. Just beyond the area are restrooms and a pay phone. (I was surprised they still had the pay phone here!)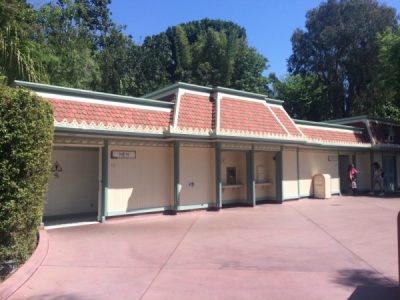 Restrooms and a pay phone are nearby
Neat hedges surround the Disneyland picnic area, and large trees and planters full of colorful flowers make this an attractive place for a picnic. A garbage can and recycling can makes clean up a breeze. Although we didn't witness any Cast Members in the area, the place was meticulously clean and tidy.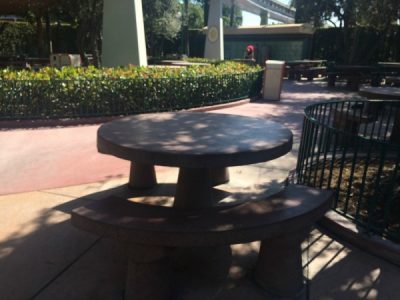 The table we chose for lunch
Keep in mind that we stopped for lunch in this area at about 11:30 a.m. in the middle of spring break. We were only one of two families using this area. During such a busy time of year, it was shocking to us that any place on property could be this empty.
So, the question you're probably asking is, would I use the Disneyland picnic area during a park day? If I was trying to save money, yes. Small collapsible coolers are allowed on property, and it's easy and inexpensive to pack sandwiches, fruit, granola bars and the like in a small cooler with a freezer pack or two. Although it might seem like a hassle to have to exit the parks to enjoy the picnic, the peace and quiet you can find in the picnic area might be exactly the break you need during a busy, crowded day.
If you do want to enjoy a picnic in this area, note that coolers larger than a six-pack size are not allowed in the parks themselves, so you'd have to store a larger cooler in a locker in this area. The lockers can store anything up to 18 inches wide, 25 inches and high and 37 inches deep. You cannot bring alcoholic beverages into this area. The only glass containers allowed are small baby food containers. Pots and pans are not permitted, and I once had a butter knife confiscated at security, so make sure any knives in your picnic cooler are plastic.
Have you ever used the Disneyland picnic areas? What are your suggestions? Share your tips in the comments.
Did you like this article? Make sure to share it with your friends! Check below for easy ways to share!
Incoming search terms:
can you store alcohol in lockers outside disneyland
https://www themouseforless com/blog_world/disneylands-picnic-area/
https://www themouseforless com/blog_world/disneylands-picnic-area/#:~:text=Disneylands Picnic Area is located right outside the picnic area