This post may contains affiliate links for your convenience. If you make a purchase after clicking a link we may earn a small commission but it won't cost you a penny more! Read our full disclosure policy here.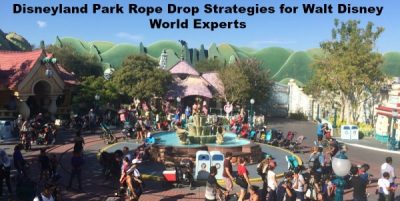 Mickey's Toontown – an entire land you won't find at Walt Disney World
When you look at the crowds that arrive at Disneyland Park every day, you'll see all kinds of people. Some of them are on their first trip to the Happiest Place on Earth. Others have been dozens of times, or even more. They will, naturally, approach touring the parks very differently.
But there's another group of people who also have to think carefully about how to tour: Walt Disney World experts who are trying out Walt's original park for the first time.
These are people who have already maxed out their score on Buzz Lightyear. They've Zip-a-dee-doo-dahed down Splash Mountain more times than they can count. How should they approach touring Disneyland Park for the first time?
Here's my advice for rope drop strategies for long-time Walt Disney World, first-time Disneyland, visitors.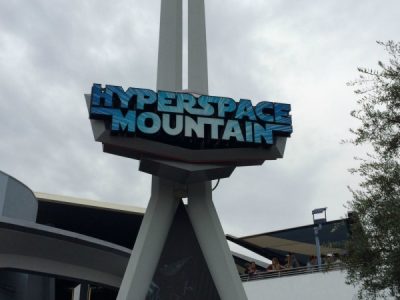 Grab a FastPass.  Trust me.
First, what is rope drop?  It is the term that's used for the time when a Disney theme park opens for the day.
When you arrive at Disneyland Park, you're going to want to head to Tomorrowland and grab FastPasses for Hyperspace Mountain. I know, I know, you're saying, "But Kristina, you know we're Walt Disney World experts! We've been on Space Mountain loads of time!" Sure, but not HYPER SPACE Mountain. This current Star Wars themed overlay is absolutely not to be missed for both thrill ride enthusiasts and Star Wars fans. Keep an eye on your FastPass time and return to ride this within your hour long window.  And just in case you've forgotten, Disneyland still usual the original paper fast pass system that was common at Walt Disney World for many years.
Incidentally, if you happen to arrive during Halloweentime, you'll grab those FastPasses for Space Mountain: Ghost Galaxy, which is the same ride with a spooky Halloween overlay. Trust me.
After you get those, head over to Fantasyland. This area is host to a lot of Disneyland exclusive rides. First up should be the Matterhorn, a fun, albeit bumpy, toboggan style roller coaster which does not offer FastPass. (Yet.)
After this, head to Peter Pan's Flight as soon as possible. (Nope, this doesn't offer FastPass either.) If you feel like you don't need to ride this (it's basically the same as at Walt Disney World) feel free to skip it- the lines here can get ridiculously long.  Afterwards, enjoy a ride on Alice in Wonderland. Head next to the nearby Storybookland Canal boats OR the Casey Jr. Circus Train, depending on which one tickles your fancy more. Both rides show you the miniature Storybookland featuring tiny sets from classic Disney films.
When you're done, head over to Mr. Toad's Wild Ride, which still operates here on the West Coast. Afterwards, head to Snow White's Scary Adventures, and definitely don't take the apple.
Last on your Fantasyland tour should be Pinocchio's Daring Journey. This Disneyland exclusive never seems to have long lines. As you head towards Mickey's Toontown, stop and gape at it's a small world. The structure is simply gorgeous. And even if you've done this ride to death, consider taking a spin on it here. Hidden throughout the ride are classic Disney characters designed to match the Mary Blair designed dolls, all in the country in which their story takes place. It's very sweet.
By this time, Mickey's Toontown should be open for business. (This area of the park often opens later than the rest, and is usually not included in hotel guests' Early Entry.) Since this is an entire land that no longer exists in Walt Disney World, you'll want to explore this area, making Roger Rabbit's Car Toon Spin (a FastPass attraction) a priority.
SEASONAL EXCEPTIONS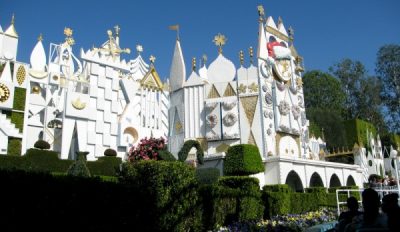 it's a small world Holiday
If you happen to be visiting during Halloweentime, you'll definitely want to snag FastPasses for both Space Mountain: Ghost Galaxy and the Haunted Mansion Holiday. Since the Haunted Mansion Holiday is not open during hotel guests' Early Entry, if you are eligible for that perk, hit Tomorrowland and/or Fantasyland first.
And if you're there at Christmas time, it's a small world has a sweet holiday overlay in which the dolls sing Jingle Bells along with that song that reminds us over and over that it's a small world after all. This ride, even with the overlay, tends to have fast moving lines.
What are your tips for what Walt Disney World experts should do when they take part in Disneyland Park Rope Drop? Share your thoughts in the comments.