This post may contains affiliate links for your convenience. If you make a purchase after clicking a link we may earn a small commission but it won't cost you a penny more! Read our full disclosure policy here.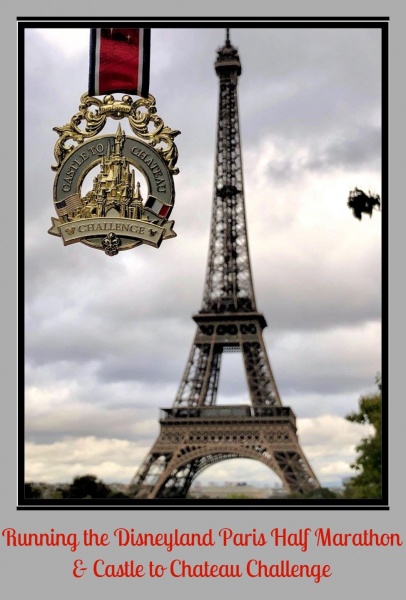 Welcome to the main event: The Disneyland Paris Val d'Europe Half Marathon! This race would be the final run of the Disneyland Paris 36K Challenge and the race where I would finally receive my Castle to Chateau medal!
Our 36K journey began with the Marvel-themed 5K on Friday night, followed by the villain sidekick-themed 10K on Saturday morning. I was afraid that I would be exhausted by Sunday morning, but adrenaline can be a miraculous thing. As always, I woke up excited and ready!
We had no crazy costumes planned for today. My friend Lisa and I opted instead to celebrate our Castle to Chateau journey with custom-made shirts that featured the castle on the front and a quote from Ratatouille on the back. We also brought little Remy (in the form of a tsum tsum) along for the ride.
We left our hotel room a little later than we had for the 10K, but still found corral D pretty empty. The weather was bit on the yucky side prior to the race. It was raining, not hard, just enough to be annoying. We took foil blankets along mostly to try and stay dry because it wasn't that cold.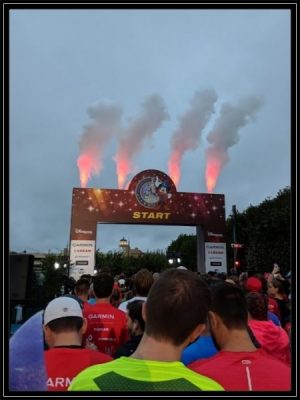 Thankfully, the rain didn't last long, but the start of the pre-race entertainment was delayed by about 10 minutes. I do not know if this was intentional or not. Either way, it meant the start of the race was slightly delayed too.
The wait went by fast though and soon we were on our way. I was a little surprised by the humidity and the temperature. I felt like I was running another Florida race!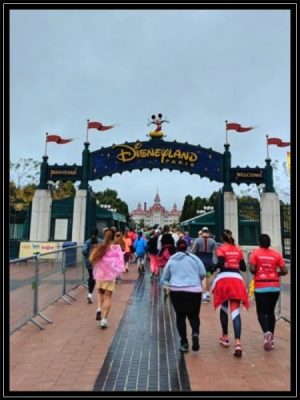 The first few miles went through the parks, which is always exciting. We passed Gaston, Hercules, and Loki (who we had missed during the 10K). Since we were unfamiliar with the course and wanted to make sure we had enough time to finish, we opted for selfies instead of character stops. One of our favorite moments was snapping a photo with the chefs from Bistrot Chez Remy. They were excited to see that little Remy was with us!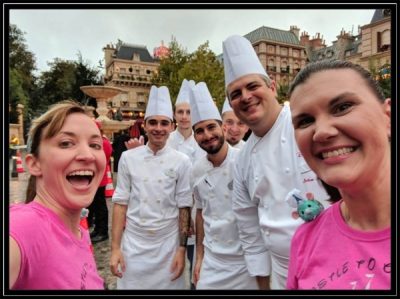 Somewhere around mile 6, we headed backstage and out of the parks. One thing I did not realize was that there would be no more characters from this point on. Had I known, we probably would have stopped for some photos toward the beginning of the race.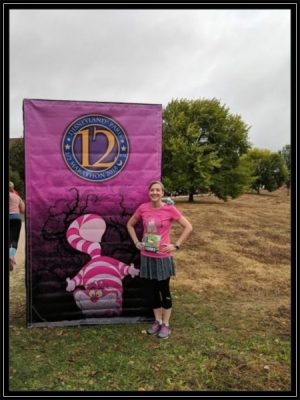 The course then took us out into the countryside. Some runners complained that this part was boring, but I thought it was beautiful. After running so many Walt Disney World races where much of the course feels like endless road running, this was a refreshing change.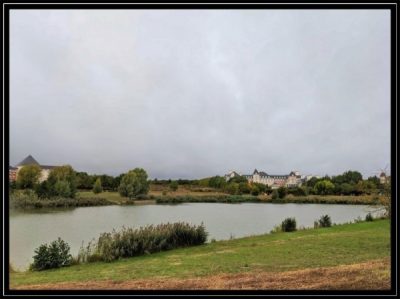 We did encounter some fun entertainment on this part of the course. Cheerleaders, bands, and even break dancers performed for us as we ran past. Before re-entering the Studios Park where we would find the finish line, we passed by some of the other Disneyland hotels. I was really expecting to find a character or two here, but there were none. It was still nice to see some of the other hotels since we had not ventured over into that area before the race.
It wasn't long before the finish line was in sight! I couldn't believe it! The moment had finally arrived. I was about to cross the finish line and earn my half marathon medal as well as my Challenge and Castle to Chateau medals!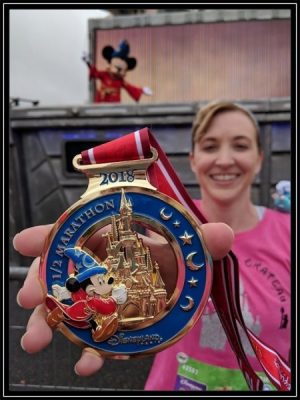 Sorcerer Mickey was on stage just beyond the finish line, posing for runners and entertaining the crowd. Volunteers lined the finish line area and handed out half marathon medals. I loved the medals and was so happy to receive mine!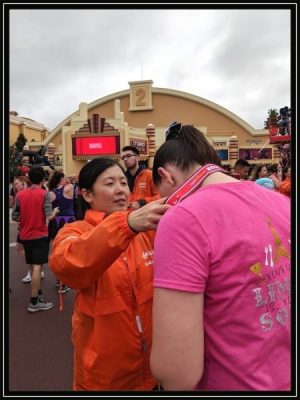 After some photos, we began the trek back to the expo tent to collect the rest of our medals. We grabbed snacks and water along the way. We also received a bottled iced cappuccino. Hooray for coffee!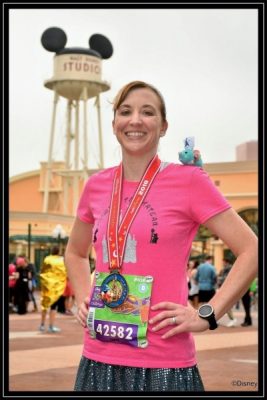 The process of collecting our medals was relatively quick and smooth. I will admit that I teared up a little when the Castle to Chateau medal was placed around my neck. I actually met my goal and earned the medal I had dreamed about. It was an amazing moment!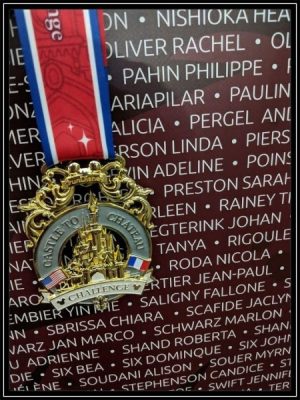 After the race, we cleaned up and headed to Paris to celebrate our successful run. The first thing we wanted to do in Paris was eat! We found a wonderful restaurant that also had a bakery. It was the perfect lunch and we were able to pick up some treats to take home too.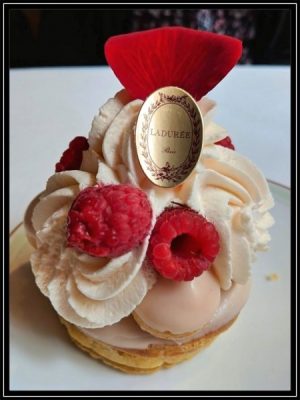 Next, we were off to the Eiffel Tower to take pictures with our medals. I can't think of a better backdrop for photos than Paris! We enjoyed exploring the city and taking in the sights all afternoon.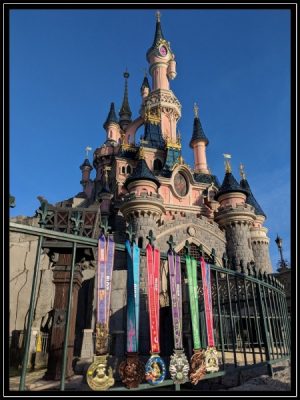 In the morning, we returned to Disneyland one last time to take photos with our medals in the park. Of course, there were runners all over doing the same thing. I even rode the Tea Cups with all of my medals around my neck. The time went by too fast and before long, we were on a plane heading for home. The memories we made on our whirlwind trip will certainly last a lifetime.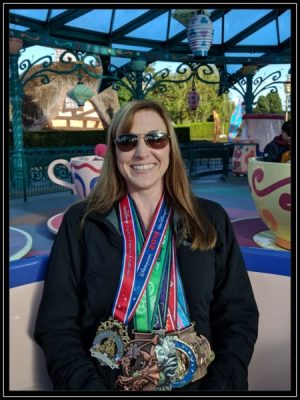 So it would seem that my journey from Castle to Chateau had come to an end. But how do you celebrate the successful completion of 2 Disney half marathons? You guessed it! By running another one!
During the first weekend in November, Lisa and I did just that by running the Wine and Dine half marathon. It seemed only fitting that we should finish our journey at "home" at Walt Disney World. This was our celebration race and we had a fabulous time. It was definitely a happily ever after ending to an incredible journey!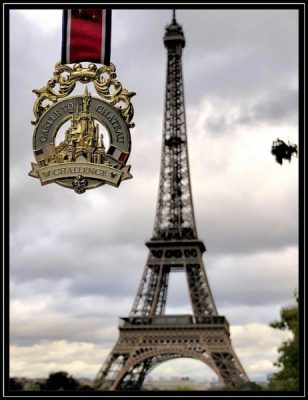 So, there you have it. The journey that consumed nearly a year and a half of my life. An adventure filled with planning, training, traveling, and running. My journey from Castle to Chateau…and back.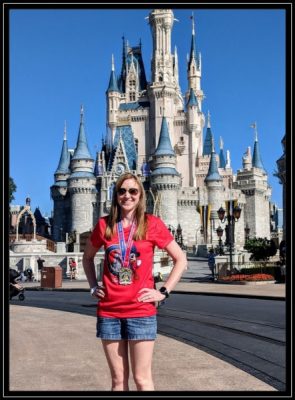 Have you run this race before? What were your thoughts? Share in the comments,or on Facebook or Twitter!
Did you like this article? Make sure to share it with your friends! Check below for easy ways to share!
Want to visit Disneyland Paris? Contact The Magic for Less Travel for more information and a free, no-obligation quote.