This post may contains affiliate links for your convenience. If you make a purchase after clicking a link we may earn a small commission but it won't cost you a penny more! Read our full disclosure policy here.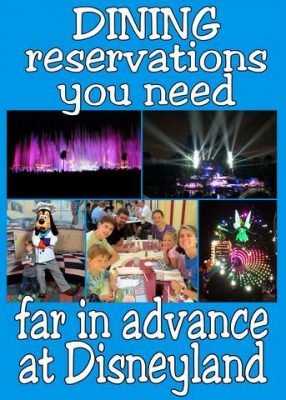 Disneyland dining isn't quite like Walt Disney World. You can't make reservations until 60 days in advance — practically heresy to 180-day planners. There's no free dining to skew the reservations, and many fewer restaurants overall. So what should be your highest priorities when planning your Disneyland dining?
We checked the Disneyland website for dining reservations, noting how far in advance you'll need to book to get the table you desire. Not everything books quickly, so plan (or not!) accordingly.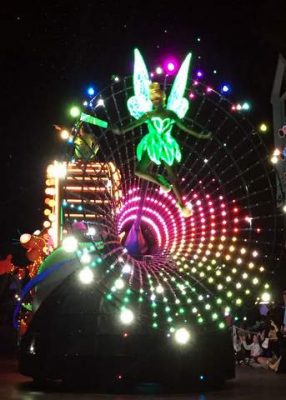 1. Entertainment packages, especially new offerings. Right now the hot ticket is the Carthay Circle Paint the Night dining package. This gets you a prix fixe meal at California Adventure's nicest restaurant and a reserved chair to watch the parade. This package is very popular right now and availability is hovering around 50 days in advance. Farther out  than that, there is sporadic availability.
The Fantasmic dining package at River Belle Terrace — for a revamped show that is less than a year old — is easier to get now, running about two to three weeks out. This one has limited availability because Fantasmic only runs on weekends during the off season, but I've also seen it sold on a walk-up basis that day. There are dining or dessert packages for World of Color, the Pixar Play Parade, and the Frozen musical.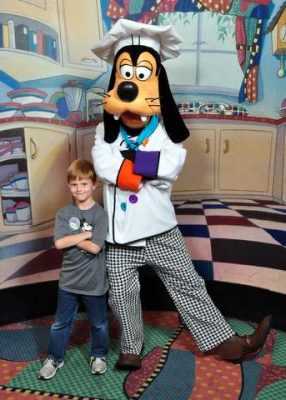 2. Character meals. Disneyland is down to one in-park character meal with the closure of the Ariel's Grotto princess meal in California Adventure. Luckily, Disneyland park still has the fabulous Minnie and Friends character breakfast. Since this only runs until 11:00 each day, tables are limited. I found a random table for 4 only three days in advance … but then nothing for another three weeks.
Two character meals at the hotels are about to see increased attention — the new Mickey's Tales of Adventure Character Breakfast at the Grand Californian Hotel (Storyteller's Cafe) and Donald Duck's Seaside Breakfast at the Paradise Pier Hotel (PCH Grill), which both begin in July. While the hotel meals (including the all-day character meal at Goofy's Kitchen in the Disneyland Hotel) are traditionally easier to get — I could find a next-day table for a weekend day — these new options will at least temporarily be more popular.
3. Blue Bayou. This classic restaurant, on the shores of the Pirates of the Caribbean ride, is often the toughest table in Anaheim. Since it also offers packages for Fantasmic, dinner tables can be even more limited. You don't necessarily need to book right at 60 days in advance, but don't wait too long. You might find a stray reservation for the next night — but it will probably be a 4:00 p.m. or 9:30 p.m.  Lunch is a little easier to get. If you want a waterside table, I'd recommend the first reservation of the day at 11:30 a.m. and showing up early. Otherwise you might have a long wait for those preferred spots.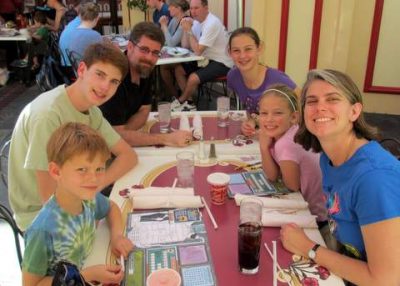 4. Anything that is a must-do or a big party. If you have your heart set on Carnation Café at noon on a certain Saturday, book as soon as possible. Same with a large party — more than about six people and you'll not want to chance it the week of. I have done Goofy's Kitchen with 15 people and they definitely had to maneuver several tables together, even though we arrived right at the start of dinner.
The good news!
You WILL find somewhere to eat at Disneyland on any day, even if you decide on the spot to go the parks. Café Orleans, Carnation Café, Wine Country Trattoria all have same-day reservations, even on very busy days. The Downtown Disney restaurants are walking distance (and within the security area) and will always have reservations available that day. The hotels have some of the best restaurants and are all a short walk from the parks.
How to book
Disneyland has added the ability to book table service reservations on the Disneyland app. Find "Dining" in the top bar of the park map and click on the fork-and-spoon icon for the location you want. Then select "Reserve Dining." You can also make Disneyland dining reservations through the Disneyland website. A few Disneyland dining packages or special events still require a phone call but the website should specify which ones. Be aware that entertainment packages don't always get loaded into the system right at 60 days, so you'll have the keep checking if it is important.
What restaurants or Disneyland dining experiences have you noticed you need to make advance reservations for? Share in the comments, or on Facebook or Twitter.
Did you like this article? Make sure to share it with your friends! Check below for easy ways to share!