This post may contains affiliate links for your convenience. If you make a purchase after clicking a link we may earn a small commission but it won't cost you a penny more! Read our full disclosure policy here.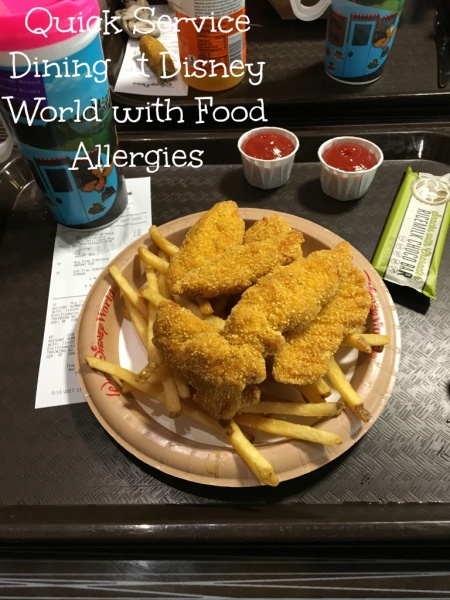 It is relatively easy to become comfortable with dining at Disney World with food allergies or other dietary restrictions when dealing with table service restaurants where you can speak to the chef. Quick Service dining can still be easy and stress free for those with food allergies whether you're on the dining plan or just looking to add more flexibility to your schedule.
How to Address Food Allergies and Special Dietary Needs at Quick Service Locations
When you encounter a Cast Member at the quick service location, let them know about your food allergy or other dietary restriction. Depending on your restriction and preference, the Cast Member will either give you an allergy friendly menu or go get a chef. Be prepared to wait longer for an allergy friendly meal as they are often prepared separately and freshly by the chef him or herself.
Food Allergy Friendly Options at Quick Service Locations
Just like with table service restaurants, you should look at menus before you pick a quick service restaurant. While most restaurants can easily accommodate food allergies, your options may be more limited at some locations. The resort food courts tend to be some of the most accommodating of dietary needs. Most stock allergy friendly/free chicken tenders, gluten free pasta and buns, and have a dedicated fryer. Other quick service with a variety of allergy friendly options are Sunshine Seasons and Electric Umbrella in EPCOT, Be Our Guest in Magic Kingdom, and Flame Tree Barbecue in Animal Kingdom.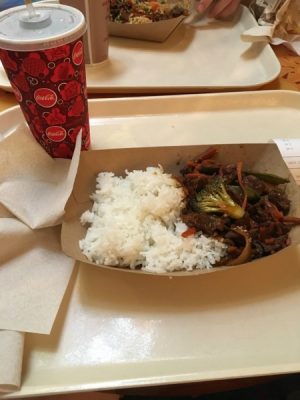 Pre-Ordering with Food Allergies
Be Our Guest Restaurant allows for pre-ordering meals 30 days before your lunch quick service reservation. If you are dining at Be Our Guest, you will be able to select your food allergies (assuming they are among the top 8) and the menu will readjust to show the safe options. These meals are prepared and delivered separately, so your food may arrive earlier or later than the rest of your party's food if you all pre-ordered. Hopefully, Disney will roll out a similar feature for mobile ordering with the new Satuli Canteen and other restaurants with the new feature.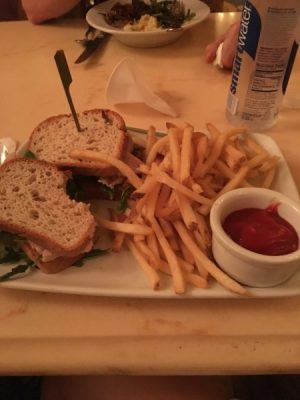 A special note for those with peanut allergies
A few quick service locations serve Smuckers Uncrustables peanut butter sandwiches. These are pre-packaged sandwiches and I have found Disney World quick service establishments to be cleaner than your average fast food, but if you are touch or airborne sensitive, you will likely want to avoid these locations. Similarly with any food allergies, you may want to bring your own wipes to clean quick service tables and chairs, since you never know if the person who used the table before you may have been eating your allergen.
If you're traveling to Disney World with food allergies, please check out my prior installments on planning and table services. In the next part of this series, I'll discuss my favorite allergy-friendly snacks at Disney World.
What are your tips for dining at quick service locations at Disney World with Food Allergies? Share them in the comments. 
Did you like this article? Make sure to share it with your friends! Check below for easy ways to share!
Incoming search terms:
best quick service to eat at disneyworld for food allergies
https://www themouseforless com/blog_world/disney-world-with-food-allergies-quick-service-dining/