This post may contains affiliate links for your convenience. If you make a purchase after clicking a link we may earn a small commission but it won't cost you a penny more! Read our full disclosure policy here.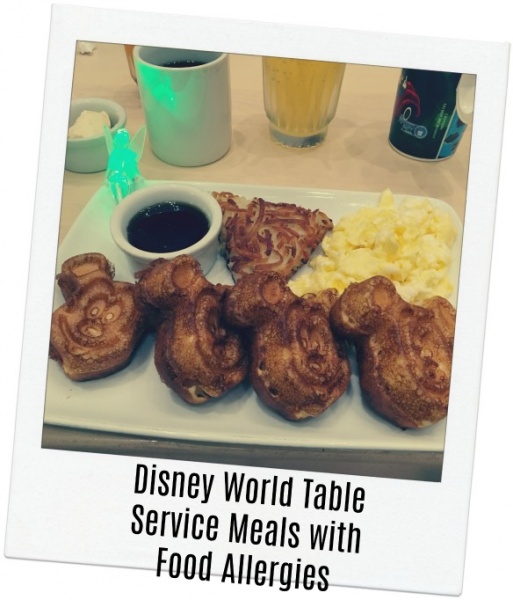 Walt Disney World has become the gold standard for accommodating guest with food allergies and other dietary restrictions. All Walt Disney World restaurants can accommodate food allergies and unlike in the "real world" you'll rarely find your self faced with just plain gluten free pasta or a plate of lettuce.
Make Advanced Dining Reservations and Note Your Food Allergies or Dietary Restrictions
Disney chefs can accommodate most of the top 8 most common allergies without prior notice. Even without food allergies, most popular Walt Disney World restaurants will need Advanced Dining Reservations made prior to your Walt Disney World Reservations. By noting your dietary restrictions and food allergies in advance, the restaurant and chef can make additional preparations if needed. For example, at 50's Prime Time Cafe, the chef started boiling fresh oil in a dedicated fryer should I want fried chicken with my allergies.
Remind the Host/Hostess and Wait Staff of Your Allergy or Dietary Restriction
When you check in at a restaurant, your seating ticket should be marked with an Allergy stamp (even if the restriction is something other than a food allergy). Additionally, when seated the waiter or waitress should offer and allergy menu and the opportunity to speak to a chef. Sometimes the restaurant may make a mistake, so it always a best practice to ask along the way.
Allergy Menus at Table Service Restaurants
In 2015, Walt Disney World debuted allergy menus at all of its table service restaurants. These menus list what items are safe for each of the top 8 most common allergies on the standard menu for a restaurant. This is very helpful when dealing with a single food allergy or when trying to consider what items may be modified. Guests with food allergies may still request to speak with a chef. As someone who deals with multiple severe food allergies,  I have found that I still need to speak with a chef on some occasions. Similarly, someone with an uncommon food allergy (such as sesame) will still need to speak with a chef.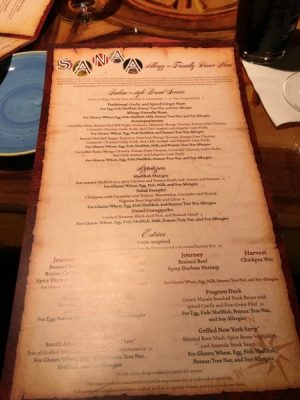 Buffets and Food Allergies
Most buffets and all you can eat meals do not have the food allergy menus like other table service restaurants. Some have begun to experiment with them. In general, once seated at a buffet or all you can eat meal, your waiter or waitress will go get a chef. The chef will then walk the buffet with you and discuss what you can and cannot eat and any additional items they can prepare (like allergy friendly Mickey waffles). You may also request that the chef prepare your food separately in the kitchen to limit cross-contamination risks.
A Quick Word About Desserts
If there is one area of table service dining where your options are still likely to be limited by food allergies, it's desserts. This can be especially frustrating when on the dining plan. All restaurants will have an option, but it is often a fruit plate or sorbet. Some restaurants can get creative and some stock allergy-friendly cupcakes or cookies, but it's best to prepare for some lackluster options. Then when something turns out better, it's a happy surprise.
Walt Disney World restaurants are generally among the safest someone with food allergies will encounter. Still, be sure to take precautions and have the necessary elements of your allergy emergency plan with you (EpiPens, antihistamines, etc.).
If you missed it, the first part of this series discussed what to do before you leave for Walt Disney World for people with food allergies. The next part in the series will discuss Counter Service/Quick Service dining with food allergies.
What tips do you have for dining at Walt Disney World with food allergies at Table Service locations? Share them in your comments.
Did you like this article? Make sure to share it with your friends! Check below for easy ways to share!
Incoming search terms:
can disney world accomodate a black pepper allergy