This post may contains affiliate links for your convenience. If you make a purchase after clicking a link we may earn a small commission but it won't cost you a penny more! Read our full disclosure policy here.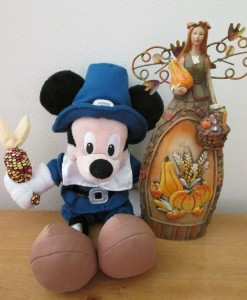 I've never spent the Thanksgiving season at one of the Disney Parks, but I sure would like to!  The Thanksgiving season would be an ideal time to visit Walt Disney World or Disneyland because you'd get the bonus of seeing all of the festive Christmas decorations as well as being able to enjoy a Disney Thanksgiving meal and time with family right in the heart of Disney magic!
At Walt Disney World, many of the restaurants in the parks and resorts will offer special menus on Thanksgiving Day.  I'd strongly recommend making Advanced Dining Reservations (ADRs) for Thanksgiving Day to be sure that you will get a table at a restaurant of your choice.
I'd have a hard time deciding where to eat!  Liberty Tree Tavern in the Magic Kingdom offers a traditional Thanksgiving menu year-round, but on Thanksgiving Day there are many places you can enjoy a turkey and the trimmings.  When deciding where to eat, consider the restaurants at the resorts as well as the parks.  Even the All Star Resorts offer a special menu with turkey, and that's a good option to keep in mind if you do not have dining reservations and want to grab a quick meal on the go.  I think my family would be drawn to Trail's End for the Thanksgiving buffet offerings.  That way, we can walk off part of that big meal by taking a leisurely stroll through Fort Wilderness!
If you really want to eat on the go while park touring, there is always the option of grabbing a turkey leg!  Turkey legs are available year-round, and they are large enough to share with another person.  These are sold at various kiosks in the parks.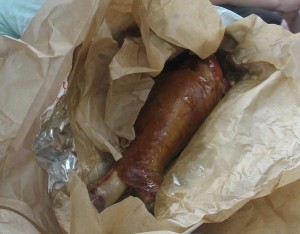 I am amazed that Walt Disney Word thinks of adding pixie dust to everything, and they even think of the furry friends who are boarded at Best Friends Pet Care!  On Thanksgiving Day, the furry guests at Best Friends Pet Care will receive a special meal of turkey with turkey and rice dog food along with other Thanksgiving treats.  How cute is that?!
Wilderness Lodge offers a Blessing of the Four Directions Ceremony in its lobby for Thanksgiving to mark Native American Heritage Month.  That would be something unique  to see!
At Disneyland, special Thanksgiving menus are  available in Disneyland and the Disney California Adventure Park.  There is also the option of grabbing that turkey leg if you'd rather just have a quick taste of turkey for tradition's sake and then carry on with park touring!
If your family is like mine and is spending Thanksgiving at home, there are still some ways that you can add some Disney enhancements to your day!  We watch the Macy's Thanksgiving Day parade every year and enjoy seeing the various Disney balloons!  Think of the foods you enjoy at the Disney Parks and resorts, and perhaps you can find a recipe of a dish or two to add to your Thanksgiving feast.  A Disney Movie Night, whether it's at home or in a theater, is a relaxing way to spend the evening.
Whether you are celebrating Thanksgiving at one of the Disney Parks or at home, we hope your holiday is wonderfully loaded with pixie dust!