This post may contains affiliate links for your convenience. If you make a purchase after clicking a link we may earn a small commission but it won't cost you a penny more! Read our full disclosure policy here.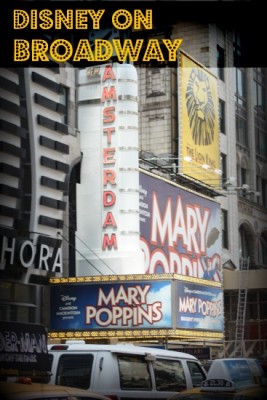 When we visited Walt Disney World in 2010, two of our girls who had just turned 2 and 1, fell in just as much love with the Festival of the Lion King show in Animal Kingdom, as I already had.  They soaked up every minute of the music, dancing, and costuming.  Because they enjoyed it so much, it led us to the decision to take them to see Disney's Lion King on Tour that winter.  They were young so it was a gamble, but they surprised even me and rocked out during the 'Be Prepared' number, when older children were even a little afraid.  We realized then that Disney had found yet another way into our hearts – through the theater.
If you have ever wondered what the Lion King on Broadway is like – the Festival of the Lion King sets the stage – and while they're very different, the underlying message and musical score is evident in both.  The music from this movie, moves me every time I hear it, and on stage – well, it's nothing short of amazing.
While it doesn't take much to get me to a musical, whether it be on Broadway or off, making it a Disney production seals the deal.  The Lion King is considered one of the most successful musicals on Broadway, still going strong after debuting almost twenty years ago in 1997.  It currently plays in the Minskoff Theater in Times Square, and is touring in six countries across the globe.  I think seeing a show in any theater is a magical experience, but being in Times Square adds something special to it.
Where we live, we are fortunate that New York City is only 3.5 hours away by train – a little longer by car, Boston is only one hour away, and Providence is less than 40 minutes away.  That's a lot of theaters that we have access to!
We are huge Mary Poppins fans in our house, so we jumped at the chance to see the show in New York city a few years ago.  At the time, Mary Poppins was playing the New Amsterdam Theater – the Lion King's original home.  We traveled to the city to see the show and were mesmerized by the inclusion of some new songs written for the Broadway adaptation.
If you've ever read the Mary Poppins books by P.L. Travers, you'll know that Walt Disney's movie differed from the books, as does the musical.  This is important to note as I've heard many people say they were either surprised, or disappointed, that the musical was not "like the movie."  Personally, we really enjoy the musical version.  If you manage your own expectation that its different, you'll find yourself very pleasantly surprised by some of the songs but even more so by the creative take on the classics such as "Supercalifragilisticexpialidocious" and "Chim Chim Cher-ee." You'll so delighted by the production.  We enjoyed this musical so much, that after seeing it in Times Square, we saw it again when it began its North American tour and came to Providence, RI.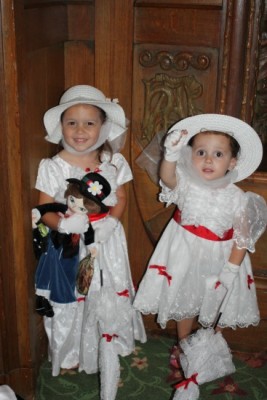 The girls in their Mary Poppins outfits
Another show that we were desperate to see upon its Broadway debut, was Aladdin.  Aladdin opened on Broadway, also in the New Amsterdam Theater, in the spring of 2014.  We saw it just a few months later and the first word that always comes to mind is – phenomenal!  Unbelievable, amazing, and awesomeness also come to mind.  Although I loved the movie Aladdin (I saw it seven times in the theater as it came out in while I was in high school), I was still absolutely amazed at how much I simply loved this musical production.  There was not a moment of the show that wasn't fabulous.  My youngest was a little over two years old for this show and while it runs close to three hours, I don't think she peeled her eyes from the stage for a second.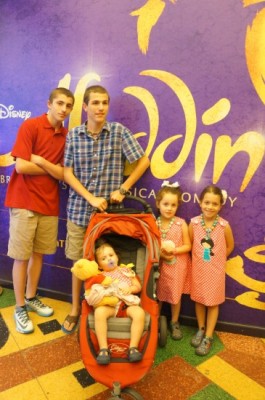 This was a show where not one scene felt as if it shouldn't be there.  Think of the world of Agrabah, the colors, the sparkle, the lights.  The sets for this performance were right out of the animated feature, only better.  The costumes – they were the costumes you dream about playing dress up in – they look majestic, colorful, glittery, soft, sparkly, dazzling! There were stage effects that left us in awe.
The role of Genie is played by James Monroe Iglehart who won a Tony for his performance.  He does the late Robin Williams every bit of justice he deserves in this role.  He blows it out of the water.  Another treat is that the role of Jafar, is played by Jonathan Freeman, the voice of Jafar in the animated film.
This show is the one that everything else will always be compared to, the one I can't wait to see again.  Of course we had to buy the soundtrack and the songs take you right back into the New Amsterdam Theater.  What always surprises me is how small the theaters in New York are – well the few I've been to.  I know that Radio City Music Hall is so big I will probably need my binoculars when we finally get there, but the New Amsterdam Theater is cozy!  We have sat in the front row of the first mezzanine each time we've been there and I couldn't be happier with these seats.   I also love that the theater offers small booster seats for children– it is a Disney theater after all.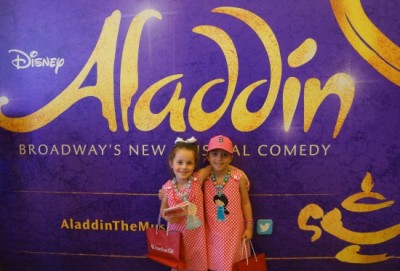 The next Disney musical I knew we had to see, was Newsies.  Newsies was one of my favorite movies as a kid, and we all know that Disney fans loved Christian Bale long before he was cast as The Dark Knight.  While we planned on seeing Newsies on Broadway as well, it never worked out, but it started touring and we were able to see it in Boston in 2015.  I was beyond excited for my girls to see the show and truthfully, they hadn't seen the movie yet.  Many of the songs we know and love from the movie, "Seize the Day" and "King of New York" are part of the musical and don't disappoint.
Like Mary Poppins though, the storyline differs from the 1992 Disney film and although I should have, I wasn't expecting that.  I thought the musical lacked the story the movie told of Jack's connection to David's family and while there was a love story, it was also very different from the movie.
What was pretty great about this musical was the sets.  They were very basic and didn't change very often, but there was one complex structure used for many of the dance numbers, that was simple at the same time and it worked well.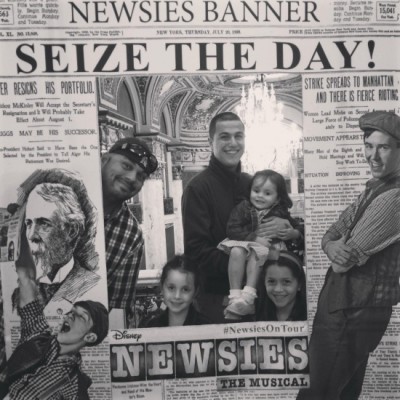 I know there have been other Disney productions in the theater, and I'm sure there will be more (Frozen!), and I would give each one a shot.  My children have loved each show we've seen and I think it's great that they have fallen in love with these stories, these characters, and most of all the music, on the stage.  I know I'm crossing my fingers for Tangled to hit Broadway!
What Disney on Broadway show have you seen? Which is your favorite? What would you like to see?