This post may contains affiliate links for your convenience. If you make a purchase after clicking a link we may earn a small commission but it won't cost you a penny more! Read our full disclosure policy here.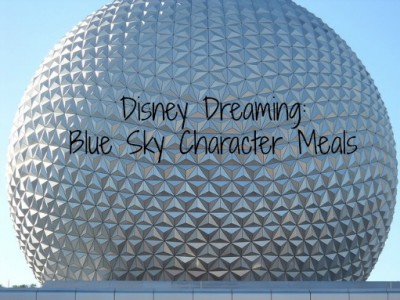 In the immortal words of Cinderella, "A Dream is a Wish Your Heart Makes" and new Disney Character Meals are what great dreams are made of. Many Disney enthusiasts may have to re-quote Snow White and say "A Dream is Wish Your Stomach Makes". What Disney fan hasn't spent some day dreaming time creating new and exciting character dining experience? I have and this week I am going to share some of my mouthwatering, blue sky, appetizing ideas.
1. Frozen: Let's get the obvious out of the way. It's only a matter of time until Anna and Elsa have their own dining experience. My suggestion would be to let them have Akershus for one meal, that way the princesses could still have their dining experience as well. The menu could be the same, but Anna and Elsa would invite their friends Olaf, Sven, Kristoff, Oaken and Marshmallow. Doesn't everyone want to meet a huge ice monster from high above the mountains of Arendelle. Of course, autographs would be available and in keeping with the chilly atmosphere everyone gets an autographed holiday Christmas ball to take home.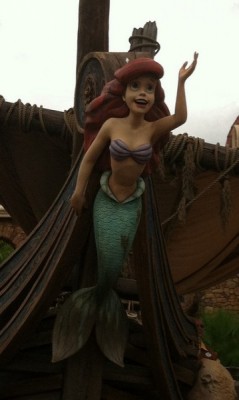 2. Little Mermaid: My suggestion would be to repurpose the Coral Reef for a breakfast dining experience. The area already has the ocean as it's backdrop.  It has all the necessary ingredients to host an awesome The Little Mermaid-themed meal. My suggestion would be to have Flounder and Sebastian swim around the "ocean floor" with all the other fish in the already existing tank. Ariel would also be able to swim around with her aquatic friends, but then she would swim to the land and reappear with Prince Eric in the dining area to greet diners, give autographs and pose for photos. King Triton could also roam the dining area welcoming guests to his newly acquired kingdom. Of course, accommodations will be made so that he may freely met guests on all levels of the dining area. After Ariel, Eric and King Triton are done welcoming some of their guests, Ursula would take over the tank. Her appearance would be accompanied by a commanding light show that illuminates the tank and the dining area while giving Ursula a chance to flash her toothy grin and stretch her tentacles. After she has had her moment, Ariel will take over the tank again to show off her swimming skills and the cycle would continue. No seafood will be served at this dining experience so as not to upset our hosts.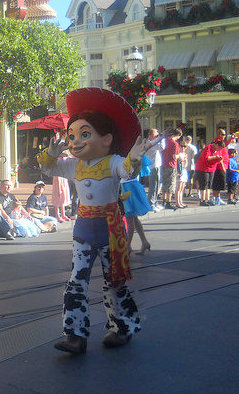 3. Toy Story: It's great to meet and greet Buzz and Woody, but wouldn't it be great to see all the Toys together? My suggestion would be to close Pizza Planet. I know this is a controversial idea, but stick with me. I would redecorate the space and separate it into sections. One area would look like Andy's room, another section would look like Al's Toy Store and then another area would be modeled after a giant toy box. Tables and chairs in the space could be modeled after Legos and popular board games. Remember this is a two story venue so there is plenty of room for character interaction. I would love to see Buzz, Woody, Jesse, the Army Men, Bo Peep and Mr. and Mrs. Potato Head to name a few. Even Andy could make an appearance. Being the mom of two sons I feel this would be a prime opportunity for Disney to capitalize on a more boy oriented dining experience.
4. Pirates of the Caribbean: Seeing that I am blue sky dreaming let's go all the way. Disney builds a new dining space on the water. The space would have the façade of the Black Pearl. Diners could come and not only eat here, but it could be another opportunity for pirate makeovers. Imagine your little one getting all made up in their favorite pirate garb and sitting down to dine among his mates. Obviously there would need to be a way for patrons to enter the ship. What better way to enter than to "walk the plank". NO diving in water here, just diving into tasty vittles served by the crew. Make sure to order the Pirate Punch, don't want you to get scurvy during your voyage.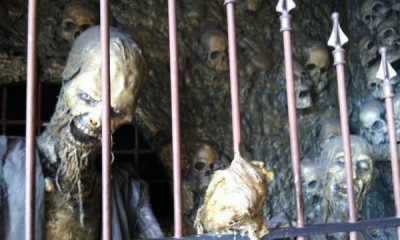 The sound of waves and seagulls would play in the background. Tables would designed as long wooden floor boards and smaller tables designed as large compasses. Captain Jack Sparrow, Barbosa, Blackbeard, Miss Swan and Will Turner would wander with in the ship. The area would have real movie memorabilia scattered within and in one area the chest that houses Blackbeard's heart would be on display. Opening to expose the treasured heart to unsuspecting diners. Diners would be treated to "spontaneous" sword fights between Will and Jack in between pirate skullduggery by the crew.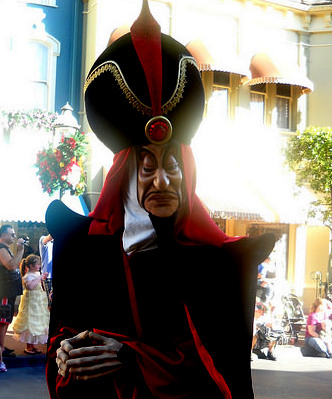 5. Cocktails with the Villains: I love a good villain, I even love a bad villain. Who doesn't? Isn't it time they got their due. I had heard this idea before and just love it so I am including it on the list with my own spin. While this isn't technically a dining experience, I think it is a super idea. Cocktails with the Villains would be called the UN-Happy Hour. It would be a hard ticket event for those 21 years and older and, just so people do not get out of hand, there would be a two drink maximum. I would repurpose a space at Disney Springs on the old Pleasure Island side. There would be specialty drinks and appetizers served and patrons could have a one on one "dining" experience with the villains. Imagine listening to Captain Hook commiserate with Maleficent about how they never get victory. Jafar could be over heard complaining "If only my magic carpet were a little faster, I could have caught that rascally Aladdin." Ursula could be charge of the bartending. Imagine how quickly she could create special concoctions with those eight arms. The Evil Queen could be serving Apple Martinis warning you "Be careful my dear, you don't want to have too many of these." Wink, Wink. The atmosphere could be dark, foreboding like a scary forest and have an interactive atmosphere that plays off of the villain's conversations and movements.
Have you made your Advance Dining Reservations yet for any of these meals? Unfortunately, we Disney fans may have to wait awhile for these Disney Dining Dreams to come true, but in the words of Walter Elias Disney "If you can dream it, you can do it."
What character meal would you like to see at either Walt Disney World or Disneyland? Let us know in the comments!