This post may contains affiliate links for your convenience. If you make a purchase after clicking a link we may earn a small commission but it won't cost you a penny more! Read our full disclosure policy here.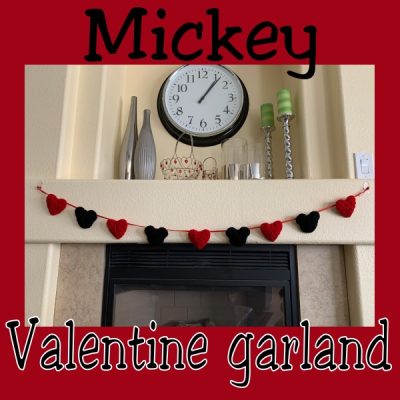 For holiday cheer of a different and loving variety, let's make a Mickey Valentine garland to decorate with some heart!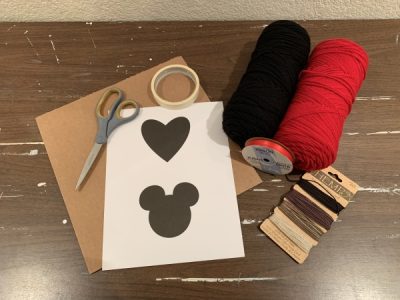 Supplies:
Yarn in multiple colors (I used black and red)
Cardboard and a template for shapes
Tape and scissors
A ribbon or yarn to string the garland
Glue gun or other adhesive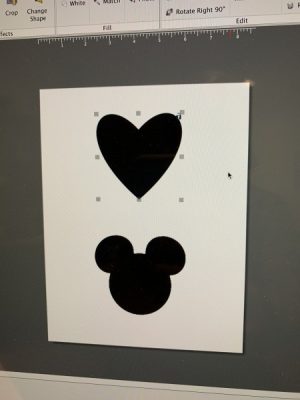 To start, I found silhouette images of a heart and Mickey Mouse ears online and printed them the size I wanted (about a 3-inch diameter) onto cardstock to use as a template. Cardstock is easier than paper to trace around.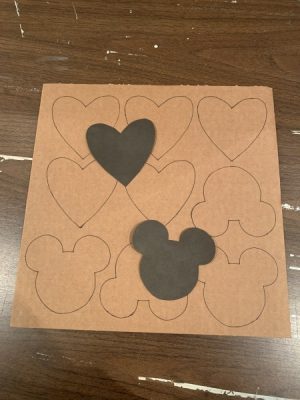 Then I traced my template onto corrugated cardboard in both of the shapes. Corrugated cardboard is harder to cut out but will be stronger for wrapping the yarn around. And your cuts don't have to be perfect because they will be covered up!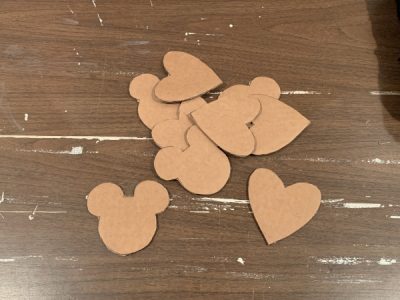 Estimating from the mantel I hoped to string it on, I made nine hearts and Mickeys total.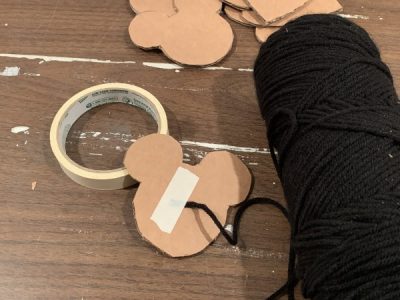 I attached one end of the strong to the back of the cardboard with masking tape. (Don't worry, it won't show through!)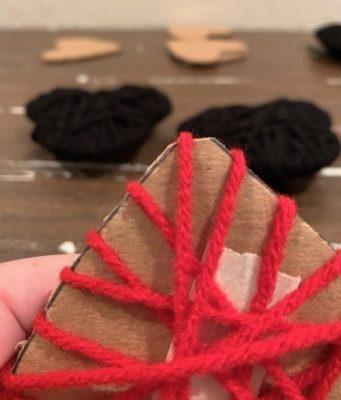 Pro tip: I blunted the tips of my hearts just slightly to make wrapping the yarn easier
Then the process of endlessly winding the cardboard at random angles around your shapes. A "Happy Working Song" from the movie "Enchanted" would be perfect for this step. Wind the yarn tightly but don't bend the ears or other points.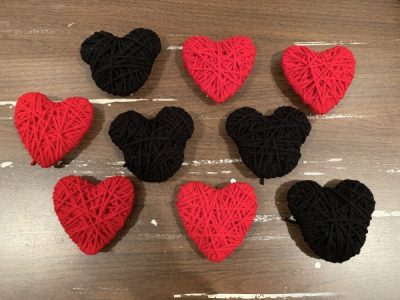 After much wrapping and twisting, I ended up with colorful Mickey and heart shapes for my garland. They will be slightly puffy from the many layers of yarn.  On the back side of each shape, I used a glue gun to affix the end of the yarn.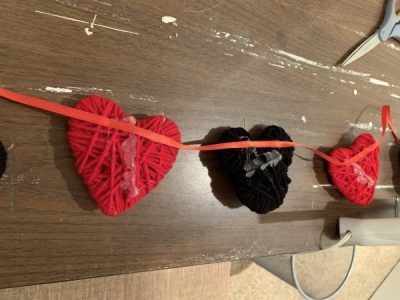 I also used the hot glue to string a ribbon on the back of the shapes. I'd recommend attaching the ribbon at several points to have the shapes hang straight.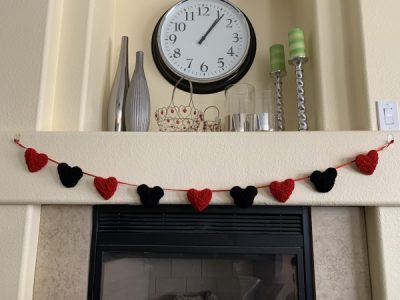 I tied loops in the end of my ribbon and used removable clear hooks to hang the Mickey Valentine garland on my mantel.
Other uses:
This made a cute Valentine's Day craft but could also be adapted to other holidays or celebrations:
pastel eggs and Mickeys for Easter
Mickeys and balloons (with dangling strings) for birthdays
hearts and Mickeys to match your everyday decor colors
Mickeys and pine trees for Christmas
What kind of garland would you make from this easy and inexpensive idea? Share your thoughts in the comments or on Facebook or Twitter!
Did you like this article? Make sure to share it with your friends! Check below for easy ways to share!  
Want to visit a Disney Destination? Contact The Magic for Less Travel for more information and a free, no-obligation quote.