This post may contains affiliate links for your convenience. If you make a purchase after clicking a link we may earn a small commission but it won't cost you a penny more! Read our full disclosure policy here.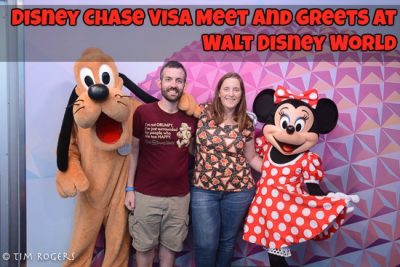 After seeing the Disney Chase Visa meet and greet signs over years of Walt Disney World trips, I actually didn't get to experience one until I went to Disneyland. After that first Disney trip with the Disney Visa, I knew I would have to carve out some time on my next journey to Walt Disney World to visit the greets there. On my last trip, I was able to do just that.
At Walt Disney World, like in Disneyland, there are two Disney Chase Visa exclusive meet and greets. At these greet Disney Chase Visa cardholders can bring a group of up to 6 people. First we'll head over to Epcot.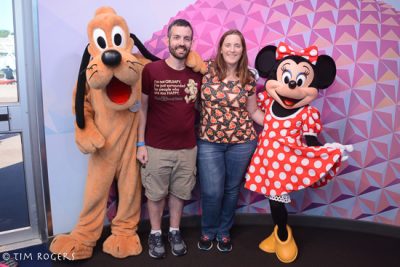 The Epcot meet and greet is located in Future World to the left of the Imagination Pavilion (it has a blue roof). This meet features some combination of Mickey, Minnie, Pluto, and Goofy. When we went Pluto and Minnie were greeting together.
Note: Some of the Cast Members may not tell you who is greeting when you arrive. While the wait is incredibly short either way, we figured out after the fact that you can just go a little around the outside of the building and look through the window to see who is there.
This meet takes place daily from 1:00 pm to 7:oo pm.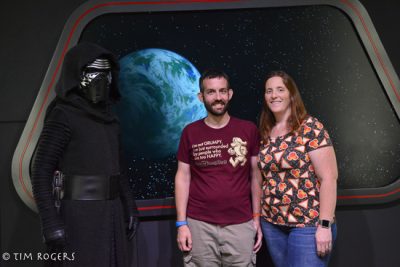 The other Walt Disney World greet takes place in Disney's Hollywood Studios, and specifically in the Star Wars Launch Bay. Much like the experience of finding the Star Wars meet and greet in Disneyland, this meet is a non-descript hallway near the exit of Launch Bay.
I have heard that Darth Vader is a possibility at this meet, but we met Kylo Ren, which I think is currently more typical. When we saw him he was broody and silent, but I can relate to that.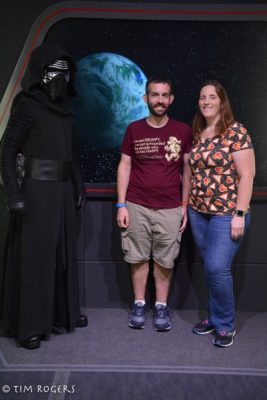 With both of these, it is definitely worth doing if you like character meets. For the Fab 5 meet, my wife and I have done Character Spot plenty of times and usually go see Mickey anyway, but Pluto had never been at any of our previous greets, so seeing him at all but also in a group was great.
With Kylo Ren, when we walked in to see him with no wait the traditional meet for him in Launch Bay was over 30 minutes. While not a guarantee, our experience with these meets is that they are much faster than most regular meets.
One last note for both of these – as a part of the meet and greet you get free downloads of the pictures via your account. You can check these out on the app or download them to a computer. It's the same process as doing Memory Maker or PhotoPass, but for these meets you automatically get them for free, which is a nice perk (the Castmembers will give you an instruction sheet if you aren't sure how to do this).
So if you have a Disney Chase Visa, or are thinking about getting one, whether you are heading to Disneyland or Walt Disney World, make sure you take advantage of these meet and greets.
Have you taken advantage of these meet and greet opportunities before? Which is your favorite and why? Share in the comments.
Did you like this article? Make sure to share it with your friends! Check below for easy ways to share!
Incoming search terms:
Walt Disney world magic kingdom park character pluto meet and greet pictures