This post may contains affiliate links for your convenience. If you make a purchase after clicking a link we may earn a small commission but it won't cost you a penny more! Read our full disclosure policy here.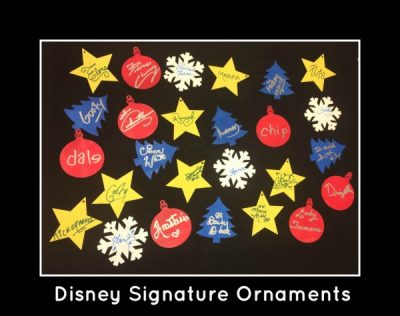 As frequent visitors to Walt Disney World, our family has been through multiple versions of the typical autograph books.  If your family is like mine, these are great fun during the trip, but end up gathering dust on a shelf at home.
For our trip the first week of January of 2017 our family was still in Christmas mode.  We decided to create Disney character signature Christmas Ornaments as an alternative to our old signature books.  The parks were still decorated beautifully, and better yet all Christmas ornaments were on after Christmas sale.
Prior to our vacation, I ordered simple flat wooden Christmas ornaments.  I debated over using other ornaments like balls, but we ended up deciding for convenience of park touring we wanted something flat that could go easily into a pocket (mainly because my husband hates to go through the bag check lines).  We also decided this would be easier for the characters to sign.
Materials needed:
Acrylic craft paint
Ornaments
Sponge type paint brush
Some type of material to protect your work service (we used a trashbag)
Sharpie pen (Make sure and test that your Sharpie color will show up on the items you painted. We had two different colors).
The entire project cost us around $25.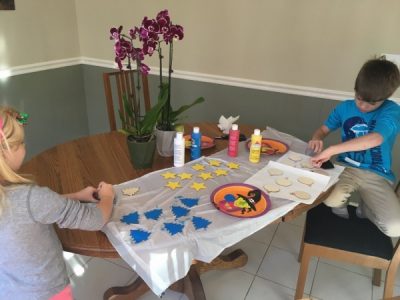 Completing our project at home
This painting project was easy enough for my 5 year old and 8 year old to do fairly independently (with occasional touch ups by me).  We painted one side, waited until it dried, and then painted the back.  We painted the different shaped ornaments different colors.  We decided to not add any details, but to let the character's signatures be the focal point.
Once at Disney, we loaded up on blank ornaments every day before park touring (make sure you have enough as you never know who you'll meet).  Don't forget to bring your Sharpie so the characters have something to sign with.  If you are at a character meal or while waiting in line, go ahead and get your items out to sign in order to help the experience move smoothly.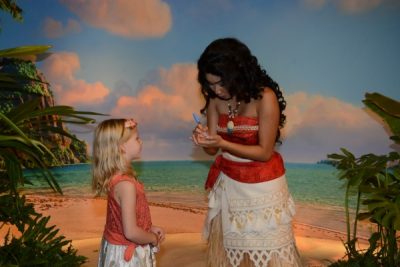 Meeting Moana
Having these special items to sign made our character meet and greets tons of fun.  It gave the kids a reason to try to get as many different character's signatures as possible.  We ended up getting 26 character signatures over the course of our trip.  The kids had some unique interactions with the characters which made for some of those wonderful extra-special Disney moments.  Moana talked about how she used the stars to sail while she signed a star and Elsa went out of the way to decorate parts of the snowflake she signed.
Character meals can be a easy way to meet lots of characters.  Less time standing in line for autographs and more time eating is a win-win in my book.  A few of our favorites from this trip included the Garden Grill  and 1900 Park Fare.  We racked up lots of signatures on our ornaments at these character meals!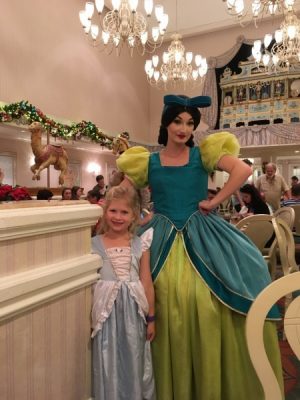 1900 Park Fare with Cinderella's "evil" step-sister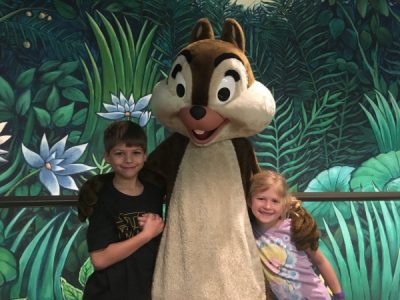 Garden Grill with Chip
While Chef Mickey's is great for the seeing Mickey and friends, we enjoyed some of the other food choices at other restaurants a bit more.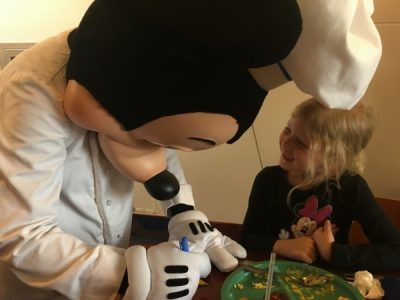 Chef Mickey's with the Big Guy himself
The kids can't wait until we are decorating for Christmas next year and we get to put the ornaments on the tree and remember all the different characters we met over the course of our holiday 2017 trip. We loved how our Disney character signature Christmas ornaments project turned out.
When thinking about doing something similar for your family, think of any items or activities your family would enjoy having signed.  Some ideas include using plates, pillowcases, storybooks, picture frames, and shirts.  The characters will sign pretty much anything (other than things you are currently wearing, or your skin) so use your imagination.
Have you had characters sign unique items? Share what they were in the comments.
Did you like this article? Make sure to share it with your friends! Check below for easy ways to share!
Incoming search terms:
https://www themouseforless com/blog_world/disney-character-signature-christmas-ornaments/