This post may contains affiliate links for your convenience. If you make a purchase after clicking a link we may earn a small commission but it won't cost you a penny more! Read our full disclosure policy here.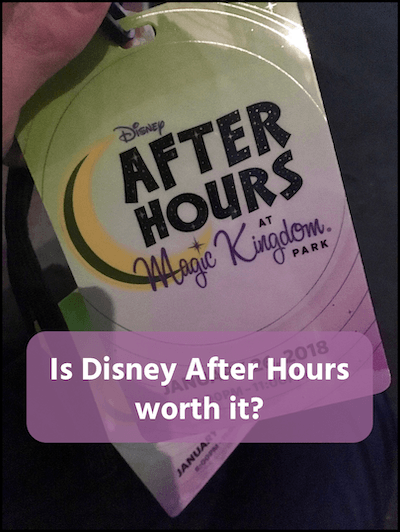 In January 2018, my husband and I splurged on tickets to Disney After Hours at the Magic Kingdom. This is a $125 hard ticket event that gets you into the Magic Kingdom for 3 hours after closing. Most rides are open, some character meets, and you get all you care to enjoy popcorn, bottled water/pop, and ice cream from the carts. Disney After Hours has now expanded to 3 parks, and doesn't seem to be going anywhere anytime soon. So the big question is… is it worth it?
It depends.
If you are fairly new to Walt Disney World, or your trip is short, I think it's worth it. This was my second trip ever to Walt Disney World, and my husband's first. It was so awesome to start our trip with a 3-hour run in Magic Kingdom. The crowds are super small (but they are still there) and you can honestly hit every attraction with time to spare (if you plan it right!).
If you are a Disney World veteran, or you have 2 full Magic Kingdom days already planned, I don't think it's worth it. Over two normal days in the park you can see all the things you'll want to see (we literally just saw everything twice on our trip since we had 2 MK days in addition to the After Hours event). Since park days get cheaper the more days you go, a 5-day park ticket with 2 days in MK is only costing you $83+ a day. Have extra cash to burn? I'd go for a behind the scenes tour or something (I've got my eyes on Keys to the Kingdom!).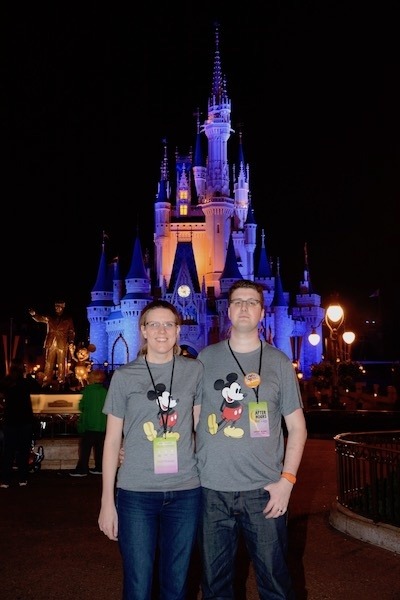 Touring Plan
So if you decide you're going to go for an After Hours event at The Magic Kingdom, here's an outline of how we planned our evening to fit everything we wanted to see. The event ran from 8:00-11:00 p.m. on this night (park closing was 8:00 p.m.). We were allowed in at 7:00 p.m. I've heard you can get in at 7:00 p.m. no matter how late the party starts, so depending on the time of year you can get more hours for the same cash. Hopefully this itinerary is helpful!
They let us in one hour before park closing using just the After Hours ticket (we did not have a regular park ticket). We used this hour to meet characters at Storybook Circus, explore some merch there, and ride the PeopleMover (right as the fireworks were starting!)
The SECOND the park closes, no one is allowed on rides unless you're wearing the After Hours lanyard. We decided we'd do all the top attractions (in my opinion) once, and all coasters twice. So we started right at 8:00 with Space Mountain twice, followed by Buzz Lightyear.
We then went over to Adventureland, grabbed some ice cream and bottles of water, and went on Pirates. From there we rode Big Thunder twice (Splash was closed for refurbishment).
Then we hopped on to Haunted Mansion, and grabbed popcorn and more water from outside there (UNLIMITED = fill your backpack! We had bottled water for our weeks vacation!)
Next was Peter Pan which was our first real wait of the night at 20 minutes or so. Then we met Ariel in her grotto (which was a LONG wait and I would not do again), and rode Seven Dwarfs Mine Train twice.
We finished up with Princess Fairytale Hall, then got more snacks/water, then by 10:40 or so we went to the photographers in front of the Castle to get those almost-empty pics. We then of course wandered Main Street until we were good and ready to leave The shops stayed open an hour past the end of the event (just like normal park days).
And that's about it! It was so nice for Jordan's first ever visit to Magic Kingdom to be so not-crowded. But there are still people around. Others were describing it as "the park is empty!" but this is just not the case. There are wings of the park that have few people around, but the main drags and biggest rides do still have waits. It was fun to watch how different people did the night — we definitely met a family who were looping Big Thunder for an hour straight!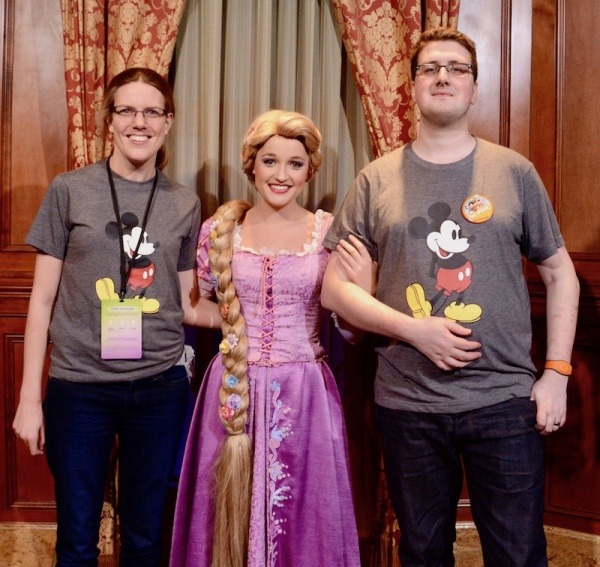 As for the Disney After Hours events at Disney's Animal Kingdom & Disney's Hollywood Studios, I have yet to experience them. My gut is telling me I wouldn't find as much value as I am a rides person, and you can't beat the number of attractions at Magic Kingdom. With fewer rides (and long queues to walk through) you've got to imagine the lines/waits at the other parks would be greater. However, if you want pictures, or just a relaxed evening hanging around your favorite spots, they could be worth it for you.
Have you done a Disney After Hours event? What was your experience like? Do you think they're a good addition to Disney World or not? Let us know in the comments! You can also read about Lauren's experience at Disney After Hours, also at Magic Kingdom, by clicking here.
Did you like this article? Make sure to share it with your friends! Check below for easy ways to share!
Want to visit the Walt Disney World Resort? Contact The Magic for Less Travel for more information and a free, no-obligation quote.

Incoming search terms:
is the mining ride in magic kingdom worth it?
magic kingdom Disney
what worth it in disneyworld magic kingdom