This post may contains affiliate links for your convenience. If you make a purchase after clicking a link we may earn a small commission but it won't cost you a penny more! Read our full disclosure policy here.
There is no doubt that the highlight of a visit to Discovery Cove is the opportunity to swim with an Atlantic bottlenose dolphin, but there is so much more to this beautifully landscaped place. There are waterfalls, winding rivers, white-sand beaches, and exotic birds, to name a few.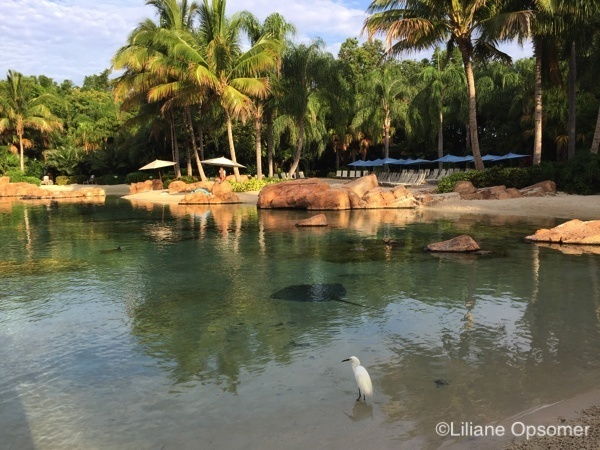 The day at Discovery Cove starts early and it starts right, with breakfast served as of  7:15 a.m.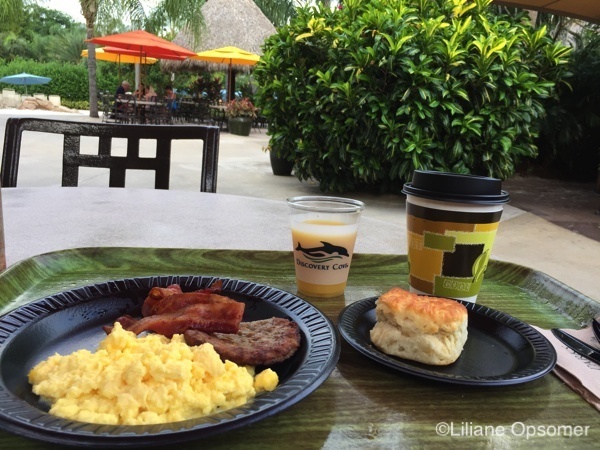 After breakfast there is plenty of time to get oriented, claim a spot on the beach, and settle in. Upon check-in, you are given a time for the experiences you have booked, and you are then free to plan your day.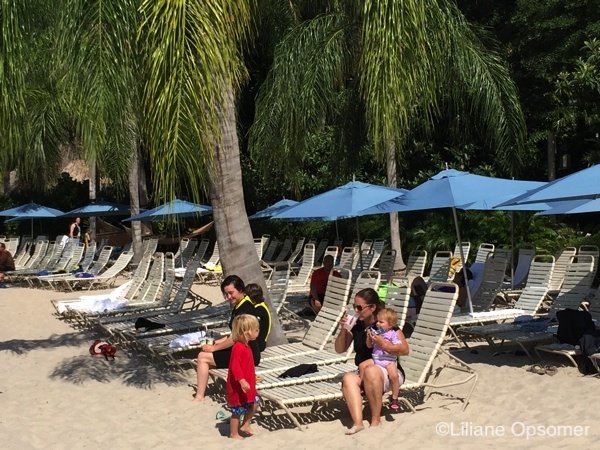 The day started with the 50-minute Dolphin Swim Experience. Our group of seven received an orientation led by dolphin trainers and had the opportunity to ask questions. Accompanied by the trainers, our group waded into shallow water to get an introduction to the dolphin in its habitat.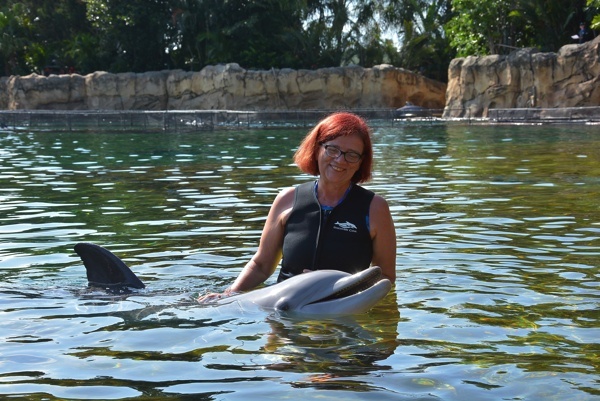 There are several animal training demonstrations and hands-on interactions. We got to feed a dolphin, and  even got a kiss. The actual time spent in the water is about 30 minutes.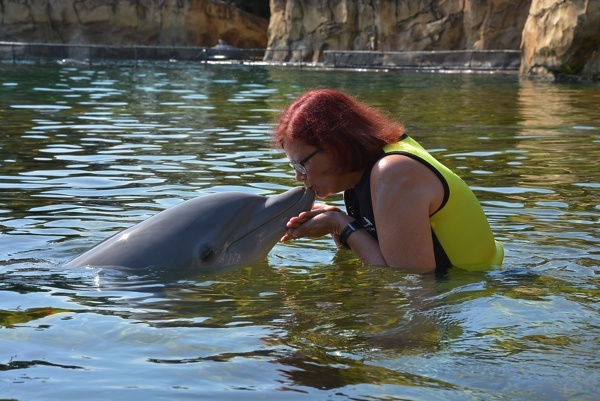 The experience culminated with each participant, one by one, swimming into deeper water and being towed back to shore by this incredible mammal. Dolphins are beautiful and amazing creatures; interacting with them is an unforgettable privilege.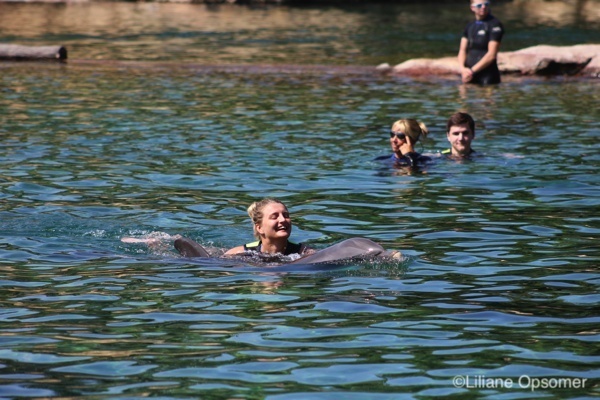 After this exciting experience, it was time to check out the rest of the park. Snorkeling and swimming in The Grand Reef, which houses thousands of exotic fish and rays, as well as an underwater shipwreck and hidden grottoes, is a lot of fun.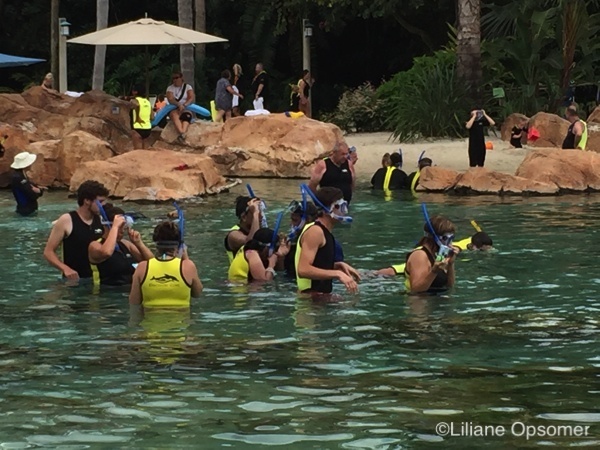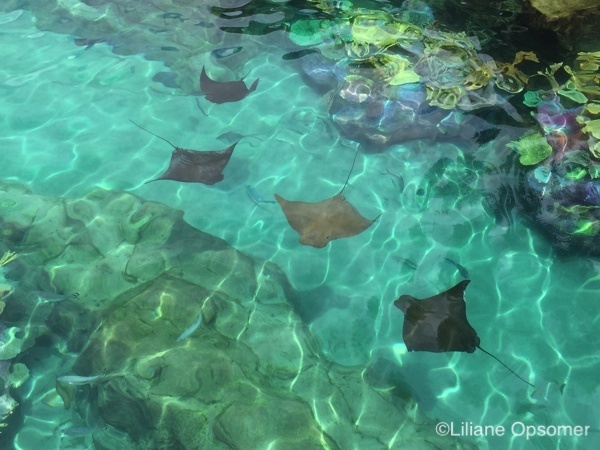 Discover Cove is dotted with beaches that serve as pathways to the attractions. And who could resist the Wind-Away River? Make sure to visit the Freshwater Oasis, where you can get up close and personal with otters and marmosets. The marmosets are located behind a moat, and the otters are behind a glass tank. The Freshwater Oasis is also a lazy river, albeit shorter than Wind Away River.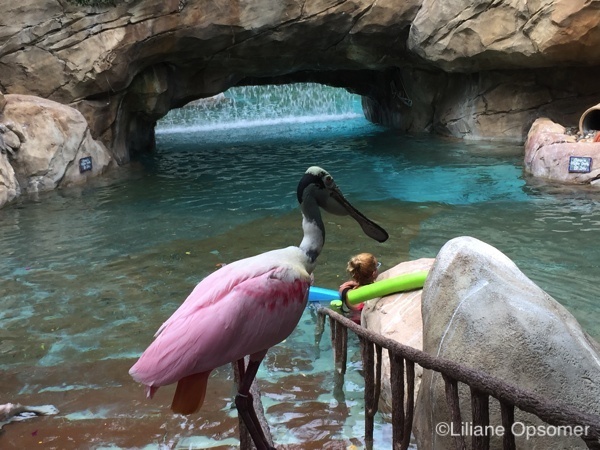 Just before lunch, it was time for SeaVenture, a 25-minute underwater stroll on the bottom of the Grand Reef aquarium. It is a lot of fun, and you do not have to have any experience or SCUBA certification. Best of all for those of us who wear glasses, the diving helmets are large enough that you can keep your specs on.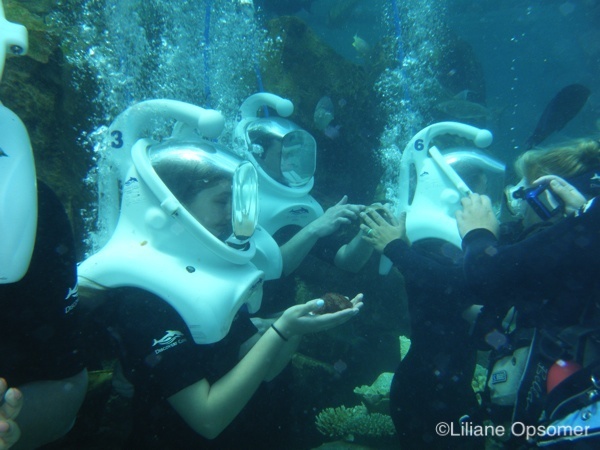 Make sure to take an underwater camera with you. There is time to take pictures, and the divers guiding the group generously offer to take pictures of your party throughout the journey.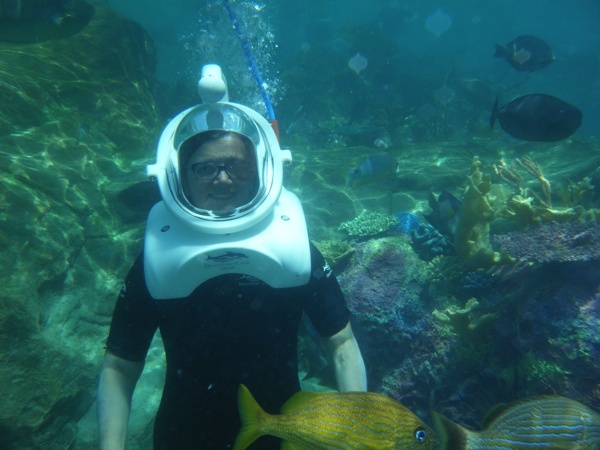 SeaVenture is a fabulous experience and really worth the extra fee. There were so many amazing moments "down-under" that are usually unavailable to those who have no diving experience.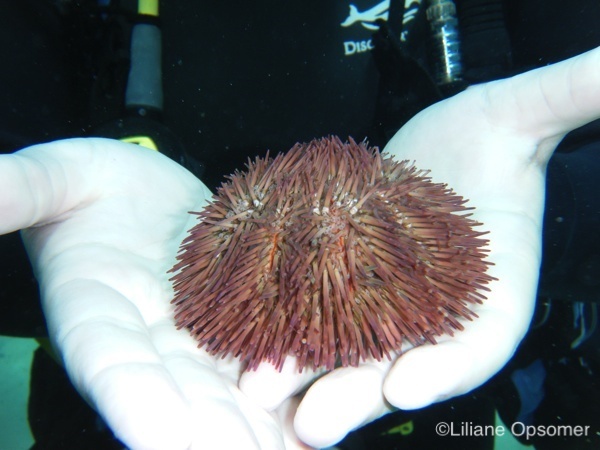 Note that the SeaVenture experience is not included in the dolphin swim package but can be added to a reservation starting at $49 per person, plus tax. Minimum age is 10 years.
Lunch at Discovery Cove is good and plenty; offerings include Sweet Hawaiian Chicken served over rice, Bacon Burger, Fire Grilled Fish, Tropical Summer Cobb Salad, BBQ Pulled Pork Sandwich, and various cakes and assorted pastries. Should you get hungry, snacks and beverages are available all day long.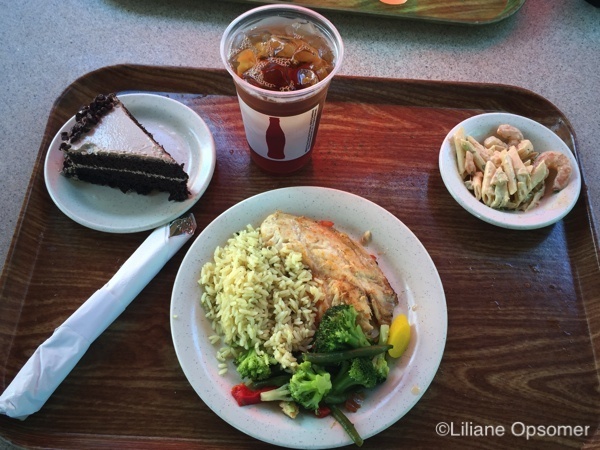 Free beer and wine is offered throughout the day to guests who are 21 and older, but a specialty drink package can be added at an additional fee. Lunch is served 11:00 a.m.-3:30 p.m. Snacks and drinks are also served at the Beach and Island Bars 10:00 a.m.-5:30 p.m.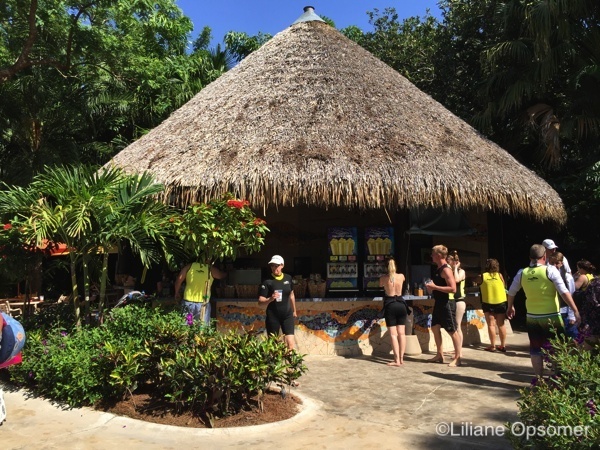 At the Explorer's Aviary, guests get to feed gorgeous tropical birds. The specially prepared food is free of charge and caretakers are at hand to talk about the birds in their care. This is an absolute must-do activity!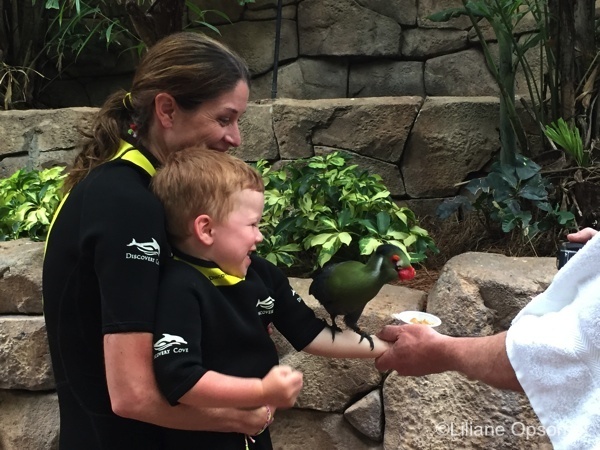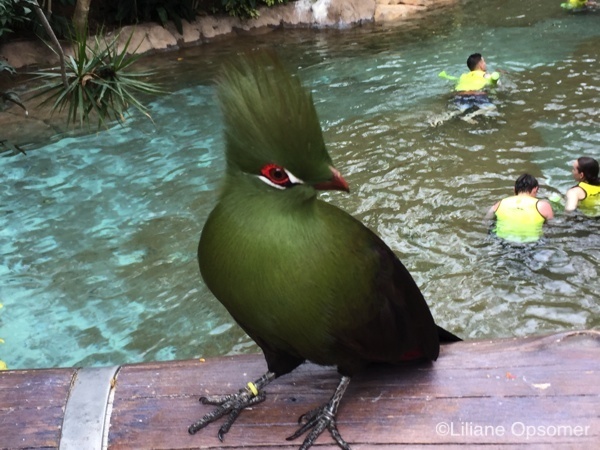 Another great way to really relax at Discovery Cove is to rent a private cabana. The cabana is inside a private area that guests have to themselves; some even offer a view of the dolphin swim experience.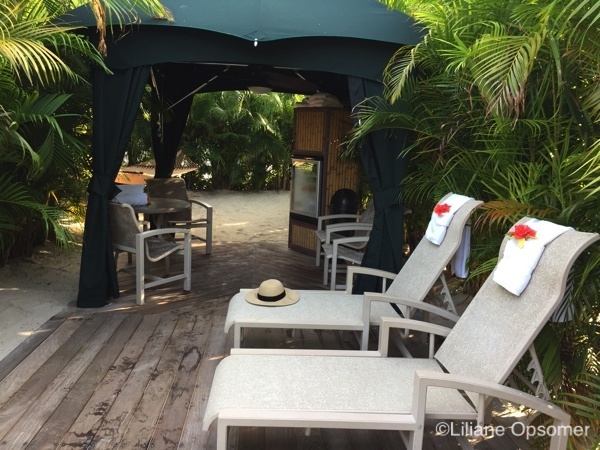 The cabana has a table and chairs under a canopy, and chaise lounges in a beach-like area. The cabana comes with a fridge filled with drinks and a private locker.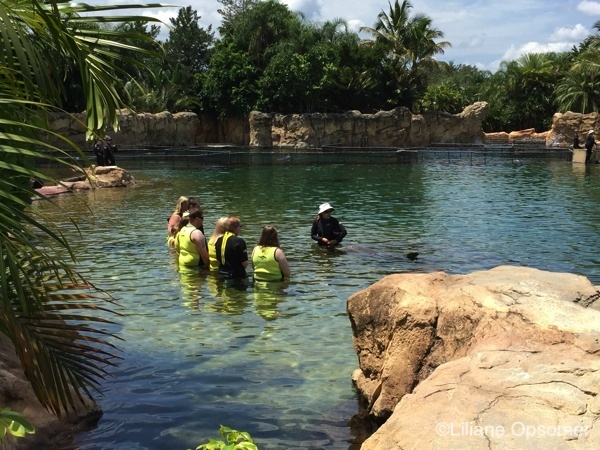 A cabana attendant regularly checks on guests and brings fresh towels, snacks, and drinks.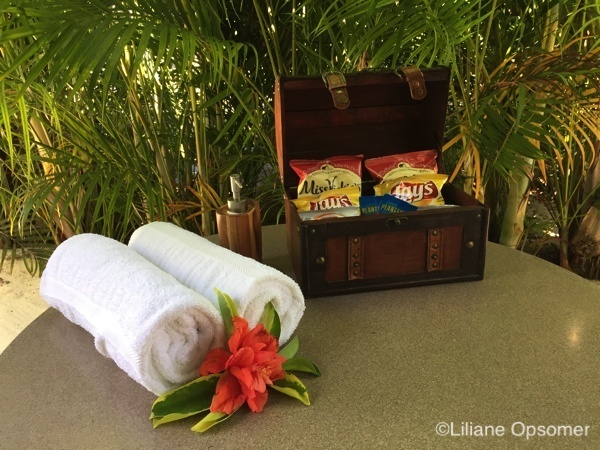 If you have kids in your party, sand toys are available upon request for no additional charge. It is a treat well worth the splurge. Different locations, layouts, and celebration packages are available, and prices are $200 and up.
With a focus on personal one-on-one animal encounters, the park admits only 1,300 guests per day. Discovery Cove is a welcome departure from the hustle and bustle of other Orlando parks.
Arrive early at the park to enjoy all there is to see and do, and make sure to leave ample time for relaxation. Admission prices vary by season, occupancy for the day and residency of the guest. Opening hours are 8:00 a.m. through 5:30 p.m. with water activities and beaches opening at 9:00 a.m. Check-in and breakfast starts at 7:15 p.m.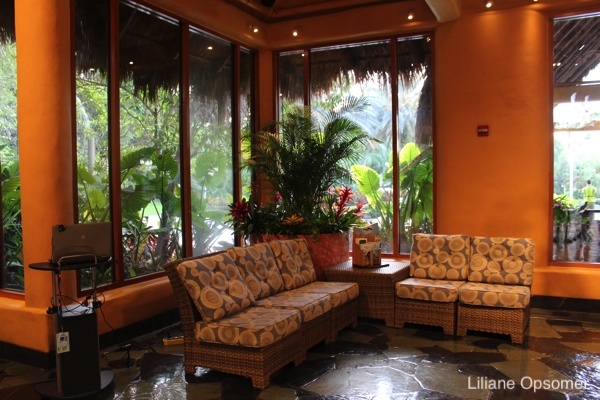 The all-inclusive Dolphin Swim package ($339 for the month of June) includes the dolphin swim; self-parking; breakfast, lunch, snacks, and drinks; use of a wetsuit (available in short and long versions), life vest, beach umbrellas, lounge chairs, towels, lockers, sunscreen that is safe for the dolphins, and swim and snorkel gear (guests get to keep the snorkel; prescription-lens masks are available). The changing rooms have complimentary body wash, shampoo, conditioner, and the use of a hair dryer. If you forget to bring a bag for your wet swimsuit, free plastic bags are available.
Your ticket includes unlimited free admission to SeaWorld and Aquatica for 14 days surrounding your visit to Discovery Cove. Admission to Busch Gardens Tampa Bay can be added for an additional charge of $25. Florida resident rates start at $219. If you're not interested in the dolphin swim, a day at Discovery Cove costs $149 for the month of June. Note that parking is not included at SeaWorld and Aquatica, unless you add the Busch Gardens admission to your package.
For a complete review of all the is to do beyond Disney, check out Beyond Disney: The Unofficial Guide to SeaWorld, Universal Orlando, & The Best of Central Florida by Seth Kubersky.
Did you like this article? Make sure to share it with your friends! Check below for easy ways to share!