This post may contains affiliate links for your convenience. If you make a purchase after clicking a link we may earn a small commission but it won't cost you a penny more! Read our full disclosure policy here.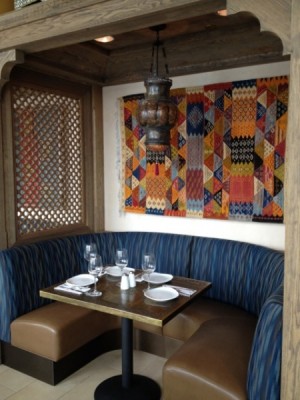 My new favorite restaurant in Epcot is it's newest addition, Spice Road Table. Situated right on the water of World Showcase Lagoon in the Morocco Pavilion the restaurant instantly captured my attention.
I love the idea of offering small plates combined with a great wine and drinks list while at the same time providing what is probably one of the best views in Epcot.
The restaurant is a combination of tables with chairs and booths and has an outdoor terrace, which is completely covered in case it rains on your parade. However, if you are stuck in one of the summer downpours you will be better off inside. The indoor setting has huge windows that allow for a great view of World Showcase Lagoon. For ultimate view, especially for watching IllumiNations: Reflections of Earth I recommend you request a table at the windows.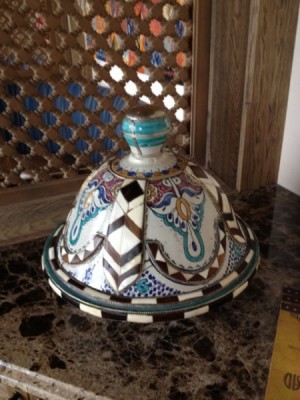 I love the elegant décor of this restaurant especially the indoor seating area which features fabulous lanterns and beautiful wall carpets. I love the large tagine, a glazed clay pot used to cook traditional Berber dishes, right at the entrance.
Spice Road Table offers a typical Mediterranean menu, wines, signature cocktails and beers. I enjoyed the organic white wine Sangria ($9.99). While the restaurant has a lovely bar when you enter one cannot sit at the bar, which I feel is something that could have been better planned.
Now for the food: If you are hungry and are looking for huge portions Spice Road Table is not for you but this being said I personally do not like huge meals and loved the fact that they offer samplers. I highly recommend the Tingis Sampler ($16), which comes with a Lamb Slider, Harissa Chicken Roll and Merguez Sausage. The Lamb Slider was perfect, the meat tender and the tahini sauce just right. The Harissa Chicken Roll was delicious and perfectly seasoned. The Merguez Sausage was a little overcooked but I liked the tantalizing taste. It is served with a tomato, red onion and cilantro salad.
If you prefer fish and seafood go for the Mogador Sampler ($16), which consists of Mussels Tagine, Salted Codfish Croquettes and Fried Calamari. The mussels were delicious and I loved the calamari but the croquettes were on the salty side and most of all had way too much breading.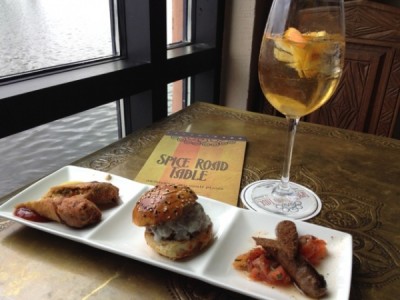 Spice Road Table offers three deserts, each priced at $7. The Chocolate Pyramid served with almond ice cream is amazing. I did not try the Saffron and Lemon Custard nor the Almond and Rosewater Cake with blood orange sauce. Service was impeccable and my server Houda explained all the dishes while sharing customs of her native Morocco with me. I certainly plan on a repeat visit.
Spice Road Table walk-up only and you cannot use your Dining Plan. The restaurant currently does not accept Tables in Wonderland. Check out the complete menu here.