This post may contains affiliate links for your convenience. If you make a purchase after clicking a link we may earn a small commission but it won't cost you a penny more! Read our full disclosure policy here.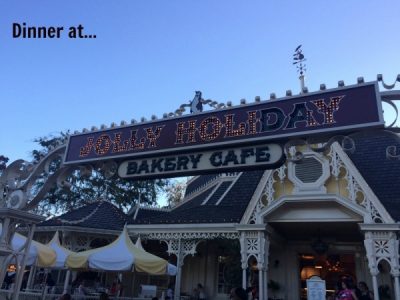 Welcome to the Jolly Holiday Bakery Cafe
The Jolly Holiday Bakery Café is a fairly recent addition to Disneyland Park's lineup of quick service eateries. I am especially fond of this place because of it's themed to Mary Poppins, which I consider to be Walt Disney's masterpiece. In case the name didn't give that fact away, the penguin perched on top of the sign as well as the Mary Poppins weather-vane are there to announce the theming!
You'll find this charming little eatery right where Main Street, U.S.A. meets Adventureland, in Disneyland Park, Walt's original theme park.  I've written a previous review of their absolutely delicious desserts and sweet snacks, and recently my family and I ate a quick dinner here. The interior of the small space is decorated in an Edwardian fashion, with many nods to the film on which the Café is based.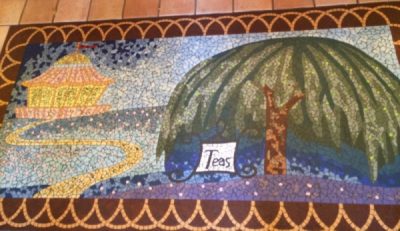 Floor detail in the ordering area
Display cases show off the beautiful (and trust me, delicious) cupcakes, macaroons and other treats for sale. Many times the treats are themed after whatever holiday is the closest.
There is no interior seating, but there is ample patio seating outdoors, shaded by umbrellas. Since the sun was already on its way down when we stopped here, the weather was pleasant. It was also a lot of fun to watch people strolling by.
I ordered the Mediterranean Chicken Salad. Grilled chicken (not cut into as small pieces, as I would have liked) sat on top of mixed lettuces, cucumber, tangy Kalamata olives, and chopped tomato. A sprinkling of roasted red bell pepper, pepperoncini, feta cheese and balsamic vinaigrette finished off the salad. It was served with a small, cheese encrusted baguette. I opted to not order a drink, but just asked for a free cup of ice water. My salad cost $9.99.
Mediterranean Grilled Chicken Salad
All of the vegetables in the salad were fresh and crisp. I didn't like having to take a knife to cut my chicken into bite sized pieces, but the meat was cooked and seasoned well. The olives and roasted red bell pepper providing nice bursts of flavor. The small amount of cheese added just the right touch of saltiness without going overboard. The dressing was served on the side, which I prefer.
The baguette was not very exciting. It looked way more interesting than it tasted. That didn't stop me from finishing it though!
All in all, this place is a great way to stop for something quick to eat that isn't your typical cheeseburger and fries. And anything that is themed to my very favorite Disney movie scores high on my list.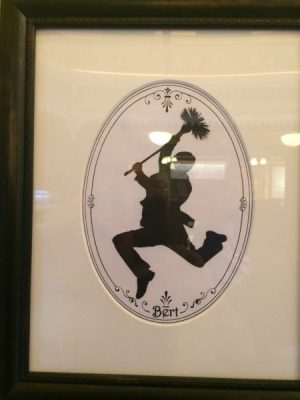 Have you stopped to enjoy a meal at Jolly Holiday Bakery Cafe? Share your experience and favorite treats in the comments!