This post may contains affiliate links for your convenience. If you make a purchase after clicking a link we may earn a small commission but it won't cost you a penny more! Read our full disclosure policy here.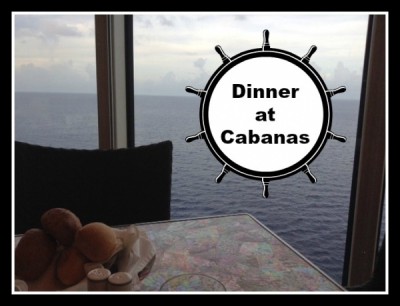 Cabanas on the Disney Dream is not a part of the dining rotation restaurants, but it is a good option if you'd like to have a quiet dinner with a gorgeous water view while sailing on the Disney Cruise Line.  We decided to give Cabanas a try on one of our evenings, and we enjoyed the chance to relax and soak in the ocean atmosphere while eating.
For the regular dining rooms, you have the same staff every night and that's nice because you and your servers quickly get to know each other.  At Cabanas, we did not know our servers but they were very welcoming and right away they seated us by the window.  It was Halloween on the High Seas Night on the Disney Dream, and our bee costumes were a good ice breaker because everyone came over to see the buzz about the bees!  We had multiple servers, with every one of them being attentive and friendly.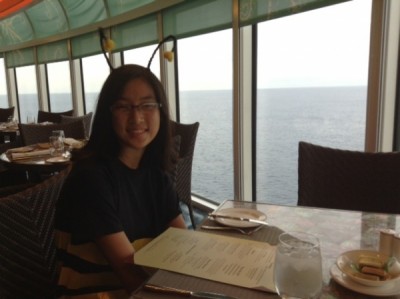 The meal started a bread basket, which was a hearty serving for two!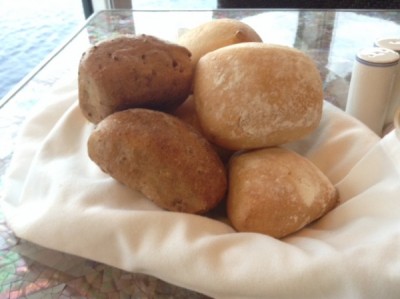 I started the meal with baked potato and cheddar cheese soup with bacon bits and chives.  This soup was my favorite part of the meal.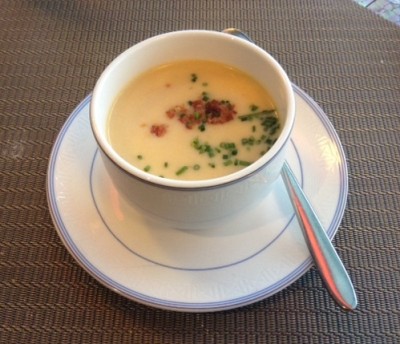 My daughter asked for a fruit bowl appetizer.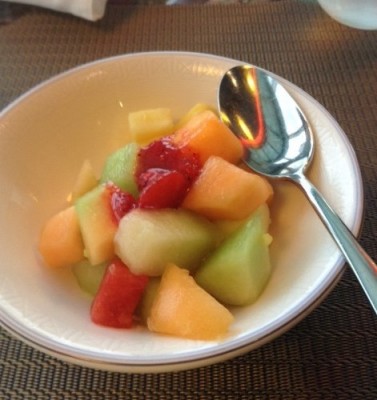 I ordered a marinated rib-eye steak for an entrée.  I was told that the steak would come with vegetables, and was asked if I wanted any side dishes with the steak.  I selected mashed potatoes and a watercress salad.  My server brought mashed potatoes and a separate potato dish with watercress.  I had mistakenly thought that the salad was leafy-green, so the end result was that I had both mashed potatoes and the watercress enhanced potatoes with my steak after I had my potato soup!  The French fries in the photo were my daughter's request, and we joked it was a "very potato dinner."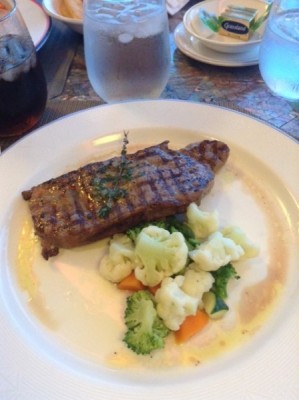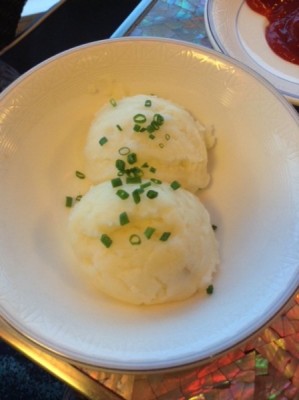 Overall, the food was okay but not spectacular.  It was similar to what I would expect from a chain restaurant at home, though the excellent service and ocean view are what made the meal here.  Our server could tell that I was disappointed over my salad being potatoes and offered to bring another salad, but after the soup and once I saw all of the food on the table I declined.  The Disney Cruise Line cast members are wonderful with being sure you are pleased with your meal.
My daughter was happy with her extra plate of French fries and macaroni and cheese.  We liked the presentation of the "Mickey" ketchup!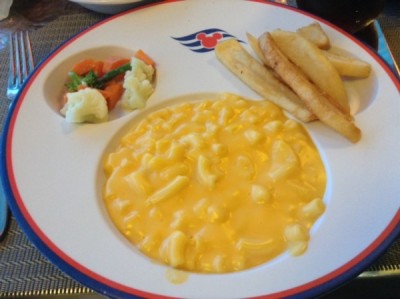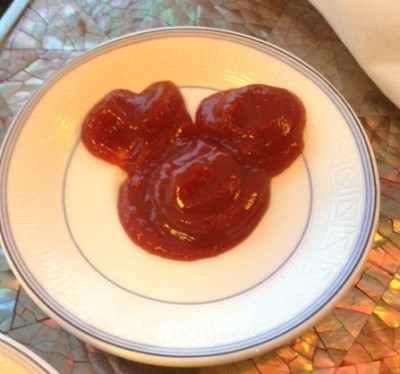 For dessert, I had a Cabanas Sundae.  It was vanilla ice cream, pineapple, caramel sauce, and whipped cream.  It was a simple, yet good end to the meal.  My daughter did not order dessert, but was presented with a rose made from a menu!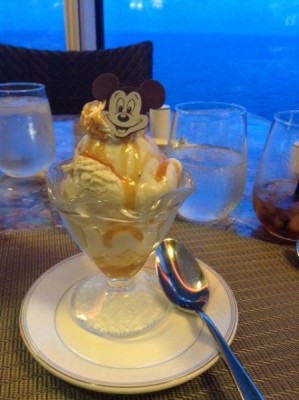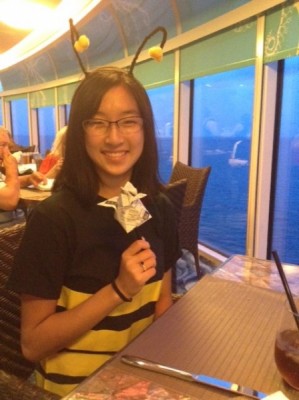 Have you ever dined at Cabanas for dinner? What were your thoughts?
Incoming search terms:
disney dream cabanas dinner