This post may contains affiliate links for your convenience. If you make a purchase after clicking a link we may earn a small commission but it won't cost you a penny more! Read our full disclosure policy here.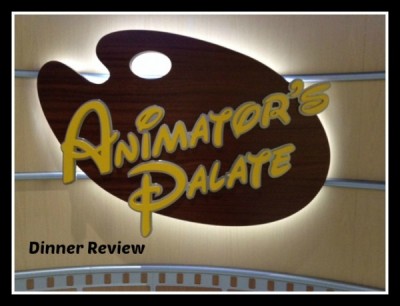 Animator's Palate, one of the three rotational dinner restaurants on the Disney Cruise Line's Disney Dream, was our favorite dining experience on the ship!  We ate at Animator's Palate on the last night of our cruise, and it was the perfect place to celebrate the end of a wonderful vacation.
The restaurant has a whimsical feel to it with an inspiration of animator's tools mixed with classic Mickey colors and décor.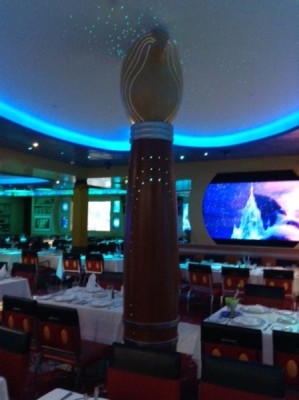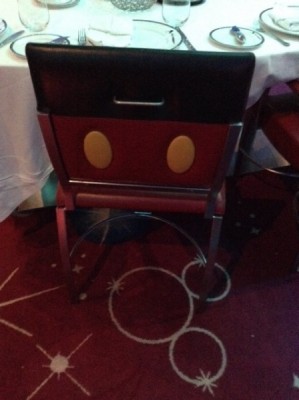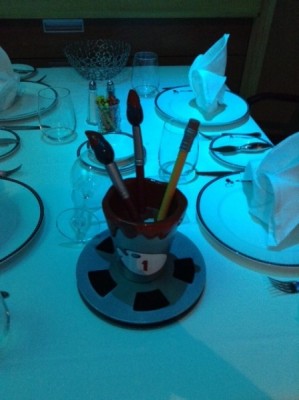 There are video screens throughout the restaurant that provide some interactive fun.  The screens start with the guests watching a drawing taking place and guessing which Disney character is being drawn.  Later, Crush from Finding Nemo swims over and chats with his dinner guests.  This reminded me of Epcot's Turtle Talk with Crush, and chatting with Crush was a great way to kick off a meal!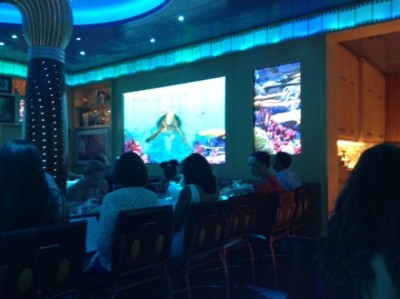 I could have sat there just enjoying the atmosphere, but of course food is the main reason we were in Animator's Palate and the food did not disappoint.
Our server remembered that my daughter preferred ordering from the kid's menu, and she was thrilled to have that option.  The Disney Cruise Line is unique with having your servers stay with you in each rotational dining location and they do get to know your preferences.  My daughter had a kid's menu without having to ask for it, and my iced tea was brought right away because they remembered that is what I like to order.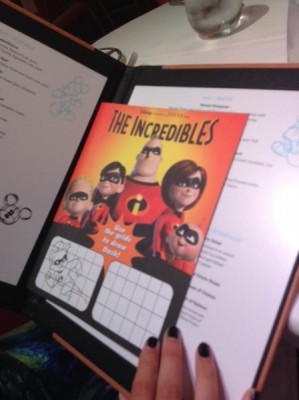 The bread came with an olive oil dipping sauce and butter.  Isn't the butter knife cute?  The dishes were nicely themed, too!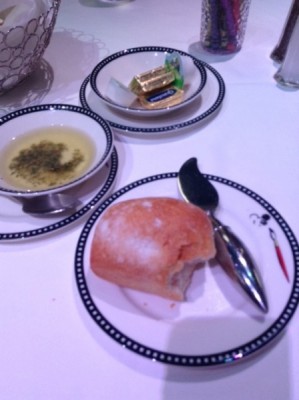 It was a stormy night and we were a bit chilly from being on deck before our meal, so I decided to start with a soup.  I opted for the Creamy Butternut Squash Soup with chives and sour cream.  It had a creamy, rich flavor.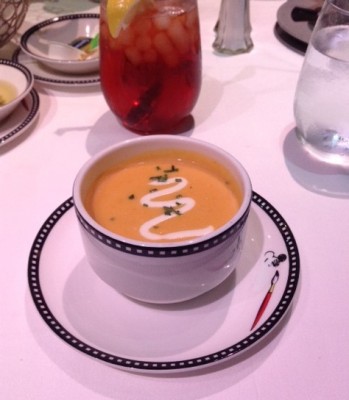 I am not a fan of truffles, but our server highly recommended the Black Truffle Pasta Purseittes, pasta filled with truffle scented cheese served with a champagne sauce.  One of the many things that is nice about a cruise is that all of your rotational dining food is included in the price.  A cruise is the perfect place to try something new or something you wouldn't ordinarily order in a restaurant because it's at no extra cost and if you do not like it they can bring something else.  I took our server's recommendation and tried the Black Truffle Pasta Purseitties.  The truffle flavor was a little too strong for me, but overall it was melt in my mouth delicious and I did finish the whole plate!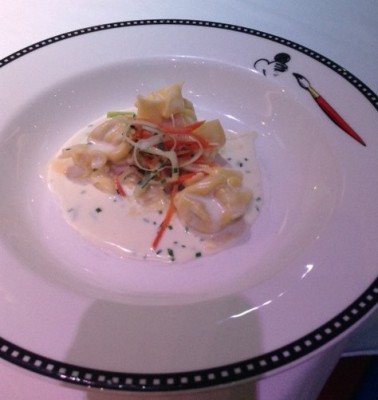 My entrée was the Herb Crusted Port Chop.  It was a pork chop with Dijon mustard and herbed breadcrumbs.  It came with a sun-dried tomato risotto with a wine sauce and asparagus.  Delicious!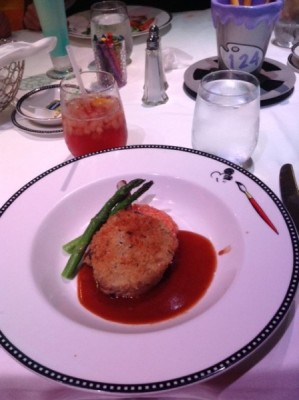 My daughter has pasta with tomato sauce.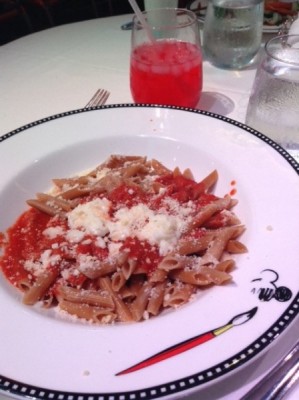 For dessert, I ordered the "Make Your Own Pie."  It was lemon and raspberry curd with crispy vanilla infused meringue, mango sauce, and cocoa jelly.  This dessert was a perfect fit to the theme of the restaurant and it tasted good!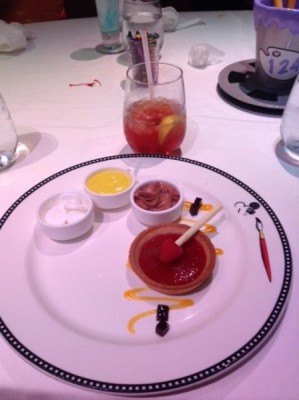 My daughter ordered her dessert off of the adult menu and had a Cookies 'n Cream Sundae.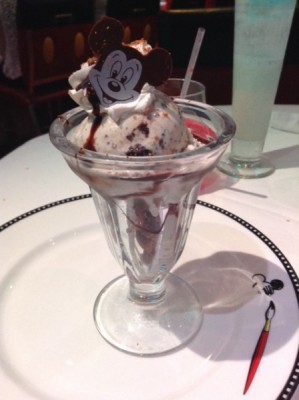 It was our last night on the ship, and I remembered that we did not have a Mickey Bar yet and our time was running short!  Our server always encouraged us to order more than one item if we want, so I decided to end our dining experience with a Mickey Bar as a second dessert.  Why not, right?!  I'm so glad I did this not only because Mickey Bars are awesome but also because this bar came in a cute dish and had sprinkles!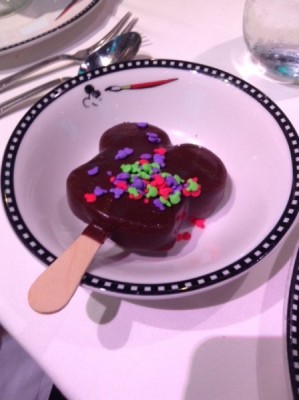 Have you been to Animator's Palate?  What were your favorite menu items?  Please tell us in a comment below.