This post may contains affiliate links for your convenience. If you make a purchase after clicking a link we may earn a small commission but it won't cost you a penny more! Read our full disclosure policy here.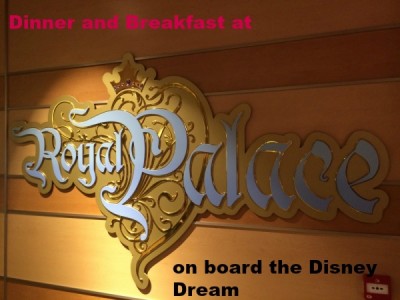 Welcome to the Royal Palace!
The Royal Palace is a table service restaurant located on Deck Three of the Disney Dream. It is part of the cruise's rotational dining for dinner, and is also open for breakfast. We enjoyed both meals on our recent cruise.
The Royal's Palace's décor revolves around the Disney princesses. Throughout the dining room you can find nods to all your favorite Disney royals. When we arrived, a cast member presented us with sanitizing wipes, which was standard for all our meals onboard.
In the entranceway, there is a beautiful floor detail showing symbols that represent Cinderella, Aurora, Belle and Snow White.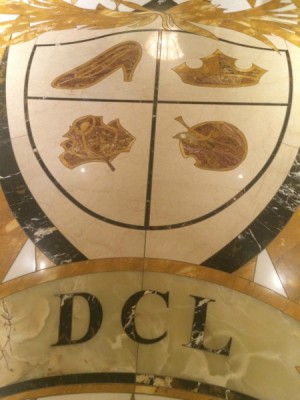 floor detail
For our dinner, we were seated at table 96, in a room dedicated to Princess Tiana. Elegant chandeliers grace the ceiling, as do portraits of Princess Tiana and Prince Naveen. Soon after we were seated, our servers brought the bread basket, which is shaped like Cinderella's coach.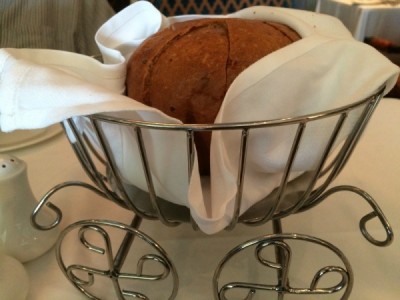 Does this bread basket turn into a pumpkin at midnight?
I ordered a glass of Zolo Malbec, which was my favorite wine of the cruise. As my appetizer, I chose the Iced Lobster and Shrimp. I admit, I got carried away and ate a shrimp before I remembered to snap this photo. However, as you can see, the portion of lobster is tiny. It's really all about the shrimp with just a small lobster garnish.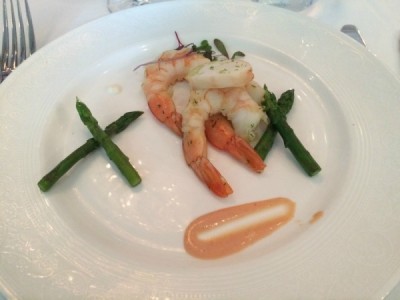 Iced Lobster and Shrimp Appetizer
My husband ordered the Brie, which he says was very good.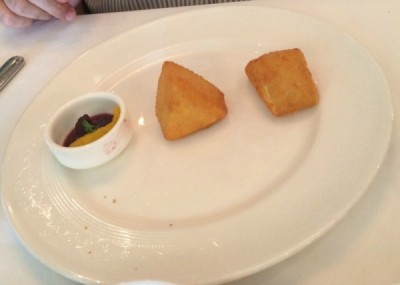 Brie appetizer
For my entrée, I selected something off the lighter side of the menu, an Ahi Tuna Salad. It comes with sliced hard boiled egg, which I don't like, so I asked them to leave it off.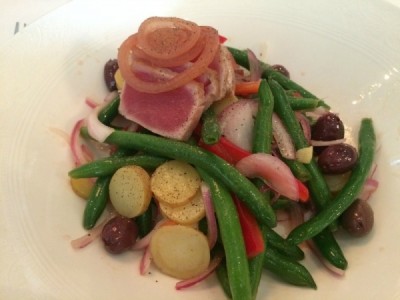 Ahi Tuna Salad
The salad is wonderful. The tuna is seared perfectly, the vegetables are fresh and crunchy, and the potatoes are so soft that they're almost the same consistency as the tuna. The dressing is light and flavorful. This is a really good dish.
My husband ordered the lamb. He reports that the lamb was perfectly cooked, and that the entire plate was excellent.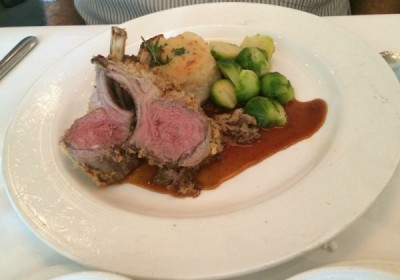 Lamb Entree
After our main meals, we were presented with our dessert menus, which are shaped like invitations. I was going to only order no-sugar-added desserts on this cruise, but when I saw the Strawberry Shortcake Sundae on the menu, I knew it must be mine! However, I was slightly disappointed. It's basically a standard strawberry sundae with a small square of shortbread on top. Another thing that was weird – throughout our cruise, our desserts came with enormous spoons, something I would use for soup. There were fresh sliced strawberries at the bottom of the sundae glass, and absolutely no way to get to them with the oversized spoons.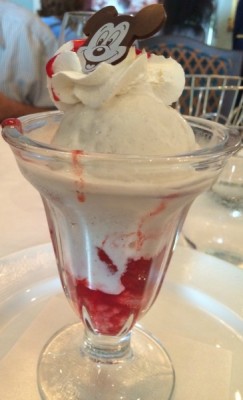 Strawberry Shortcake Sundae
On our sea day, we decided to try Royal Palace for breakfast. We were seated in the main dining room this time.  I ordered a vegetable omelet, which was described to be in the style of a Spanish tortilla. It was; it definitely resembled a frittata more than an omelet, which is great in my book.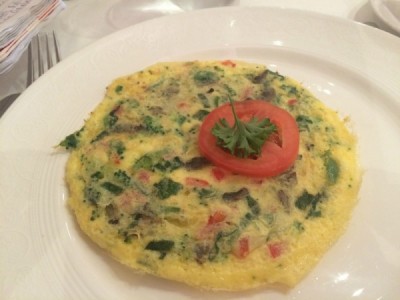 Vegetable Omelet
I opted for a side of fresh fruit, which was flavorful, cold and the perfect portion.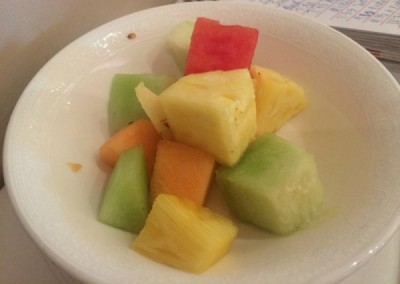 Side of Fruit
Both our meals at the Royal Table were relaxed, tasty, and came with exceptional service. If you're lucky enough to sail on the Dream, dinner here is included in your rotational dining. But I also encourage you to give it a try for breakfast. It's included in the cost of your cruise and the food is sure to be enough to give you plenty of energy for the rest of your morning.
What is your favorite meal to enjoy at Royal Palace? Share in the comments!