This post may contains affiliate links for your convenience. If you make a purchase after clicking a link we may earn a small commission but it won't cost you a penny more! Read our full disclosure policy here.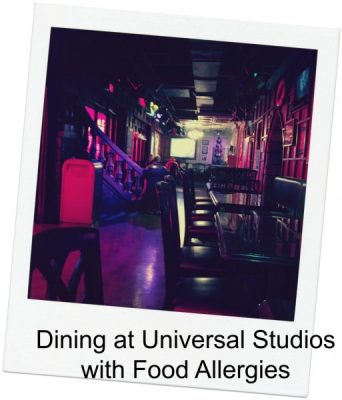 While Disney World is known for its ability to accommodate food allergies and other special diets, dining at Universal Orlando with food allergies has come a long way towards catching up. Here are a few tips and favorites to navigate your dietary restrictions at Universal Orlando.
Before You Go
Just as with Disney World, the best way to insure you find somewhere that can accommodate your allergies is to do some research before you go about menu options. While the ingredients aren't posted online, you can check out the menus on websites such as the Mouse for Less to get an idea of which restaurants may work best. Also, if you are navigating multiple or non-Top 8 food allergies you can email at FoodServiceCUF@universalorlando.com for additional help and information.
Universal Studios Counter Service with Food Allergies
Universal Studios counter service restaurants tend to be general theme park fair such as chicken, burgers, pizza, and ribs. At counter service locations, you should inform the first Team Member you see that you have food allergies or other dietary restrictions. The team member will go alert a chef who will also provide menu cards listing the top 8 food allergies and which items contain them. These menus are organized by allergen not by item, so it can be a bit of a time consuming process for those with multiple food allergies. If you are concerned about cross contamination, they do prepare allergy menus separate from items already on the line, but in the same kitchen. In general gluten free/dairy free buns are available, but more unique substitutions such as dairy free cheese are not. Additionally, I've found dairy and confirmed nut free desserts to be basically non-existent at Universal Studios.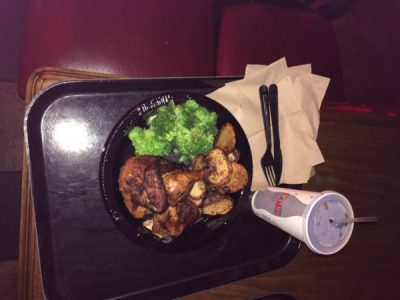 Universal Studios Table Service with Food Allergies
Table service restaurants are not a common experience at Universal Studios as they are at Disney World. Most table service restaurants do not require reservations, so what you'll need to do at your arrival is to notify the restaurant of your food allergies or other dietary restrictions. When you arrive please notify the hostess and wait staff. They will then bring out a chef to discuss your options. While chefs are happy to modify items as they can, unlike Disney World chefs, the chefs at Universal Studios tend to be limited to modifying existing menu items rather than creating their own.
Universal Studios Snacks with Food Allergies
One of the areas Universal Studios excels is the unique snacks. Similar to Disney World, slushies are top 8 allergen free. Pretzels are free of the major allergens except gluten/wheat. The Butterbeer served in the Wizarding World of Harry Potter has whey in the topping, but is free of the other major allergens. The Tongue Tying Lemon Fizz (pictured below) is free of the top 8 major allergens. Florean Fortescue's does serve ice cream containing both nuts and peanuts.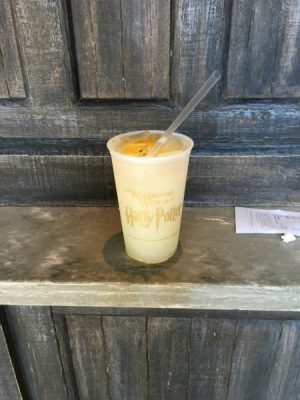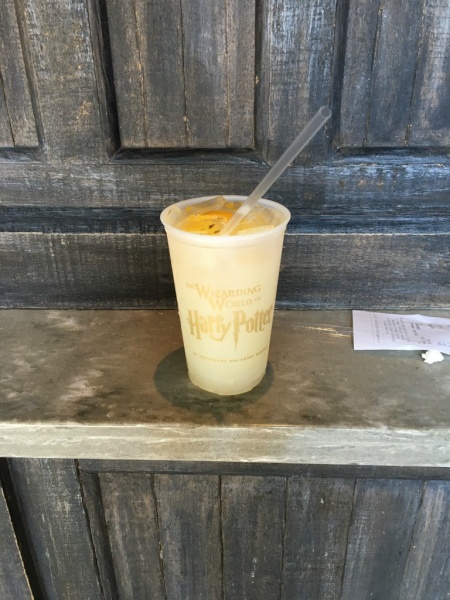 In the coming weeks, I'll be giving tips for Islands of Adventure and City Walk. Of course, don't forget to ask before you order as recipes can change and always carry your EpiPens or other medications.
What tips do you have for touring around Universal Studios Florida with food allergies? Share them in the comments. 
Did you like this article? Make sure to share it with your friends! Check below for easy ways to share!
Incoming search terms:
https://www themouseforless com/blog_world/dining-universal-studios-food-allergies/
https://www themouseforless com/blog_world/dining-universal-studios-food-allergies/#:~:text=The Butterbeer served in the the top 8 major allergens
universal studios orlando food allergies
https://www themouseforless com/blog_world/dining-universal-studios-food-allergies/#:~:text=The Butterbeer served in the containing both nuts and peanuts
https://www themouseforless com/blog_world/dining-universal-studios-food-allergies/#:~:text=The Butterbeer served in the of the other major allergens
universal studio and food allergies
food allergy universal studios
food allergies at universal studios orlando
butterbeer wizarding world allergens
https://www themouseforless com/blog_world/dining-universal-studios-food-allergies/#:~:text=Pretzels are free of the of the other major allergens