This post may contains affiliate links for your convenience. If you make a purchase after clicking a link we may earn a small commission but it won't cost you a penny more! Read our full disclosure policy here.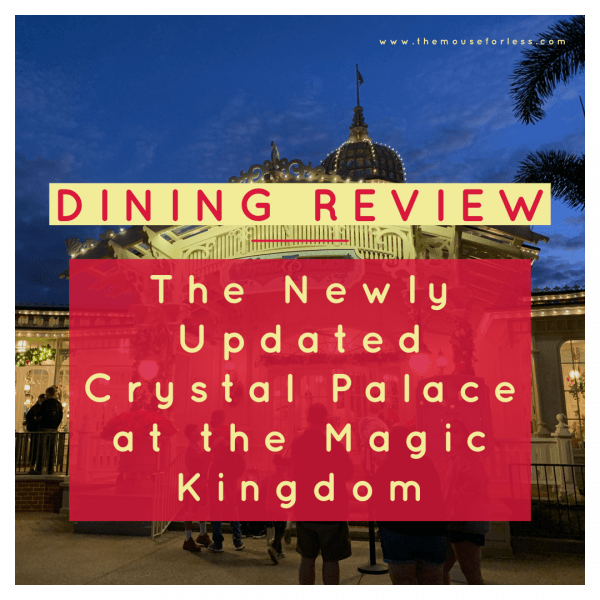 We all know that dining has been impacted a lot over these past few months at the Walt Disney World Resort. From changes to how many Guests are allowed in, to Mobile Ordering being basically the only way to order food at counter service locations, to online check-in for your table service reservations, it is a different dining world. Another big change has happened to places that were traditionally buffets have now had to pivot and offer a totally different menu. This is the case at Crystal Palace at the Magic Kingdom.
Recently, Crystal Palace, located on Main Street USA, reopened and this table service dining experience has seen a 180 as far as experience goes. First, while this restaurant previously offered a character meal, right now, Winnie the Pooh and friends are out and about. So, no characters. In addition, this used to be a buffet offering, however due to COVID, it has now turned into a three course meal. I recently stopped in to see what dining here now was all about.
First things first….Guests wishing to dine at almost all table service dining establishments must check in to the restaurant using the My Disney Experience app. Here you are given the opportunity to let the restaurant know if you need a space for a wheelchair, have any dietary requests, or if you are celebrating anything. You'll have the ability to check in as early as 15 minutes prior to your reservation. My tip is to do this when you are walking towards the restaurant, because it can still take some time before they notify you that your table is ready.
Once your table is ready, you will be notified in the app to head towards the front of the restaurant. I also had the text message option turned on, so I was notified both ways. I then went to the front of the restaurant where they were calling my name.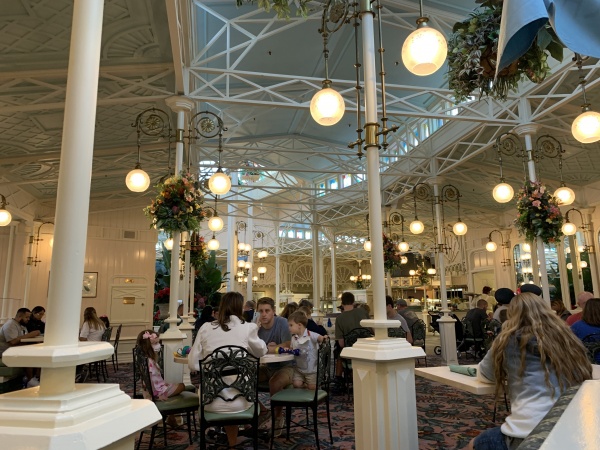 Guests will see that they are physically distanced from other tables. In addition, you will need to scan a QR code that is provided to you in order to be able to see the menu.
As mentioned, this is now a three course meal. Guests will start with a salad. This is served family style. Guests are served a seasonal salad, which right now has tomatoes, watermelon, crisp greens, blue cheese, candied walnuts, and hot pepper jelly vinaigrette. I will be honest….this salad was not my favorite. I am not a fan of bitter lettuce and this was definitely the bitter variety. I also didn't notice too much bite from the dressing. (To be honest, I really didn't taste a dressing on the salad.) I did enjoy the freshness from the tomatoes and the watermelon and the candied walnuts were fantastic.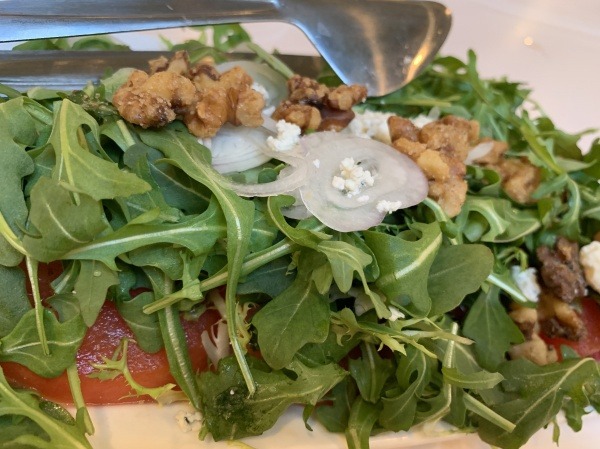 Guests are also provided with two types of bread. One is a homestyle biscuit and the other is a cheddar bacon biscuit. Both were great, but the cheddar bacon biscuit clearly is the winner.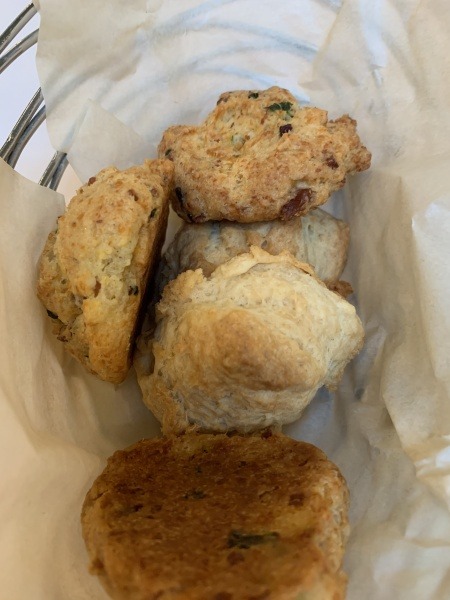 As far as entrees are concerned, Guests can choose from Crispy Fried Chicken, Fire-roasted Prime Rib, Blackened Catfish and Shrimp, and Southern Fried Cauliflower. I, however chose the Brown Sugar-glazed Bone-in Pork Chop.
The pork chop is served medium and comes with sweet potato casserole, a seasonal vegetable (mine was green beans), and a spiced apple reduction.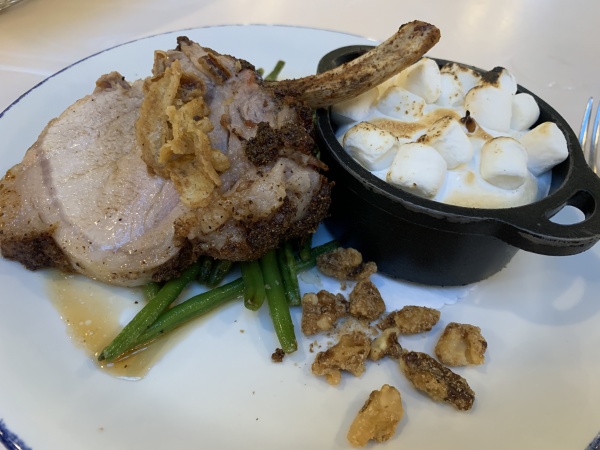 I thought that pork chop was cooked perfectly and had lots of great flavor. It was still very juicy and delicious. I am a sucker for sweet potatoes and these were excellent! The only think that was somewhat lacking were the green beans. They could have used a bit of flavor that they seemed to be missing. Even a bit of salt would have helped. Overall though, I very much enjoyed my entree and I would get it again. However there are a number of intriguing choices on this menu, for sure.
As far as dessert was concerned, this was another situation where it was served for the table. The Family Style Dessert Platter included seasonal fritters with powdered sugar and chocolate dipping sauce, banana cream pie, hummingbird cake, and a honey of a cupcake. When it comes to dessert, I do not like to share, so family style dessert is not my cup of tea. On this trip though, I was alone, so the whole plate was mine.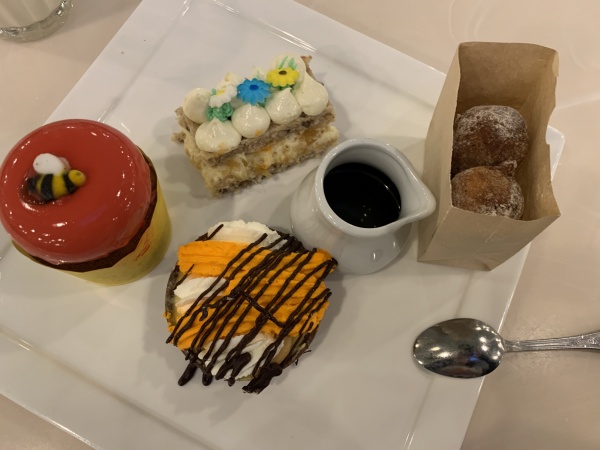 I did enjoy the banana cream pie and the hummingbird cake. The seasonal fritters were served piping hot and I think they had a bit of a lemon flavor to them. The big miss for me though was the cupcake, which was a honey flavored cupcake with raspberry icing.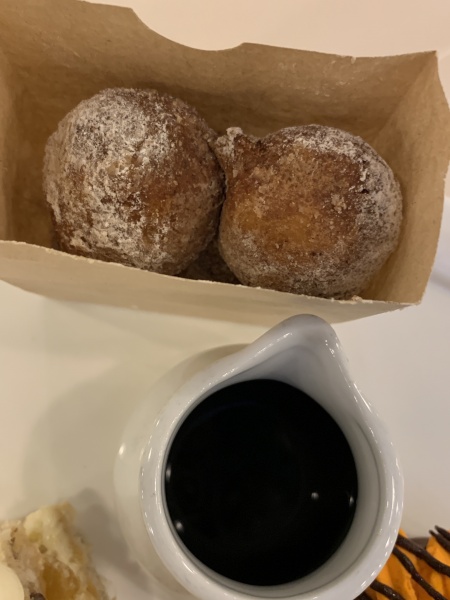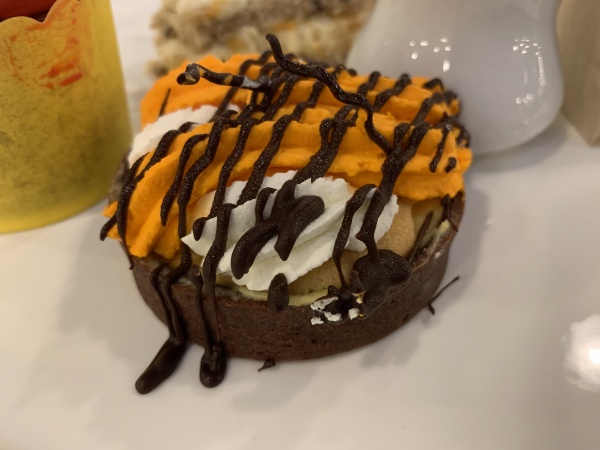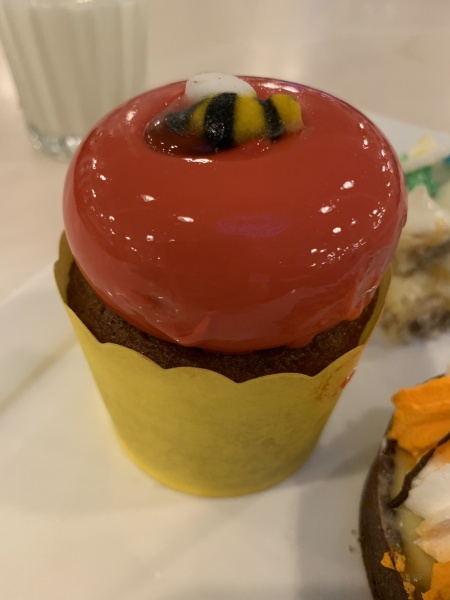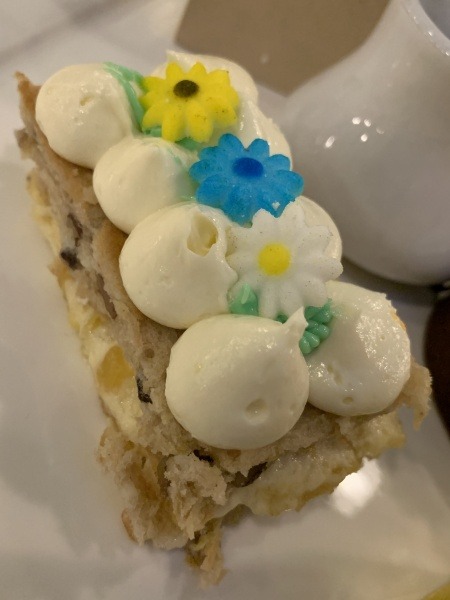 As far as dessert is concerned, I would rather see what they do at Hollywood & Vine, which is allow you to choose which dessert you would like.
Overall, I did enjoy my meal at the Crystal Palace. Minus a few tweaks, I think it's a pretty good dining experience.
Would you like to try Crystal Palace in this new format? Share with us your thoughts in the comments or on Facebook or Twitter!
Did you like this article? Make sure to share it with your friends! Check below for easy ways to share!  
Want to visit a Disney Destination? Contact The Magic for Less Travel for more information and a free, no-obligation quote.

Incoming search terms:
https://www themouseforless com/blog_world/dining-review-updated-crystal-palace/