This post may contains affiliate links for your convenience. If you make a purchase after clicking a link we may earn a small commission but it won't cost you a penny more! Read our full disclosure policy here.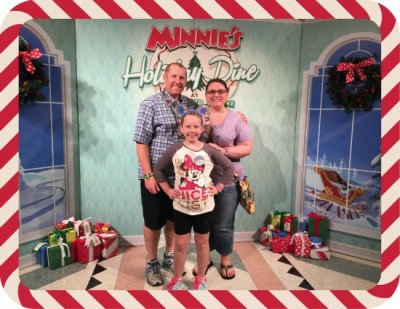 On our most recent weekend getaway to Walt Disney World, we had the opportunity to try a new dining experience at an old favorite – Minnie's Holiday Dine at Hollywood and Vine. Hollywood and Vine, at Disney's Hollywood Studios, will be offering this seasonal, holiday-themed character dinner now through January 3, 2016. This festive dinner features classic Disney characters dressed in their seasonal best and offers traditional holiday fare including favorites such as carved ham and turkey, green bean casserole, and cornbread stuffing.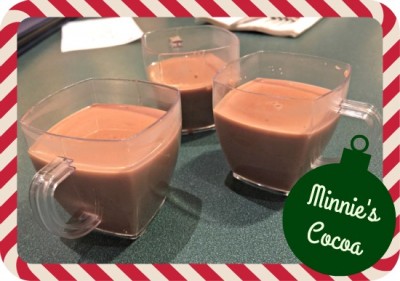 Upon entering Hollywood and Vine, our family was greeted by "Santa" Goofy and had the chance to pose for a quick photo in front of a festive backdrop. Please note that the characters at Minnie's Holiday Dine will not sign autographs during dinner; instead each guest is presented with a small card that was "signed" by the characters before the meal.
Once we were seated, our server presented us each with a small cup of hot cocoa, prepared by Minnie herself. The cocoa was not too hot, which was good for small children, and was thick, with a slight gingerbread flavor. Like all of the meals at Hollywood and Vine, the Holiday dinner is served as an all-you-care-to-eat buffet, with non-alcoholic beverages included in the price.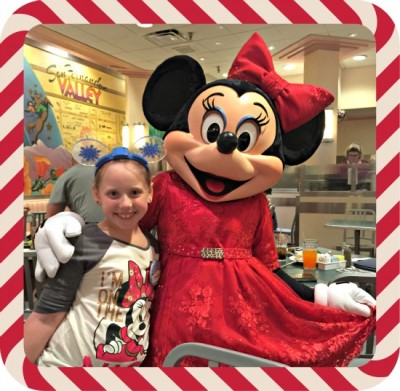 The holiday theme carries over to the food, with several classic holiday dishes (and some new takes on old classics) featured on the menu. There was a carving station for turkey and ham, and other entrees, such as roast pork, salmon, and asiago-ranch crusted chicken breast available on the buffet. Side dishes included options like garlic mashed potatoes, lobster macaroni and cheese, green-bean casserole, cornbread stuffing, pumpkin ravioli, sweet potato casserole, and roasted Brussels sprouts. Like most Disney buffets, there was also a "children's" section, which included kid-friendly staples such as chicken nuggets, mini corn dogs, classic macaroni and cheese, and tater tots.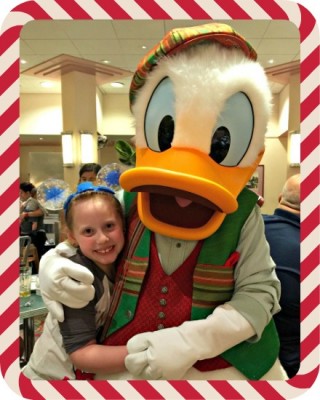 The desserts were also in on the holiday theme, with desserts stations featuring bite-sized portions of classics like pumpkin pie, pecan tarts, gingerbread cupcakes, red-velvet cake (complete with cream cheese icing), German chocolate cookies, and eggnog cheesecake. The presentation of the petite desserts was adorable – with festive red and green sprinkles and delectable white chocolate Mickey and Minnie decorations. The small portions were perfect, as they allowed for sampling several treats! In addition to the holiday themed desserts, there was also a chocolate fountain with chocolate covered strawberries and marshmallows, and a self-serve soft-serve ice cream machine.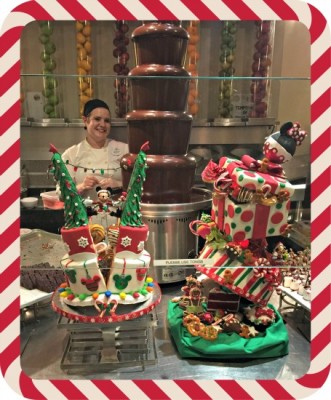 As with other character meals at Walt Disney World, characters visited our table throughout the meal. Characters present included Mickey, Donald, Daisy, Goofy, and the hostess for the evening, Minnie Mouse! Each character was dressed for the occasion, in all-new holiday garb. All of the characters looked adorable, but we particularly enjoyed Minnie and Daisy's sparkling dresses and bows!
At $46.99 for adults and $27.99 for children, Minnie's Holiday Dine at Hollywood and Vine is not cheap (to say the least), but is within the typical price range for character dinners at Walt Disney World. For the price, the food was decent at best; none of the dishes we tried really stood out, and we've experienced tastier versions of many of the dishes at other restaurants on-property.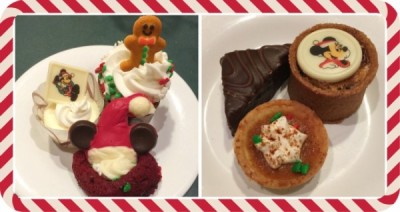 That being said, it's probably safe to assume that most guests aren't making reservations at character meals just for the food – it's the characters that really make these dining experiences shine! And seeing our favorite characters dressed in their holiday best at Minnie's Holiday Dine definitely made this dinner a worthwhile experience for our family. We probably won't be repeating this particular Holiday dinner again, but when Minnie's Seasonal Dining begins at Hollywood and Vine in January 2016, we just might "need" to check it out to see what cute costumes they come up with next!
Are you planning to try Minnie's Holiday Dine at Hollywood and Vine? What's your family's favorite character meal? We'd love to hear all about it in the comments!