This post may contains affiliate links for your convenience. If you make a purchase after clicking a link we may earn a small commission but it won't cost you a penny more! Read our full disclosure policy here.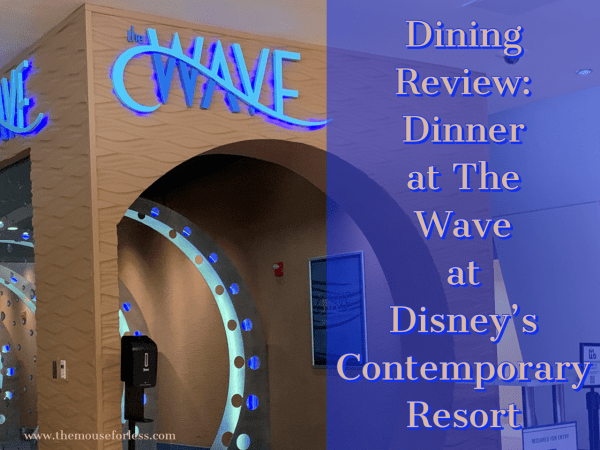 I'm gonna let you in on a little secret. Are you listening? Right now, at the Walt Disney World Resort, my favorite restaurant is The Wave at Disney's Contemporary Resort. The Wave, which can be found on the first floor of the resort hotel is very unassuming looking. Matter of fact, many don't think about dining here at all.
The restaurant itself isn't really that spectacular in appearance. It looks like a traditional hotel restaurant. Doesn't stand out at all.
But that's all ok with me. That's because the food is spectacular.
Now, you all know my love of the breakfast here at The Wave. I dream of their sweet potato pancakes. (You can learn how to make those at home here.) But I think I love the dinner option just a little bit better.
On my recent trip, we stopped into The Wave after getting a ressie for dinner that morning while we were walking into the park. Remember, dining reservations are pretty much required right now in order to be able to dine at Walt Disney World restaurants. Guests will need to check in online for their reservation. (Though, they can check in with a Cast Member at the front, if they don't have the My Disney Experience app downloaded on their phone.)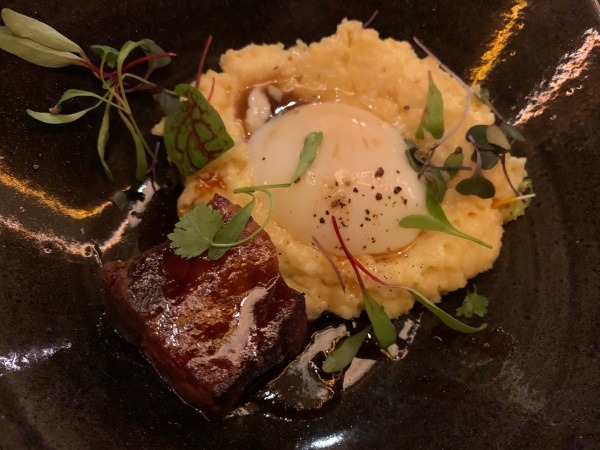 Once we were seated, we placed our order and I knew exactly what I wanted. There is an appetizer called Bacon and Eggs. Try not to drool as I share what this dish consists of. This dish includes Maple-lacquered Pork Belly with a Perfect Egg and Tillamook Smoked Cheddar Grits.
I promise you it's not me overselling this. This dish is INCREDIBLE. The pork belly is cooked to perfection and it's perfectly flavored thanks to the maple touches. The perfect egg is perfect with it being just runny enough to mix well with the pork belly and grits. Oh and let's talk about the grits. They are so cheesy and creamy. Overall, this dish is one of the most decadent things I've eaten in a while.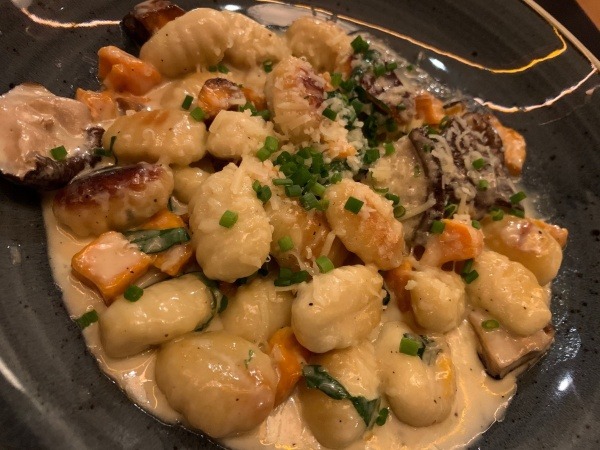 For my entree, I decided on the Seared Gnocchi, which is served with Forest Mushrooms, Sweet Potatoes, Rainbow Swiss Chard, Brown Butter-Parmesan-Sage Cream. Again….this was an AMAZING dish. The flavors meshed so well together. The sear on the gnocchi was perfect and the veggies paired fantastically. The sauce was so creamy and flavorful.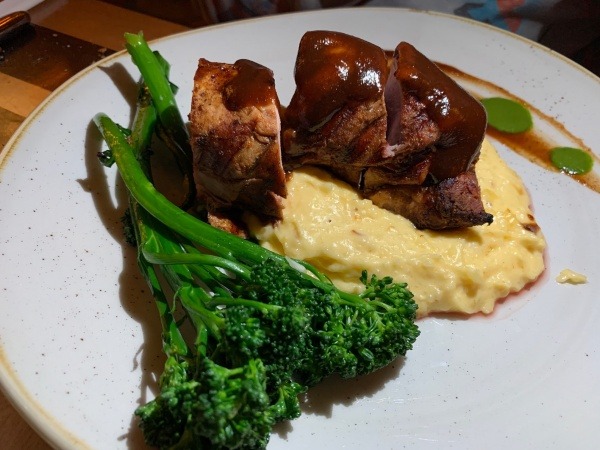 One of my tablemates got the Pork Tenderloin which is also served with those Smoked Cheddar Grits from before. It includes a Coffee-Barbecue Sauce, Roasted Broccolini and Chermoula. I tried the pork and it was very tender with good flavor due to the barbecue sauce.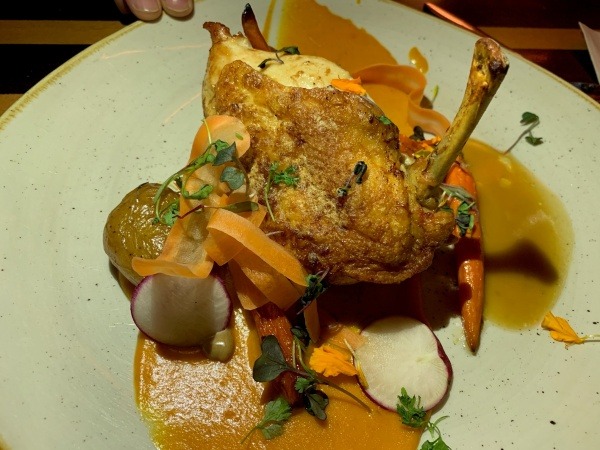 Another tablemate got the Herb-roasted Chicken served with Carrot Purée, Potato Confit, Apricot-Butter Sauce. He devoured this dish quickly!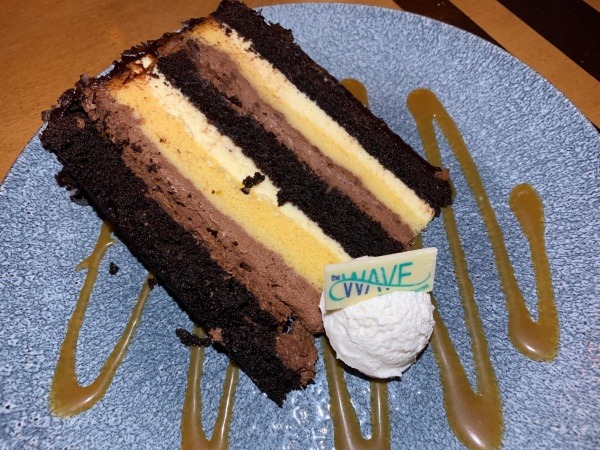 For dessert, right now, they are offering the special seven layer cake that could previously only be gotten at the Top of the World Lounge in Bay Lake Tower. This is NOT on the menu. You either have to ask for it or your server has to tell you about it. It is layers of Chocolate Cake, Yellow Cake, Mousse, and Ganache. Oh my goodness! It is decadent! I absolutely suggest sharing!
I would tell you to visit The Wave for your next meal, but I think you can already tell I am going to suggest that. Actually, no….I don't. Because I want to easily be able to grab a reservation and dine at my right now, favorite restaurant at Walt Disney World. 😉 Seriously though….if you're debating on trying a new spot, make sure The Wave is it.
Have you tried The Wave? What were your thoughts? Share in the comments or on Facebook or Twitter!
Did you like this article? Make sure to share it with your friends! Check below for easy ways to share!  
Want to visit a Disney Destination? Contact The Magic for Less Travel for more information and a free, no-obligation quote.