This post may contains affiliate links for your convenience. If you make a purchase after clicking a link we may earn a small commission but it won't cost you a penny more! Read our full disclosure policy here.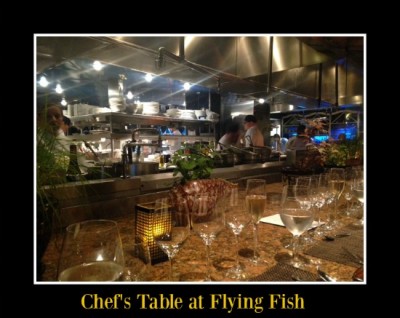 In planning our marathon weekend trip, I knew we would want to celebrate somewhere special.  After much thought, I settled on the Chef's Table at the Flying Fish with Wine Pairing.  My husband and I both love seafood and wine, so this seemed perfect.
While I would not suggest doing this after running 26.2 miles, it was a fabulous experience.  It didn't occur to me that we would be famished and that a buffet probably would have been more appropriate.  Nonetheless, we enjoyed the experience.
As I said, we both ran the marathon and I made the reservation for that evening.  We were pretty sore, so getting mobile again after laying down and resting was a little painful, but it was probably for the best.  We also didn't want to eat too much after the race because we were saving ourselves for the dinner.  So, it looked like this: wake up at 3:00 a.m., begin running 26.2 miles at 6:00 a.m., eat a bunch of energy gels, bars and bananas during the race, finish by 1:00 p.m., back to resort to rest and be at Flying Fish by 515 p.m.  We were DRAGGING, both from being hungry and tired.
We checked in and went to the bar, where we met the sommelier.  She was from Ireland and absolutely fantastic.  We chatted with her and the bartender for a while before going over to the Chef's Table, and we really enjoyed the conversation.  Once seated at the Chef's Table, we were presented with a personalized menu and began with our first glass of wine.  She was well versed in each and every wine and took the time to answer any questions you had.  After each wine was poured, a matching course was delivered to the table.  Again, the presentation and description of the food was spot on.  We were given all the details about the ingredients in each dish and where they came from.  Everything was so amazingly fresh!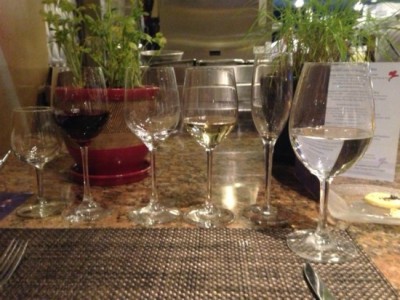 Wine Setting
Our favorite foods were the Vermont Butter-basted Maine lobster and the Pepperberry, Rosemary & Thyme-scented Waygu Beef Tenderloin.  We were pleased to see a wine from a region in California that we had previously visited last summer, Paso Robles.  We loved the wine from that area.  Indeed, this offering brought us right back to those warm, rolling hills of the Central Coast in California.  They also featured wines from Sonoma, Spain, France and New Mexico.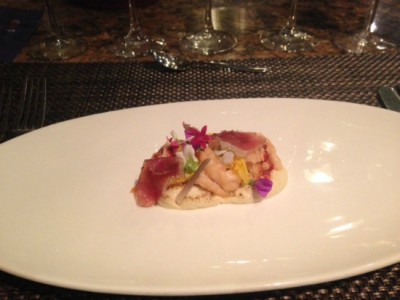 Maine Lobster with a Duck Prosciutto atop a bed of parsnip puree
All in all, it was a great experience.  I would say it's a great alternative to Victoria and Albert's.  Personally, we found this experience to be very comfortable for us.  It is definitely a cheaper alternative and not quite as formal either.  It seemed to be just the right amount of courses.  Although, the hubby decided he wanted an order of calamari to go.  I would go back and do this experience in a heartbeat for a special celebration, just not after running a marathon.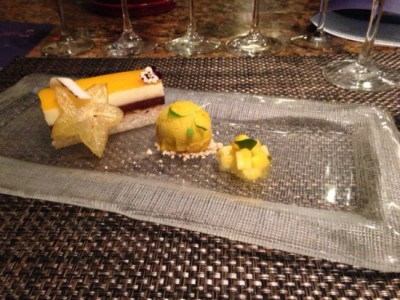 Dessert: Coconut Torta, Mango-Passion Fruit- Cilantro Coulis and Tropical Fruits Salade
The restaurant is currently down for a refurbishment, but will reopen this fall!
Have you ever tried Flying Fish? What were your thoughts?
Incoming search terms:
Chefs table flying fish
flying fish wine pairing disney
https://www themouseforless com/blog_world/dining-review-chefs-table-at-flying-fish-with-wine-pairing/