This post may contains affiliate links for your convenience. If you make a purchase after clicking a link we may earn a small commission but it won't cost you a penny more! Read our full disclosure policy here.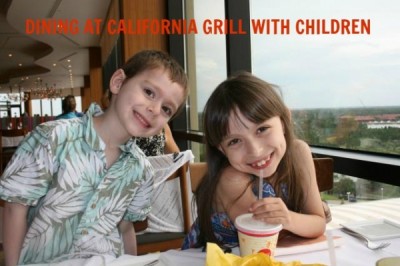 California Grill is known for being one of the fine dining experiences at Walt Disney World, but I think a lot of people stray from trying it out because they do not know if it is child friendly. I hope that by the end of this article, I can convince everyone otherwise.
The California Grill is located on the top floor of Disney's Contemporary Resort. Reservations are strongly recommended for this location, due to its popularity. In order to access the restaurant, you must check in at the second floor podium, and the cast members will guide you to a special elevator utilized to reach the restaurant. Once you exit the elevator, there is a second podium where a hostess meets you and directs you to your table.
On our last trip, I was traveling with my three children, and opted for an early dining time (around 5:00 pm). The restaurant was relatively empty at that time, having just opened for dinner, and our views of the Magic Kingdom were phenomenal. If you have your heart set on sitting at one of the California Grill's coveted window tables, making an early reservation is a good idea. We had a great window table.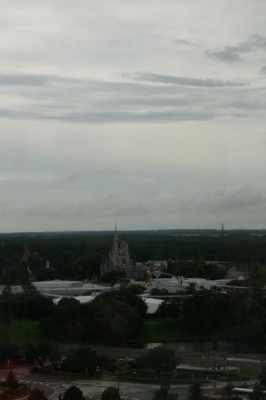 The restaurant, itself, is bright and cheerful. It is modern, but still whimsical. We were immediately brought a bread basket. While the restaurant began to fill up with many adults, there were also several families and large tables set up, so we did not feel uncomfortable or out of place.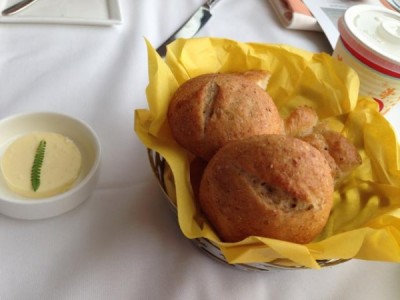 My children opted for familiar entrees such as pizza and macaroni and cheese. While these options may sound pedestrian by their title, the execution was fresh and delicious rather than frozen/reheated or made from a box. The macaroni and cheese was rich and flavorful and the pizza had fresh mozzarella cheese. My children were very happy with their food.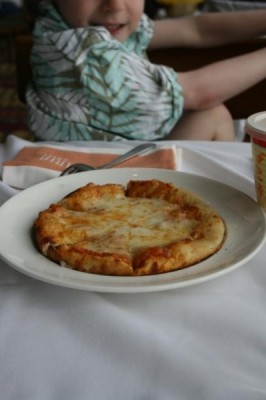 Meanwhile, I was treated to some beautiful gourmet food. Rather than order an entrée, I chose a BBQ pork flatbread and their signature first course, the Sonoma goat cheese ravioli. Both were delicious, and the ravioli was especially good. It came with a slightly spicy tomato broth, and I spooned every last drop from the bowl. I also opted to try one of the wines of the day, a red zinfandel, which was very good.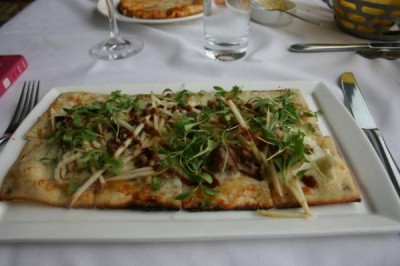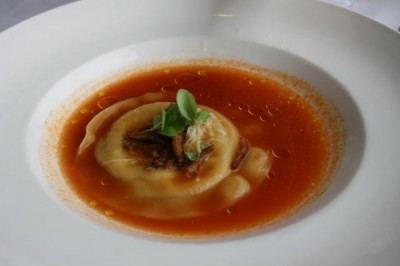 The desserts, however, were the high point of our meal. My children love the dessert sushi, which comes out looking like sushi, but is actually rice crispy treats with Swedish fish and a chocolate dipping sauce. They also tried the children's fondue, which had a nice serving of assorted fruit with a yogurt dipping sauce.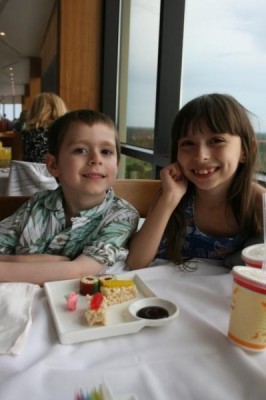 I opted for the sundae sampler, and have been dreaming of this dessert ever since. It came with three small "sundaes", a banana split, Frangelico toffee, and a reverse root beer float. Each sundae had an element of surprise to it, but the root beer ice cream with vanilla soda in a tiny glass bottle was my favorite. California Grill also has a large selection of coffee drinks and assorted teas.
I also ordered the eros tea, which I had previously loved when we had tea at the Grand Floridian, and it was just as wonderful as I remembered.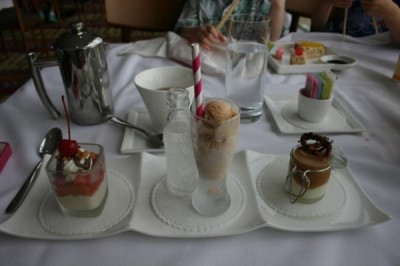 By the end of our meal, the sun was starting to set, and we enjoyed watching all of the rides operating at the Magic Kingdom.
One of the high points for dining at California Grill is watching the Magic Kingdom fireworks. You can see the fireworks from some of the tables in the restaurant, but are also welcome to walk out onto one of the two outdoor patio viewing areas, which I prefer.
Although we were done with our meal prior to fireworks, this did not negate our ability to participate in fireworks viewing. The restaurant's policy is that if you have dined in the restaurant earlier in the evening, you can bring your receipt to the second floor podium, and they will allow you right back up to the viewing patio. Just make sure to leave yourself enough time to get to the viewing area. You will not be disappointed in that view either!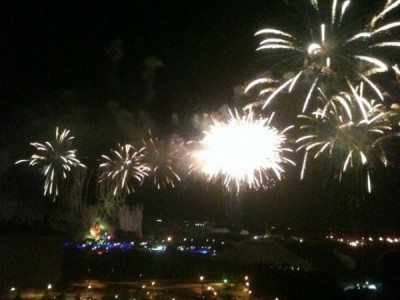 As I sat down to write this article, I mentioned to my daughter that I was going to write about our meal at California Grill.  She smiled and asked when we can go back there again. I think that's proof that yes, even kids can enjoy a meal at California Grill.
Have you ever enjoyed a meal at California Grill with children? What tips do you have?
Incoming search terms:
https://www themouseforless com/blog_world/dining-california-grill-children/
california grill kids
https://www themouseforless com/blog_world/dining-california-grill-children/#:~:text=As I sat down to a meal at California Grill