This post may contains affiliate links for your convenience. If you make a purchase after clicking a link we may earn a small commission but it won't cost you a penny more! Read our full disclosure policy here.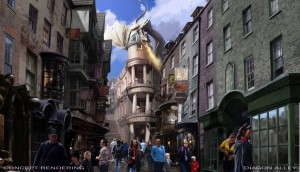 Today Universal Studios Florida offered a webcast dedicated to information about this summer's opening of The Wizarding World of Harry Potter – Diagon Alley.
This new themed area will be part of the Universal Studios theme park. Currently The Wizarding World of Harry Potter – Hogsmeade is open as part of Island's of Adventure. When it opens this summer, the two areas will be connected via the Hogwarts Express train. Guests with park-to-park tickets will be able to move from Hogsmeade to Diagon Alley on a ride similar to the one the students of Hogwarts did in the movie.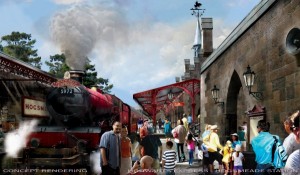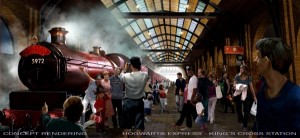 Hogmeade currently is home to Harry Potter and the Forbidden Journey attraction, Hogwarts castle, and the shops and eateries of the village of Hogsmeade.
Diagon Alley will be featured in the new section along with London and Knockturn Alley. Diagon Alley will be home to shops, dining, and of course, the much anticipated Harry Potter and the Escapre from Gringotts attraction. Sitting atop the Gringotts Bank will be the fire-breathing dragon who guards the faults.
Here is what is in store for guests:
The Hogwarts Express train will bring guests between Kings' Cross Station in London (Universal Studios Florida) and Hogsmeade Station (Islands of Adventure). The Hogwarts Express is a replica of the train featured in the movies. Along the winding path, guests will see scenes from Lonon and the British countryside.
Harry Potter and the Escape from Gringotts, which is a "multi-dimensional thrill ride." Guests will be taken on a thrilling journey through the vaults of Gringotts.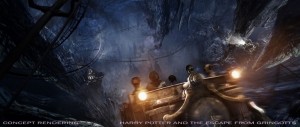 Ollivander's: Makers of Fine Wands since 382 BC will be pairing wands withwizards.
Knockturn Alley, a darker side of the wizarding world, will be home to Borgin and Burkes which specializes in the Dark Arts and dark magic.
Diagon Alley eateries will include the Leaky Cauldron (that's in London) for traditional British food, and Florean Fortescue's Ice Cream Parlour.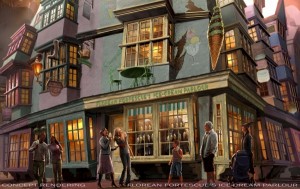 Diagon Alley shops will include Weasley's Wizard Wheezes (magical joke and novelty items), Magical Menagerie (plush versions of animals unique to the wizarding world),  Quality Quidditch Supplies (for all of your Quidditch needs), Madam Malkin's Robes for All Occasions (school uniforms and accessaries), Scribbulus (quills, parchment and other stationary).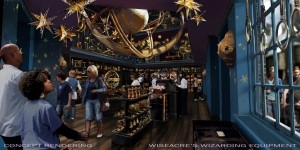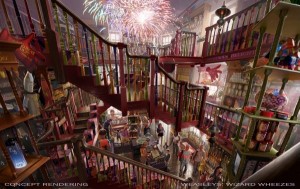 Also announced is a special micro-site featuring updates and details about Diagon Alley. That can be found at www.universalorlando.com/harrypotter.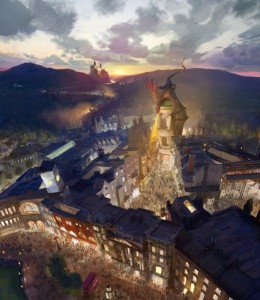 Of course, you can always keep checking TheMouseForLess and our Universal Studios section for planning information, new details, and other information about Universal Studios Orlando.