This post may contains affiliate links for your convenience. If you make a purchase after clicking a link we may earn a small commission but it won't cost you a penny more! Read our full disclosure policy here.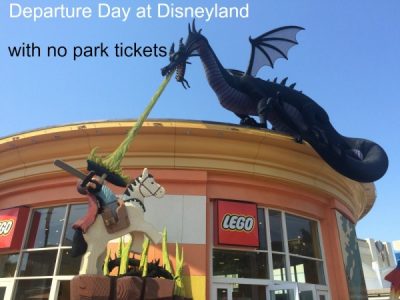 Spend the morning at the Lego Store
It's the saddest day of your Disneyland vacation – departure day. You're going to have to leave mid day, so you didn't purchase park passes. How to spend your last precious hours at The Happiest Place on Earth before you have to go back to the real world?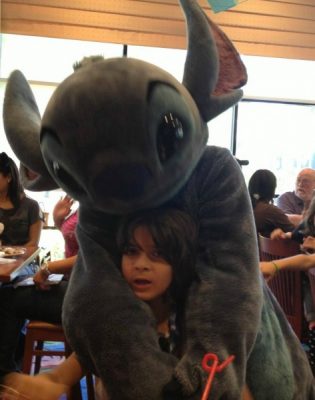 The character breakfast at the PCH Grill
TRY A CHARACTER BREAKFAST
On park days, I don't like to spend precious morning park hours by sitting down to a long character breakfast. But on a day when you're not going into the parks, it can be a great idea. Goofy's Kitchen in the Disneyland Hotel, Storytellers Café in the Grand Californian, and the PCH Grill in the Paradise Pier Hotel all offer character breakfasts and do not require park admission.
LAST MINUTE SHOPPING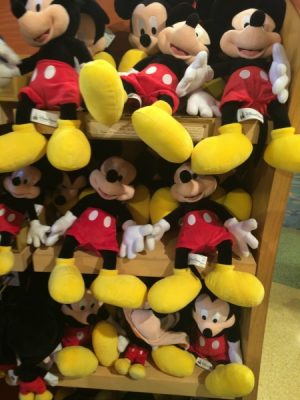 Mickey plushies at the World of Disney
The Downtown Disney shops are a great place to buy last minute souvenirs for yourself or anyone back home. World of Disney is massive, not quite as big as the version in Walt Disney World, but a great place to find kitchen items, clothing for the whole family, Blu-Rays, music and toys.
The Lego Store is not only a paradise for Lego lovers, but has large interactive sections where kids can assemble Lego cars and race them down a ramp, create buildings, and even a spot for the littlest guests to build with the larger Duplo blocks.
The shops in each of the hotels are also fun places to browse. The large Fantasia Shop in the Disneyland Hotel is more interesting than the smaller, sundries focused it's a small world themed shop in the same hotel. Both the Grand Californian and Paradise Pier hotels have fun items for sale.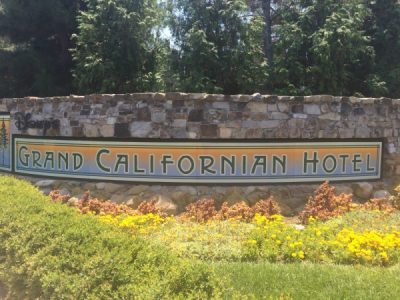 The Grand Californian has an excellent spa
TRY A SPA TREATMENT
Adults only trip? Head for the Grand Californian and enjoy a spa treatment! If you're tired from traipsing around theme parks for days straight, this could be just what you need before you head home. There are couples massages, ones designed for expectant mothers, and treatments designed especially for men.
VISIT ANNA AND ELSA'S BOUTIQUE
Do you have little wanna-be Annas, Elsas and Olafs in your traveling party? They can get a Frozen inspired makeover at Anna and Elsa's Boutique! The Boutique is located in Downtown Disney. This experience is open for boys and girls aged 3 through 15. Reservations are highly encouraged, as this spot is pretty popular. After the kids have been transformed, take lots of photos of them inside the shop and throughout Downtown Disney and the three Disneyland owned and operated hotels. In fact, you can get some great shots in the entrance plaza between the two parks, with the entrances to each park in the background!
IF IT'S WARM OUT, HIT THE POOL!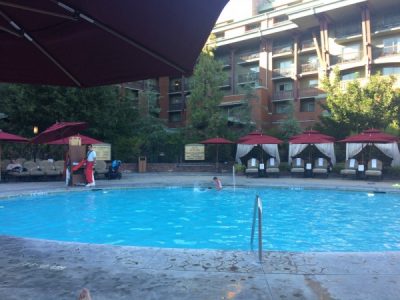 A pool at the Grand Californian 
If you're looking for a late morning or early afternoon departure, it may or may not be pool weather, depending on the time of year. In late summer and early fall, a dip in the pool might be just the thing! All three Disneyland owned and operated hotels have at least one pool with a slide. Many off property hotels offer pools, although in some spots, it's not much more than a concrete rectangle. However, the nearby Howard Johnson Anaheim has a cool Pirates Cove water play area that kids go bonkers over.
TAKE A TOUR OF THE DISNEY VACATION CLUB UNITS
If you've ever taken a tour at a time share, you might balk at the idea of doing it at Disney. But this experience is different. My parents took this tour, and one of the first thing the tour guide told them was that he did not want them to make the decision whether or not to buy that day. He wanted them to wait until they had returned home, thought about it, crunched the numbers and decided whether or not it would work for them.
The tour will last between 60 and 90 minutes, and there is a supervised play area for children who don't want to accompany their parents. On our tour we got to see the Aulani units. If you're not staying onsite, you can arrange to have transportation to and from the tour.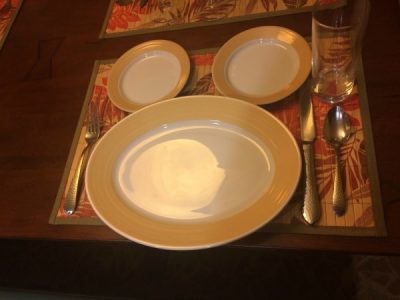 Place setting from an Aulani unit on the DVC tour
Eventually, you do have to leave Disney. (Sigh.) But I, for one, like to delay that for as long as possible, even if it means nothing more than enjoying a pastry from the La Brea Bakery in Downtown Disney, sitting on a bench, and watching the crowds go by.
What are your best tips for what to do on your departure day at the Disneyland Resort? Share your thoughts in the comments!
Did you like this article? Make sure to share it with your friends! Check below for easy ways to share!