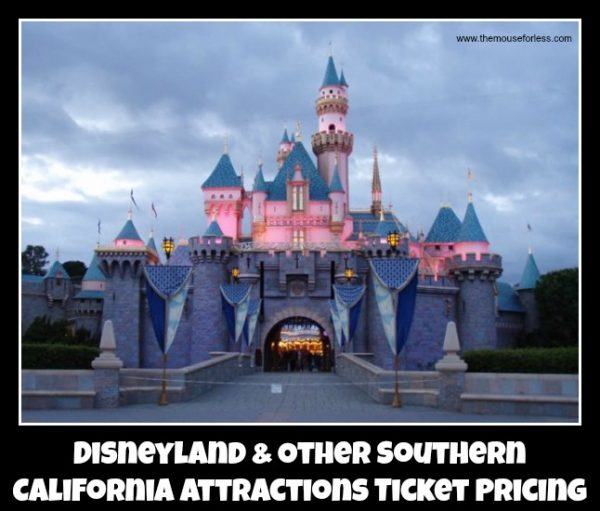 Disneyland Ticket Information   Discounted Tickets for Disneyland and Area Attractions    Other Ways to Get Disneyland Ticket Discounts
For Current Deals Look for the

Mickey Ears
---
Price Increase – February 11, 2020
For 2020, Disneyland will be using a tiered system. The tiered pricing only impact 1 day tickets. Those who purchase multi-day tickets will not see tiered pricing. As far as pricing goes, the lowest 1-day 1-park adult ticket remains at $104, while the highest price ticket is now $154.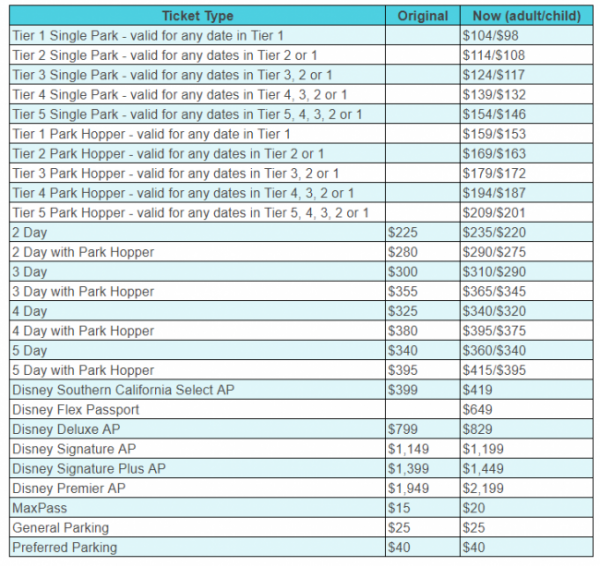 2020 Disneyland Tickets –  Information and Pricing
Disneyland Resort single park admission for either Disneyland park or Disney California Adventure park vary by season.
Tier 1
A Tier 1 ticket is valid for one single-day admission on any date in Tier 1.
Adult $104/Child $98
Tier 2
A Tier 2 ticket is valid for one single-day admission on any date in Tier 2 or a lower tier (Tier 1).
Adult $114/Child $108
Tier 3
A Tier 3 ticket is valid for one single-day admission on any date in Tier 3 or a lower tier (Tiers 1 or 2).
Adult $124/Child $117
Tier 4
A Tier 4 ticket is valid for one single-day admission on any date in Tier 4 or a lower tier (Tiers 1, 2 or 3).
Adult $139/Child $132
Tier 5
A Tier 5 ticket is valid for one single-day admission on any date in Tier 5 or a lower price tier (Tiers 1, 2, 3 or 4).
Adult $154/Child $146
California does not charge tax on theme park tickets. Children ages 3 to 9 pay child prices, and children under the age of 3 get into Disneyland Resort parks free. Guests ages 10 and above must purchase adult tickets.
Park Hopper tickets allow entrance into both Disneyland and Disney California Adventure on the same day.
Tier 1
This ticket is valid for one single-day admission on any date in Tier 1.
Adult $159/Child $153
Tier 2
This ticket is valid for one single-day admission on any date in Tier 2 or a lower tier (Tier 1).
Adult $169/Child $163
Tier 3
This ticket is valid for one single-day admission on any date in Tier 3 or a lower tier (Tiers 1 or 2).
Adult $179/Child $172
Tier 4
This ticket is valid for one single-day admission on any date in Tier 4 or a lower tier (Tiers 1, 2 or 3).
Adult $194/Child $187
Tier 5
This ticket is valid for one single-day admission on any date in Tier 5 or a lower tier (Tiers 1, 2, 3 or 4).
Adult $209/Child $201
One- to 5-day single park tickets and one- to 5-day Park Hopper tickets can be purchased at the gate or in advance online. All 3-, 4- and 5-day Tickets include one Magic Morning early admission to Disneyland Park. Disneyland tickets also must be used by the date specified on the ticket. Disneyland Resort offers Annual Passes for year-round park admission (with and without blackout days) that come with additional perks for passholders.
See Our Disneyland Tickets Chart For Prices and Discounts
Multi-day Passes
The most important thing to know about Disneyland multi-day passes is that the tickets expire on the expiration date printed on the ticket OR when all of the days are used up OR 13 days after the first use – whichever occurs first. This rule holds true even if there are still unused ticket days.  Disneyland tickets cannot be replaced if lost. For this reason, it is very important to safeguard your tickets once you purchase them and take care how you store them in the parks.
Additionally, the illegal ticket rental business has been booming at Disneyland in recent years. Disneyland Multi-day tickets are not transferable, however, and in an effort to prevent ticket fraud, Disneyland resort is now requiring that all guests using multi-day tickets have their photo taken. When the multi-day pass is used a second time, cast members manning the park turnstiles will see a photo of the guest pop up on a screen. The photo must match the person using the ticket in order to gain entry into the park.
"Magic Morning" Tickets
Disneyland guests who purchase multi-day tickets of 3 days or longer will receive one Magic Morning early admission with select attractions at Disneyland Park. The Magic Morning program offers access to Disneyland on Tuesdays, Thursdays and Saturdays one hour prior to scheduled park opening. Guests can only use this benefit once, and will not have early access to Disney California Adventure under the Magic Morning program.
Purchasing 2020 Disneyland Tickets
Disneyland tickets can be purchased in advance online at disneyland.com. There is a $5 charge for standard shipping and a $5 fee for picking them up at the Will Call window. Tickets shipped Express Mail cost $15 and International Shipping is $25. Disney's eTicket option for printing advance purchase online tickets is free. The eTicket option must be selected during online checkout. Tickets will be emailed as a pdf file to the email address specified. Printed e-tickets will be have a unique bar code that can be scanned at park turnstiles. Printed eTickets will then be exchanged for regular Disneyland admission tickets or Park Hoppers of the appropriate number of days.
Disneyland tickets can also be purchased by calling (714) 781-4400. These tickets, however, offer no eticket option and incur a $15 shipping fee for orders over $200 and a $5 shipping fee for orders under $200.
At the gate, Disney is testing a new technology that allows guests to purchase only 1-Day 1-Park, and 1-Day Park Hopper tickets using their smart phones rather than waiting in ticket lines. To purchase single day admission tickets, got to disneyland.com and select "Buy Tickets" from the home page. After you have made your purchase with your credit card, you will receive a confirmation with a barcode that will be scanned as you enter the park for which you've purchased your ticket. From there, you will be given a paper park ticket, which is still needed for park hopping or re-entry if you should leave the park and return later. A maximum of 15 tickets may be purchased at one time using this method. Visa, Mastercard, American Express, Discover, and JCB are accepted as payment forms. Disney has said that 2-Day tickets will be added to the service at a later date. Disneyland also offers a same-day, print-at-home option online.
Disneyland admission tickets are also offered by a number of ticket brokers and vendors online that buy tickets from Disney in bulk and pass on the savings. For more information on purchasing discounted Disneyland tickets, see our Discounted Ticket section below.
Ticket Upgrades
The value of an unused or partially used ticket or pass can be applied to upgrading to a higher value ticket or pass as long as the upgrade occurs prior to the ticket expiration. For instance, a partially used 3-Day Park Hopper that has not expired and is within 13 days of first use can be upgraded a 5-Day Park Hopper or to an Annual Pass. Visit any Guest Services window to upgrade your ticket or pass. For tickets purchased at a discount, the price you "actually" paid will be applied to your upgrade; this information is encoded in the ticket. Older Disneyland passes with no printed expiration date are still valid as admission media at Disneyland Resort, but because of their low value, are probably better used for park admission than applying towards an upgrade.
Annual Passes
Disneyland Annual Passports have been retired. Disney has shared that they are working on a new system and will share details soon. Find out the details on the retirement here. 
Disneyland offers three types of Annual Passes. Prices vary by the number of dates blocked out and residential requirements. All Annual Passes offer some perks such a hotel discounts, when available, dining discounts at select locations, special offers at select Downtown Disney District locations, discounts on merchandise and tours, access to special events and more. Perks will vary depending on AP type. Visit Disneyland's Annual Passholder page for details on each type. Disneyland Signature and Signature Plus AP passholders receive discount on merchandise, dining and tour discounts and free parking at any pay-on-entry lot. The difference between a Signature and Signature Plus annual pass is now $250. Most passholders can easily recoup this difference via the higher food and merchandise discounts offered to Premium passholders.
See Our Disneyland Ticket Chart For Prices and Discounts
TheMouseForLess Tip: If your family will be visiting Disneyland for more than a few days, it may be worth purchasing one Premium Annual Pass for a member of your group for the hotel discount and other discounts or for free parking if you'll be staying off-site. You'll have to do the math to see if it will be worthwhile for your group.
Disney allows Annual Passholders who live in SoCal the ability renew or buy a new pass and pay for it by the month. The initial cost is equivalent to the cost of a 1-Day, 1-Park ticket, and the remaining cost is spread out over 12 months. There is no finance charge to use this option. A discount is available on Premium and Deluxe renewals.
TheMouseForLess Tip: The Premier Annual Passport has been retired. Disney has shared that they are working on a new system and will share details soon. Find out the details on the retirement here.  An annual Premier Passport is available for admission to both Disneyland and Walt Disney World resorts. The new Premier Passport allows access to both east coast and west coast resort parks with no blackout dates. Passholders are able to visit multiple parks on the same day, as well as, get unlimited admission to Typhoon Lagoon and Blizzard Beach, DisneyQuest Indoor Interactive Theme Park, ESPN Wide World of Sports Complex (valid only on event days; some events require an additional admission charge) and Disney's Oak Trail Golf Course (with restrictions). The pass also includes theme park parking, invitations to special events, and Passholder discounts and offers. The cost of the Premier Passport is $2,199, plus applicable sales tax. For an additional fee, annual passholders can upgrade their annual or seasonal pass for one resort to a Disney Premier Passport. Disney Premier Passports are available for purchase only at select Disney Parks locations: Disneyland Resort theme park ticket booths; Guest Relations windows at Walt Disney World theme parks; and Downtown Disney area at Walt Disney World Resort.
Other Ticket Media
If you'll be visiting other Disneyland area attractions, you can also purchase a Southern California CityPass. This pass includes includes admission to Universal Studios Hollywood, SeaWorld Adventure Park, a 3-Day Disneyland Resort Park Hopper Bonus Ticket and your choice of the World-Famous San Diego Zoo or the San Diego Zoo's Wild Animal Park. This pass is valid for 14 days from first use and includes one Magic Morning early admission with select attractions at Disneyland Park.
See Our Disneyland Ticket Chart For Prices and Discounts
Parking at the Disneyland Resort is not free and can be quite pricey at $25 per day per car and $30 per day for RVs, campers and trailers at the the Mickey & Friends multi-level parking structure. Several discounts on parking are available at other locations. You can get 3 hours of free parking at the Downtown Disney lot with a minimum $20 purchase and validation from any Downtown Disney location or up to 5 hours of same-day parking with validation from any Downtown Disney table-service restaurant. A fee of $14 per hour is charged for longer parking, charged in 30 minute increments with a maximum daily parking and lost ticket fee of $56.

See our Disney Discount page for discounts on Disneyland Hotels and Vacation Packages.
Discounted Tickets for Disneyland and Area Attractions
Disneyland admission tickets are offered by a number of ticket brokers and vendors online. Ticket brokers buy their passes in bulk from Disney and then pass the savings on. In many cases ticket broker prices are better than advance ticket prices bought directly through Disneyland.com. When comparing prices online, just be sure to compare prices equivocally across the board. Theme park tickets sold in California are not subject to tax, but some online vendors do charge tax. Most Disneyland vendors carry tickets for all of the most popular area attractions.
In general, advance purchase savings when you buy tickets directly from Disneyland online are a thing of the past. Disneyland does, however, continue to offered special "promotional tickets" at a discount online during specific times of the year. The special "promotional tickets" are also available through select ticket vendors. See the chart below for additional info on Disney Ticket pricing.
[table id=38 /]
2020 Disneyland Ticket Price Chart
Current Ticket Media Ticket is valid until December 30, 2020.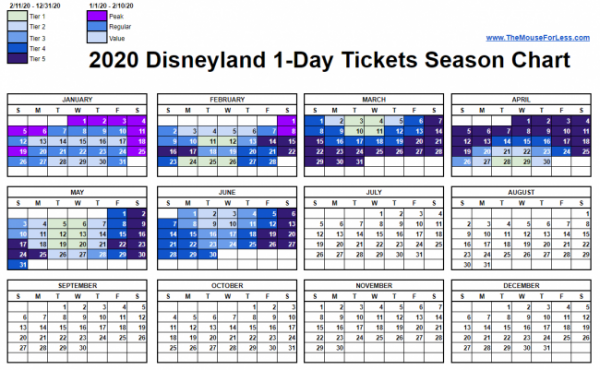 Signature Plus Passport – no blockout dates; includes parking
Other Discounted Attraction Tickets You May Enjoy
See All ARES Discounted LOS ANGELES Attraction Tickets
See All ARES Discounted SAN DIEGO Attraction Tickets
Other Ways to Get Disneyland Ticket Discounts
First, never buy tickets sold on eBay, Craigslist or any unauthorized source. Disneyland tickets come with a printed expiration date and used tickets expire 13 days after first use. There is no way to tell how many days may be left on a multi-day ticket other than at the park turnstiles, or for that matter, if the tickets are even real. Furthermore, Disneyland Resort tickets are non-transferable, so don't expect Disney to help if you get burnt buying a great deal. If you have any doubt about the wisdom of this statement, you can read about ticket scams that took place in the Disneyland area and on Craigslist. As a result of this and similar incidents and ticket rental scams, Disney is now requiring that guests have their photo taken when using all multi-day tickets. Online, use ticket vendors recommended on long-standing Disney information sites and communities when purchasing any attraction tickets and avoid all others. Most Disney communities have a long history with the reliable vendors and you will see those vendors mentioned often on forums, boards, and email lists.
Last Minute Ticket Discounts
Disneyland ticket discounts may occasionally be available at some Disneyland "Good Neighbor" hotels and area supermarkets, but, typically are not as good as the advance purchase prices available through ARES Travel.
If you are in the Southern California vicinity and haven't purchased attraction tickets yet, slightly discounted tickets for major theme parks and attractions are available at the Anaheim Visitor & Postal Center. The center provides visitors with attraction tickets for Disneyland (discounted tickets may not be available), Universal Studios, Legoland, and Seaworld, as well as foreign currency exchange, Internet access, dining recommendations, driving directions, area maps and other vacation planning assistance. Open everyday from 8:00am to 7pm, the Anaheim Visitor & Postal Center is located within the Jolly Roger Hotel at the Corner of Harbor and Katella. Call 714-991-INFO (4636) for information during business hours.
A Disneyland Welcome Center is located in the DoubleTree Guest Suites Anaheim Resort at 2085 S. Harbor Blvd in Anaheim. Slightly discounted Disneyland and other attraction tickets can be purchased on site. For more information on which tickets may be available call (714) 383-7052.
Some Northern and Central California Safeway stores and AAA Offices may carry discounted promotional tickets. Disneyland tickets offered at these onsite locations tend to be limited and varied, and the full array of Disneyland admission media may not be available.
Military Ticket Discounts
Active and retired military as well DOD employees can obtain discounted Disneyland tickets through their military base MWR offices. A military identification card or Department of Defense identification card is required at the time of Purchase.
Travel, Rewards and Discount Clubs, Programs and Cards, Oh My!
Check the web sites of any Travel or Discount Clubs to which you belong for attraction discounts and offers. Costco has been known to carry special deals on Disneyland tickets, both in store and online, and AAA sometimes carries tickets members can purchase at a discount. And don't overlook Rewards programs. These can include hotel, airlines, banking, merchant and grocery store rewards programs. Hilton HHonors program allows members to trade in points for Disneyland passes. Borders Rewards Perks gives members the ability to purchase Disneyland tickets at a discount. Giant Eagle's fuel perks program sells Disney Gift cards and gives you a discount on gas for your purchase. The Disney Gift Card can be used throughout Disneyland Resort as a form of payment towards admission, hotel stays, tours, merchandise and dining at participating locations. Theme park tickets can be purchased in advance by calling the Walt Disney Travel Company California at 1-866-470-5119 (gift cards can not be used to make online ticket purchases).  Disney's Reward Visa Card's Dream Dollars can be redeemed for Disneyland Tickets.
Corporate & Credit Union Ticket Offers
Corporate Clubs offer a variety of travel discounts to companies or large private groups. These clubs are often able to offer good discounts on attraction tickets. Check with your employee benefit office to see if you are eligible for any Corporate offers.
Discounted Disneyland tickets may also be available through some California credit unions. California residents living or working in select California counties can open a Golden 1 Credit Union account that offers very good discounts on Disneyland tickets. Tickets can be purchased online under the "self services" section. Look for a link in the 'special offers' box.
Occupational & Student Ticket Discounts
California teachers who are members of the California Teachers Association are occasionally offered Disneyland and other attraction discounts. The best way to find them is to visit the TSA web site or call TSA/First Financial Credit Union at (800) 537-8491. Discounts on an adult Disneyland tickets can be substantial. Members of other state education associations may want to check for available Disneyland ticket discounts.
Southern California university and college students can often obtain one park/single day discounted Disneyland tickets through their student union offices.
Southern California Residents Ticket Discounts
Southern California residents can purchase special ticket deals from Disney during select months of the year that are valid only for Southern California residents within ZIP codes 90000-93599 and Northern Baja California residents within ZIP codes 21000-22999; proof of residency is required for purchase and admission. When offered, this benefit at Disneyland.com or at Disney Stores, Vons and other retail locations, as well as any Disneyland ticket booth. When purchased in advance, 3-day tickets include one Magic Morning early entry to Disneyland. This benefit is not available to tickets purchased at Disneyland ticket booths. Watch here for more information about special offers from Disney for Southern California residents when they become available.
Disney Vacation Club Members Ticket Discounts
DVC members qualify for a number of Disney discounts including discounts on Disneyland Annual Passes. A new DL Annual Pass may be purchased for each member of the owner's immediate household, up to a total of eight (8) per year, at a discount. There are no discounts on renewals. DL Passes available through the Discount Program may be purchased at any Disneyland Main Entrance ticket booth. Members must present their Member ID Card, and if applicable, proof of residency, and all adults (ages 18 and up) must present a valid driver's license or state identification card showing they reside in the same household.
Discounts Through Disney's Youth Programs
Disney's Youth Program is for organized youth groups of 15 or more and qualify for reduced Disneyland tickets. Disney's Education Series is open to elementary, middle, junior and senior high school students of all ages from around the world. For more information, visit Disneyland's Youth Education Series (Y.E.S.) page. Additional information for youth group discounts is available for U.S. or Baja California Residents on Disneyland's Youth Group page. To qualify, children must be between the ages of 3 to 18, and one complimentary chaperone ticket is provided for every 10 youth that participate. Call the Youth Group Sales department at (800) 232-7980 or go online.
Occasionally Disney's Y.E.S. program offers individual enrollment that does not require one to be part of a group. Discounted tickets are available to those enrolled in the program. 1-Day/1-Park and 2-Day/1-Park Tickets, as well as 1- to 5-Day Park Hopper Tickets are available. Learn more about individual enrollment on Disney's web site.0