This post may contains affiliate links for your convenience. If you make a purchase after clicking a link we may earn a small commission but it won't cost you a penny more! Read our full disclosure policy here.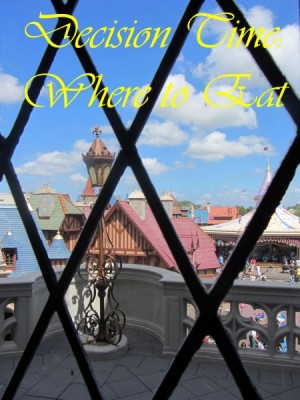 Looking out onto Magic Kingdom from Cinderella's Royal Table
I posted a few weeks regarding the planning of advance dining reservations.  I went through my process of how I narrow down the hundreds of options using extra magic hours, crowd calendars, family food preferences and other items.  As we are getting closer to our big 180 day mark (the day we can book our reservations because we are staying on Disney property) I wanted to give a quick update on how we have reached our final wish list for each day.  Again this is based off our food preferences as well as specific must-dos from people going.  There are dozens of amazing restaurants throughout Disney's property and we are only there for seven days.  Again this is our hope for our days we will see what happens on our 180 mark.
Day One:  Fly In Day
We will head to Epcot after flying in mid-afternoon; however, we will not have a specific meal scheduled.  We learned on our first trip with our kids that sit-down meals with kids following an early flight doesn't work well.  We will spend the afternoon playing it by ear or by what our kids need.
Day Two:  Extra Magic At Animal Kingdom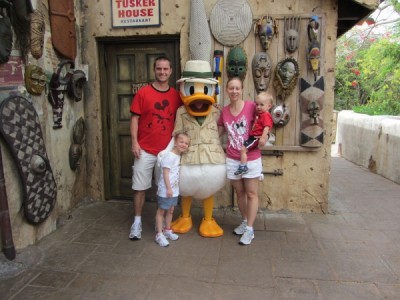 Tusker House in Animal Kingdom
We will be up early and head to Animal Kingdom on our first full day.  After some discussion between Boma for supper at Animal Kingdom Lodge and Tusker House for lunch we have decided on Tusker House for lunch.  Having a lunch reservation and afternoon break appealed to us as we know it will be warm when we are there and Animal Kingdom always seems warmer than other parks.  Lunch reservations also give the group (we have eight in our party) the opportunity to do what they want all afternoon instead of having to wait to head to Boma for supper.  Also having characters will be fun for the kids and the corn dog nuggets are amazing.  For the kids of course.
Day Three:  Extra Magic Hours At Magic Kingdom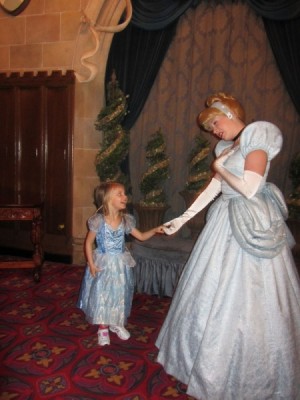 Cinderella's Royal Table
One of my favorite parts of our trip is getting to Magic Kingdom early.  Even though there are still thousands of people, it still seems quiet and empty which is fun and magical.  We are hoping for a lunch at Cinderella's Royal Table for lunch this day.  This was a must as both of our princesses, little princess (9) and big princess (29), want to eat at the castle and meet Cinderella.   Even though it is two table service credits on our dining plan, we find it worth it for the experience, atmosphere, and great food.
Day Four:  Hollywood Studios
With Disney announcing that there will be no more Star Wars Weekends, we had to adjust our plans.  Although we don't know what will be offered or what exactly hours will look like now, we are going to take the day off from sit-down meals this day.  We had discussed the Star Wars breakfast as well as the Fantasmic dining package but everyone felt a day that offered more of a flexible schedule would be nice.  We have done Fantasmic with and without the dining package and didn't feel like it was that much of a difference.  Also, with as much as it rains we didn't want to plan our dining around a show that might be canceled.  So a day off from specific dining it is!
Day Five:  Magic Kingdom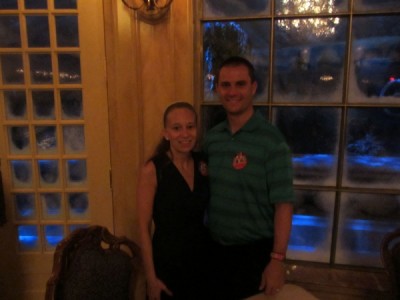 Be Our Guest
We will sleep in on this day as it is part way through our trip.  This day really depended on our plans from the previous day.  If we would have done a sit-down meal at Hollywood Studios then we would not have done a sit-down meal for lunch and supper; however, since we decided to play it by ear on day four, we then had a credit to use while at Magic Kingdom which does offer more food options that appealed to us than Hollywood Studios did.   We are wanting to be able to relax in the morning so we will plan lunch at Liberty Tree Tavern.  We did think about Crystal Palace, Whispering Canyon and Chef Mickey's but we didn't want to use all of our credits at buffets and I was worried Whispering Canyon would be too loud for people in the group.
This will be our only day with two sit-down meals, but as we will be at Magic Kingdom from around 1pm to 11pm this day planning multiple breaks seemed like a great plan.  We will be hoping to snag a highly desired reservation at Be Our Guest for supper.  I am a huge Beauty and the Beast fan so this is a must for me and to show the family.  Lunch is also an option here but I didn't feel this style fit our group so we went with supper here.
Day Six:  Magic Kingdom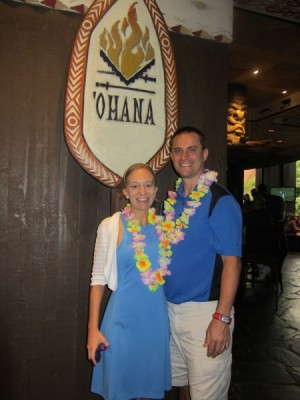 O'hana at Disney's Polynesian
We will sleep in after another late evening and part of our party will leave this am as well.  Supper will be at the Polynesian at Ohana.  This is a must for my husband who absolutely loved the meat and noodles here when we went before.  
Day Seven:  Flex Day
We will flex this day between parks so we will not have a sit down meal this day.  Again providing some flexibility.
Day Eight:  Last day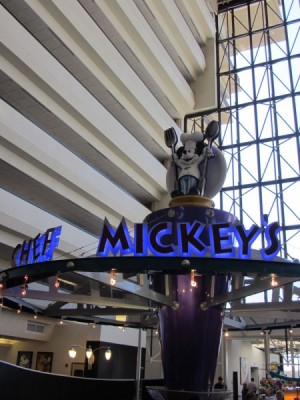 Chef Mickey's at Disney's Contemporary
We will fly out late this day so we will be in the Magic Kingdom area and will wrap up by eating with the main mouse at Chef Mickey's.   We will have an early breakfast and then head out.   
These are just a few of the amazing restaurants that Disney has to offer.  Options are endless when visiting Disney when it comes to food.   It is why we have to keep going back.  Trying new places and see what magic is out there is all part of the experience at Walt Disney World.  
What are your must dine places for your Disney vacations?