This post may contains affiliate links for your convenience. If you make a purchase after clicking a link we may earn a small commission but it won't cost you a penny more! Read our full disclosure policy here.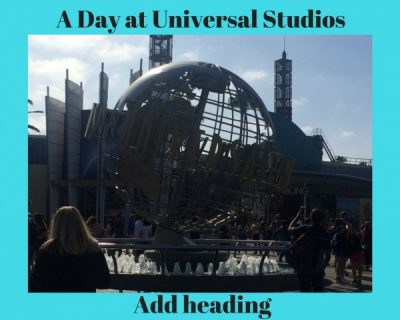 Welcome to Universal Studios Hollywood!
Let's face it: flights to Southern California are not cheap. If you're coming to So Cal to visit Disneyland, you might want to see what else the region has to offer. Today I'm going to focus on a favorite attraction that's been around for decades: Universal Studios Hollywood.
What started out as a simple tour of Universal Studios' backlot in 1915 has evolved into a first class amusement park. And don't worry, film buffs – you can still tour the famous backlot, and even catch glimpses of films and television being shot.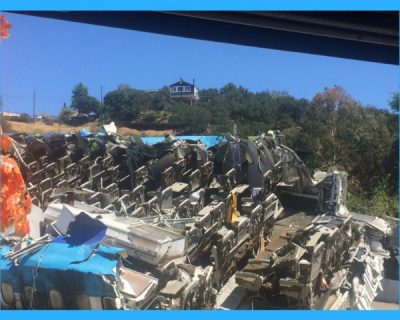 The Studio Tour took us past this set from War of the Worlds
The lines for the studio tour's trams can get very long, but once you're seated on the tram, you're going to be entertained for a full 45 minutes. (So use the restroom first!) Taking photos and videos during most of the tour is encouraged. Your tour guide will explain all the vehicles, props and sets you'll be passing through. Occasionally, when something is shooting nearby, the tour guide will have to remain silent for a portion of your tour. This is so that the background noise will not interfere with production.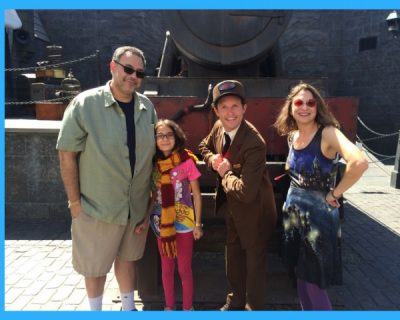 Meet the conductor of the Hogwarts Express!
A recent addition to Universal Studios Hollywood has proven to be very popular: The Wizarding World of Harry Potter. Here, the charming town of Hogsmeade has been lovingly reproduced, along with the magnificent Hogwarts Castle, which is so huge that it can be seen on the freeway when you're approaching the Studios.
The two major rides here are Harry Potter and the Forbidden Journey, which is half dark ride and half simulator. The line for the attraction, which is often long, snakes through the grounds and castle.
The second ride is Flight of the Hippogriff, an outdoor roller coaster. Stage shows featuring the Hogwarts Choir and visitors from Beauxbatons and Durmstrang are presented at an outdoor theater.
The shops are a Harry Potter fan's dream come true. Buy your practical jokes at Zonko's, fulfill your sweet tooth at Honeyduke's, sent a Hogwarts postcard from the Owl Post, get your school supplies at Dervish and Bange's, see what Filch has confiscated at his Emporium, get your wizarding equipment at Wiseacre's, get robed at Gladrags Wizardwear, and celebrate the Hogwarts Express at the Hogsmeade Station.
But the main shop here is Ollivander's. You can simply enter through the back to buy a number of wands, or you can wait in a sometimes lengthy line to watch (and perhaps be selected for) a wand ceremony.
Some of the wands purchased here can be used to cast spells in shop windows throughout Hogsmeade. If this is important to you, be sure to ask before you buy. (I was told that wands bought here will also work in Universal Studios in Orlando and Japan, and vice versa.)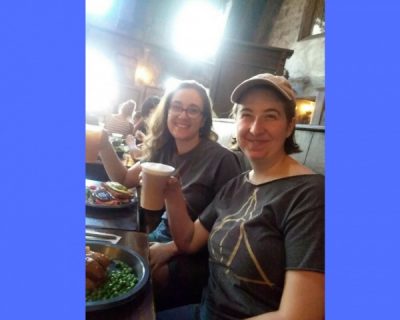 Enjoying a Pumpkin Fizz and Butterbeer at the Three Broomsticks
If you get hungry, drop by the Three Broomsticks for an authentic British meal, or buy ice cream (including a Butterbeer flavored one!) from stands throughout Hogsmeade. The Hog's Head serves alcoholic beverages along with wizarding specialties like Butterbeer, Pumpkin Juice, and Pumpkin Fizz.  I'll be writing an in-depth restaurant review of this charming spot soon.
A Harry Potter fan could spend all day here, and we spent a full four hours here, and came back at night to see Hogwarts Castle lit up! I'll be doing an entire blog post just on the Wizarding World soon.  But there is much more to do at the Studios.
If you're a thrill ride buff, you'll want to head to the Lower Lot, where you can ride Jurassic Park, a flume ride that will certainly get you wet. Parents with young children can take them to the nearby dinosaur themed play area while more adventurous family members ride. You can also participate in The Raptor Encounter, where you will come face to face with a (thankfully not real) velociraptor.
You'll also find Revenge of the Mummy, which is an indoor roller coaster with some pretty incredible special effects. Transformers is a 3D flight simulator ride based on the popular movie franchise.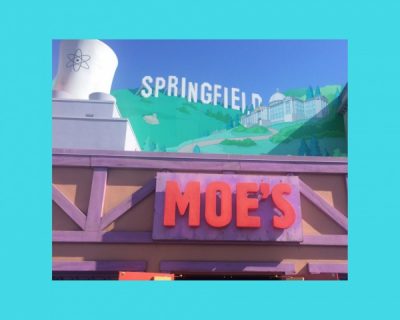 It wouldn't be Springfield without Moe's!
Fans of the Simpsons will be tickled pink to walk through Springfield, U.S.A., which has so many sight gags that it's impossible to list them all. The Simpsons ride is a virtual reality roller coaster with a really great sense of humor.
Popular eating spots from the show, such as Krusty Burger and Moe's, are good places to grab a bite. The Kwik E Mart features character greetings throughout the day.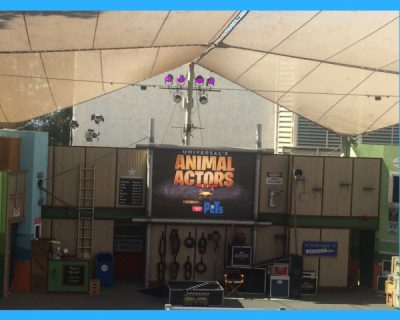 Animal Actors stage
If you've been on your feet all day, you may want to check out one of the many shows. Animal Actors is a fun show for the whole family featuring animals, many who have been rescued from shelters, showing you how they are trained for the movies.
The Special Effects Show features some wild (and often very loud) special effects, and may be too intense for very young children. But if you're interested in how movies are made, this is a must do.
Recently, a corner of the Studios has been transformed into the neighborhood where Gru and the Minions live. A simulator ride (see a theme here?) called Minion Mayhem is family friendly and a lot of fun. Outside, Super Silly Fun Land has a massive water play area and carnival rides.
Atmosphere characters who wander around the park add a spontaneous feel. A mother and son in a replica of a Brooklyn apartment building sat by their windows and yelled greetings to passers-by, and kept us in stitches, especially when a local police officer came to trade barbs with them.
Universal Studios Hollywood is a long car ride away from Disneyland. But if your Southern California vacation is going to be once in a lifetime, you should seriously consider adding a day to your vacation to visit Universal Studios Hollywood, where you can ride the movies.
Have you visited Universal Studios Hollywood? Share your thoughts in the comments or on Facebook or Twitter so we can check it out.
Did you like this article? Make sure to share it with your friends! Check below for easy ways to share!