This post may contains affiliate links for your convenience. If you make a purchase after clicking a link we may earn a small commission but it won't cost you a penny more! Read our full disclosure policy here.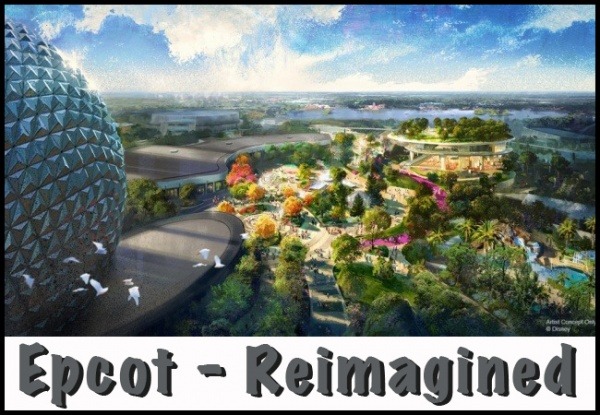 As I mentioned in my previous blog about the news and announcements coming out of the Parks and Resorts panel, the Epcot news was huge. So huge, in fact, that I had to post a second story just to keep the length reasonable.
While much of the news and announcements leading up to Epcot were great, we all knew much more was in store. I sat at my desk, anxiously biding my time, just waiting for the big news about what was to become of Future World and World Showcase.
Finally, for the moment we'd all been waiting for (and by we, I mean me), all eyes focused on the park most in need of some updates and love. For days, I and thousands of others had been fixated by those two black curtains taunting us with the words "REVEALING SUNDAY". We knew about the Brazilian Pavilion (I could say that over and over. Just try it, it's fun), but what was the other mystery poster, shrouded in secrecy?
It turns out we were all wrong. While the Brazilian Pavilion (I'm going to keep this up if nobody stops me) may be coming in the future, it wasn't announced from the D23 stage. Instead, we got our first full look at the Epcot of tomorrow.
We had been teased for days with clips of a video that seemed to show elevated areas and green spaces as far as the eye could see. What we got was all of that and so much more.
First, let me back up about 35 years. As you can see by the picture below, I was an early Epcot fan. I remember taking the monorail out to see the work in progress, and have photographs taken (badly) by my mother of the world's largest geodesic sphere still under construction. I loved Epcot with all my heart. In fact, I still do. Despite all its flaws and half-satisfied promises, it's still easily number two in my heart.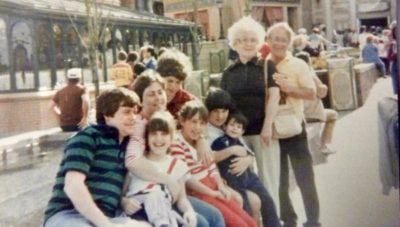 But, and there's always that "but" with Epcot, something was always missing. Something intangible that my still-forming brain couldn't quite put into words. In retrospect, I just hadn't quite reached the point of spelling, never mind comprehending, the term "existential experience".
The new concept video that was shown has satisfied that and ever so much more. From the retro lucite fountain, to the soaring multi-level structures and green vistas, this video shows the Epcot I somehow always hoped for but never quite experienced. It's like my childhood estimation of what Epcot should be has finally been realized in adult terms!
With phrases "Infinite sparks of inspiration" and "The magic of possibility", Epcot fans were promised the largest transformation of any park in Disney history. Terms like "more Disney" are sure to upset the Epcot purists, but I personally think this is an amazing step forward for a park that has always struggled to find its identity.
Promising to "inspire the next generation of children" the newly imagined Epcot (with a new logo that's anything but new), the park will now be broken into four sections. In full disclosure, Chapek called them neighborhoods, but I'm not ready to sign off on that awful marketing decision.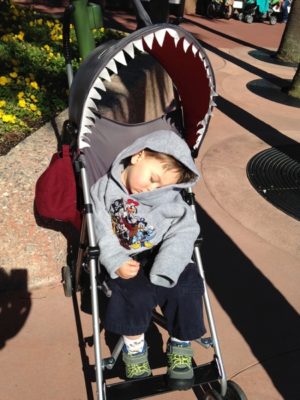 First, World Celebration will offer new experiences that connect us to one another and the world around us. This space encompasses Spaceship Earth and what was previously known as the spine of Epcot.
Speaking of Spaceship Earth, the much rumored and discussed updates were given greater depth but still no date to indicate when the beloved icon will close for refurbishment. The details that were released seem to point to a newly imagined experience rather than a completely new attraction. Many of the classic scenes will stay, but new ones will be added as the journey focuses on the power of storytelling to unite the human experience.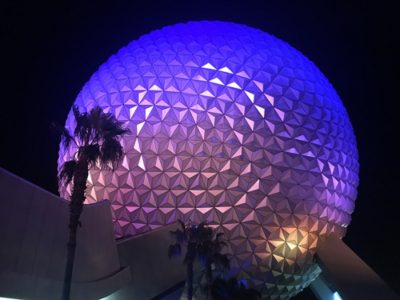 New narration (please go back to Jeremy Irons), new music (could we include Jeremy Irons), and a new guide known as the "story light" (could it please look like Jeremy Irons), will give the re-imagined attraction a new life.
Now here's where it gets interesting. No longer will guests exit Spaceship Earth to play a 3D anatomy game, or use some strange virtual shuffleboard system to power a city. Instead, the exit will lead out to Dreamers Point. Here, guests will be greeted with beautiful views of the new green space, a colorful wishing tree, and a new statue of Walt, the man who inspired so many dreams. I have the feeling this is going to become the new favorite spot for those Disney Instagrammers.
Actually, while we're on that subject, can I segue for just a teeny tiny tangent? Did anyone else notice the guests taking selfies in the concept art? Herb Ryman is turning over in his grave right now. He gives us the Rhine River Boat Ride concept and we repay him with Instagrammers smiling for their iPhones.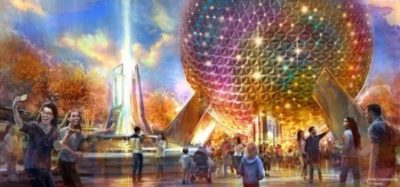 Ahead, as guests pass Spaceship Earth, is a new pavilion dedicated to the many festivals now held at Epcot. Frankly, with each festival getting longer every year, this building should see some serious use. I wonder if they should just call it "Festival" to minimize the time needed to change signage?
Seriously though, this building looks stunning. Three levels of futuristic symbiosis with nature. The first level seems to feature an open plaza for live entertainment, the second is to be an expo level, and the third will host a park that should provide stunning views of the nighttime shows. In my estimation, this was the single best feature of the entire concept. I hope and pray it doesn't fall to budget cuts.
Gone are the beloved Fountain of Nations and the seemingly dead space that lead to World Showcase. Despite the popular uproar, this has recently become little more than a place to stop and have your picture taken with Spaceship Earth in the background. On hot days, it was like running the gauntlet with sweaty children trying to break away, and play in the water that worked "sometimes". What we have to look forward to is a space that invites us to stop and enjoy the view, get our bearings and, in what may be a first for Epcot, enjoy the shade.
In the space that's currently occupied by Future World West, the former Starbucks (no great loss), Club Cool (please don't leave me), and Character Spot will be transformed into World Nature. Dedicated to understanding and preserving the beauty, awe, and balance of nature, this section will include The Seas, The Land (which, by the way, isn't going anywhere), and an additional attraction – Journey of Water, Inspired by Moana. This is styled as an exploration trail, where water will have a life of its own and teach about the importance of the natural water cycle.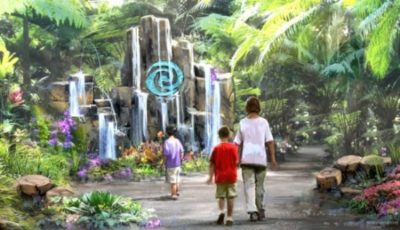 Now, I know the purists are screaming again, upset that an IP has been crammed into Epcot, but come on! This is a natural fit! Plus, it's the character I've seen the most requests for on various forums and blogs. I, for one, never thought Moana got its due as a movie, and Opetaia Foa'i is a musical genius. I would happily spend the entire day in this attraction playing with water and learning how to properly pronounce the Tokelauan words in "Tulou Tangaloa".
Finally, it looks like Awesome Planet, the new film in the Land Pavilion will finally be premiering in January 2020. I'm hopeful this movie will be a success, but I'm even more hopeful they've taken the time to get that decidedly odd smell out of the carpet-covered walls that lead to the theater.
On the other side of the park, taking over the space  from Mouse Gear and the Electric Umbrella, guests will find World Discovery. Here, stories about science, technology, and space will take center stage. Of course, in addition to Mission: SPACE and Test Track, Guardians of The Galaxy will be coming to Epcot with Cosmic Rewind.
Mention was made of a planetarium-like exhibition and ride queue, but I lost track of that when I heard the words "the coaster will rotate 360-degrees and includes the first reverse launch on a Disney coaster". Okay, Mr. Chapek, you have my attention now! The way I see this, it's pretty much an omnimover that goes extremely fast and starts off "launching into space" in reverse. Yes, please!
Just as exciting was the next announcement about the much anticipated restaurant tied to Mission: SPACE. I continue to tell people I'm looking forward to this because my son will love it, but that's only half-true. Called Space 220, guests will take an elevator (that sounds eerily reminiscent of the Hydrolator), 220 miles up to a space station. There, utilizing screens instead of widows, they'll dine while looking out at earth and space.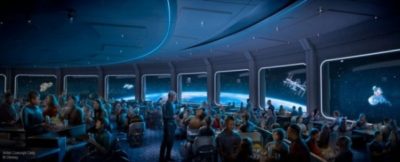 Let's be honest here. I may say this is for my son, but I'm a space geek. I can name you each and every astronaut on each and every Mercury, Gemini and Apollo mission. They could be serving day-old tuna fish sandwiches and I'd still be stalking the WDW reservation system. Due to open in the winter of 2020, I'm really hoping that means January, when I'll just happen to be there.
Finally, World Showcase will remain its wonderful self with a few additions, both expected and not, and one glaring omission.
Let's get that pesky omission out of the way. The Brazilian Pavilion (I did it again), was not mentioned. I don't think this has any bearing on whether or not it's coming. I think it's just a matter of timing.
If I'm being completely honest, I really don't care. The best argument I can make for this addition is the ability to open a Brazilian steakhouse. I've been to a true rodizio in Brazil, and while it was great, there's so much more I'd like to see in a World Showcase pavilion. I'm not anti-Brazil, despite the strange green diving pool at the summer Olympics. However, if I was asked to list my top five countries to go into World Showcase, Brazil wouldn't be in the running. By the way, if anyone's curious, they're Australia/New Zealand, Austria, Nepal, Greece, and Laos.
Aside from that, we know we're getting a new film in China, a new film in Canada, and Impressions de France will now share their theater with a Beauty and the Beast sing-along. While none of this really excites me, my wife has insisted she is going to spend the day singing along with Belle and our daughter. No word yet on what Belle and our daughter think of that plan.
In the end, the most exciting news coming out of World Showcase was so big that even Bob Chapek didn't hold enough clout to make the announcement alone. Joining him on stage was the one and only Dick Van Dyke. At this point, my copious notes dissolved into little more than lines of exclamation points and smiley faces. So much for impartiality and journalistic integrity.
Bert himself, referring to "Uncle Walt" and his time during the filming of Mary Poppins, told the crowd that Mary Poppins was coming to the UK Pavilion. Guests will soon be able to walk past Admiral Boom's house and step inside the Banks' residence. I was told that many in the audience were "ugly crying". All I could do was nod my head in understanding.
Finally, we received an update about the updated nighttime spectaculars. The concept art for Epcot Forever, the transition show soon taking over from Illuminations was accompanied by a peak at the accompanying music. I'm pretty sure I heard strains of "Tomorrow's Child" along with shots of illuminated kites flying over World Showcase Lagoon. While I have countless memories of Illuminations, and I'm sad to see it go, I agree that it's time. I'm looking forward to November, when I'll get to see Epcot forever in person.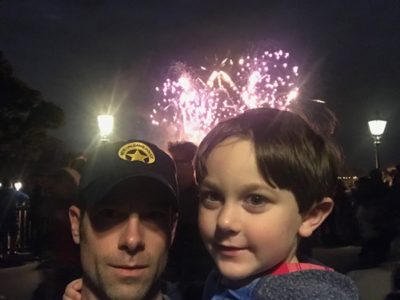 The new show, currently in production to take over from Epcot Forever will be named HarmonioUS. When it arrives in 2020, it will be the largest nighttime spectacular in Disney history. The new anthem by Pinar Toprak was played for the audience, accompanied by renderings of the new show and old photos of Epcot being built that warmed my old-school Epcot heart.
In all, there's no doubt these announcements are and will continue to be divisive among Disney fans. Some will think there's too much change, while others will shout that there's not enough. Purists will decry the destruction of "Classic Epcot" while others, new to Disney and their intellectual properties will cheer that they finally get to see Moana.
As for me, I think Epcot has always struggled to be everything for everyone and fallen just short on all accounts. What was once Walt's dream for an Experimental Prototype Community Of Tomorrow initially became a place of science and the exploration of knowledge. Later, as sponsorships and the draw of "Edutainment" slowly went away, Imagineers and administrators struggled to replace not just the attractions, but the excitement that came with glimpses of the future.
This new master plan not only brings exciting new options to guests, but finally creates a park that flows from one end to the other. No longer will visitors need to traverse the barren spine as they make the physical and conceptual leap from Future World to World Showcase. Is it perfect? No. Am I excited? You bet!
What are your thoughts about the upcoming changes to Epcot? Let us know in the comments, or on Facebook or Twitter!
Did you like this article? Make sure to share it with your friends! Check below for easy ways to share!
Want to visit the Walt Disney World Resort? Contact The Magic for Less Travel for more information and a free, no-obligation quote.