This post may contains affiliate links for your convenience. If you make a purchase after clicking a link we may earn a small commission but it won't cost you a penny more! Read our full disclosure policy here.

In case you haven't heard of it, D23 is the official fan club of the Walt Disney Company. This year, the D23 Expo will take place beginning on Friday, August 14 through August 16 in Anaheim, California. Though I have never been, and unfortunately have no plans to attend this year, I am really looking forward to hearing news from this year's expo!  Some big announcements have been made at D23 in the past and I think that this will also be the case this year. So what news should we be expecting from the expo? Only time will tell, but there are some things that I can't wait to hear more about and some rumors that I hope will prove to be true.
The D23 Expo will cover a wide variety of topics. New films, Broadway shows, awards, merchandise, and many other Disney topics will be discussed. I also expect that there will be quite a bit of theme park news this year and that is what I am looking forward to the most.
The Disney parks are constantly growing and changing. We know that Avatar is coming to Disney's Animal Kingdom and perhaps new details will be released at the expo. I don't think there will be any huge announcements regarding Epcot, but hope there may be a few small ones (more on that later). Details have been trickling out about the new Shanghai Disneyland, so I am guessing we will hear some things about that. With the anniversary celebration still going on, I am sure Disneyland will also be mentioned. This year though, I think that all eyes are going to be on one park. Disney's Hollywood Studios!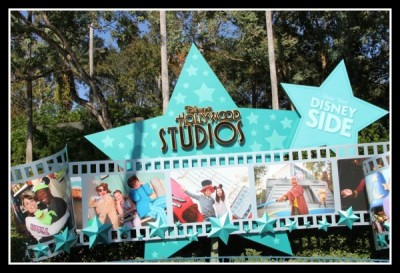 Big changes are in store for Disney's Hollywood Studios
Hollywood Studios has seen its share of attraction closures lately and there are rumors of more closures to come (please, no!). The Studio Backlot Tour is gone. The Magic of Disney Animation is no more. The Legend of Captain Jack Sparrow, closed. And the most noticeable change was the removal of the Sorcerer's Hat. Some cheered when the hat was removed and others were upset, but whether you loved it or hated it, everyone seems to agree that the hat's removal means changes are coming. Big changes.
So, what will be announced at D23? New attractions? The new name for Disney's Hollywood Studios? If you follow Disney gossip, there are a few rumors that seem to keep popping up.  I would love to find out if they are true!
One rumor that I really hope is true, is that Pixar will have a bigger presence in the park, possibly with a whole "land" devoted entirely to Pixar. I personally think this would be fantastic! Maybe a Carsland similar to the one located at Disney California Adventure will make its way to Florida. Or perhaps we will see some completely new attractions added. Either way, I love the playfulness and bright colors of Toy Story Mania and would love to see more attractions like it in the park.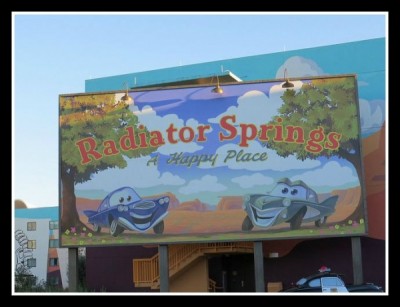 Could Cars Land be coming to Hollywood Studios?
The other big rumor is that Star Wars will have its own land. Although I like Star Wars, I am not a die hard fan. Even so, I did get a little misty eyed at the preview for Star Wars: The Force Awakens when Harrison Ford declares, "Chewie, we're home!" and I could totally get on board with more Star Wars in the park. I know there are many fans who celebrate Star Wars each May with Star Wars Weekends and would love to see more Star Wars year-round. Hollywood Studios was intended to be a park devoted to movies and Hollywood, so it would certainly make sense for Star Wars to be a big part of the park. I am also curious to see if Star Wars will have a bigger presence in other parks as well. Perhaps at Disneyland where Mickey's Toontown is now?
I expect that most of the announcements made will be about Hollywood Studios, but I do also hope that Epcot will be mentioned. Epcot has had a few closures recently as well and I am curious to see what the plans are, if any, to update or add attractions.
I am still mourning the closing of Maelstrom at the Norway pavilion. It was one of my favorites as a kid and I wasn't very excited to hear that Frozen was taking over the ride. Now that I have moved on from denial and toward acceptance, I am actually looking forward to seeing the new ride. We have already heard a lot of details about what to expect, but I hope that more details will be released at the upcoming expo. I am sure Disney wants to keep some things a surprise, so maybe we will hear more about the ride and maybe we won't. No matter what, I am sure that Frozen will be mentioned at the expo in some capacity.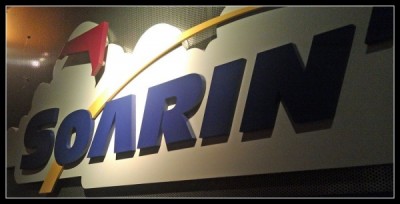 Will we soon be Soarin' around the world?
Another attraction I would love to hear news about is Soarin'. It was recently announced that Shanghai Disneyland will have an attraction called Soarin' Over the Horizon. There have been rumors for a long time that the film for Soarin' would eventually change to an around the world type adventure. Maybe this means the new film is coming very soon! If the film changes at Epcot, it may change at California Adventure too, so I am sure Disneyland visitors are anxious to hear more about this as well.  Soarin' is also expected to expand to 3 theaters so that more people can ride at a time.  It will be interesting to see if the timeline for the new theater and the film line up.
I can't wait to hear more from the D23 Expo! In just a few days, we may have some new details on the future of the Disney parks. Until then, I will just have to wait patiently!
Have you ever attended the D23 Expo? What news do you hope to hear from the event?