This post may contains affiliate links for your convenience. If you make a purchase after clicking a link we may earn a small commission but it won't cost you a penny more! Read our full disclosure policy here.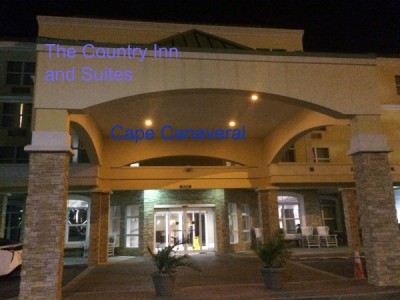 Welcome to the Country Inn and Suites in Cape Canaveral
When I booked my first Disney Cruise, our travel agent strongly suggested that we fly in to Orlando a day early, rent a car, drive to Port Canaveral, and spend the night at a hotel there. She explained that since we were flying from Los Angeles, flying in on the day of the cruise would mean taking the red eye the night before. Also, if anything happened to delay our flight, there was the horrible possibility of us missing the boat completely. (And believe it or not, our flight to MCO WAS delayed by over two hours.)
We took her advice and booked a stay at the Country Inn and Suites in Port Canaveral. Our room rate for our arrival night (Saturday, July 31st) was $131.74, and our room rate for our debarkation day (Friday, August 5th) was $169.65.
Due to the aforementioned flight delay, we were going to arrive at the hotel close to 11:00 p.m. I called the Country Inn to let them know and they assured us that they would mark us as a late arrival and that our room would be waiting for us.
When we pulled in to the spacious parking lot at 11:00 pm, we were impressed with how close we were to the Port. This was the first hotel we saw as soon as we arrived.
The building is tall, yellow, and bright. Inside, a lobby offers seating, a TV showing the news, coffee, and an astronaut! Okay, really it was an empty space suit, but it was made for photos.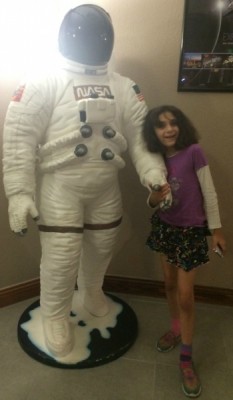 photo op!
The hotel stay came with a complimentary buffet breakfast, served just off the lobby. The room is bright and airy with lots of seating and a TV tuned to the local news. Nature themed artwork is scattered throughout. The breakfast room has a nice view of the small but pleasant pool. There is a wheelchair lift for the pool, making it accessible for those with mobility issues.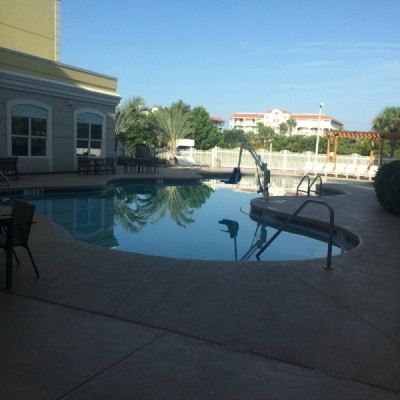 small but clean pool
The breakfast starts at 6:00 a.m. on weekdays and 7:00 a.m. on weekends. The buffet had lots of options – waffles, cereal, milk, oatmeal, biscuits, gravy, scrambled eggs, muffins, and chicken patties. However, the only fruit option we saw were whole oranges. Now, I know that Florida is famous for their oranges, but no one in my family really eats them. (We have a Navel orange tree in our backyard and we mostly give the fruit away to friends.) So I would have preferred more fruit options.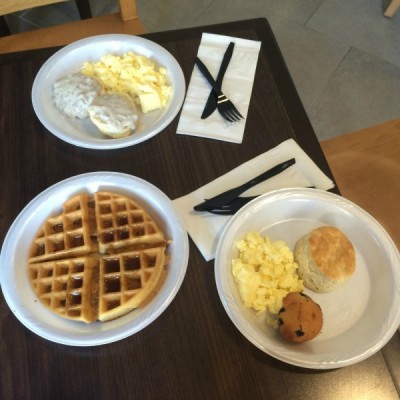 our fruitless breakfasts
Out front, there is comfortable, shaded seating, in case you are waiting for a taxi. On the fourth floor, where we stayed our first night, there are also comfy chairs near the elevator, in case you're pooped out from a long day while waiting.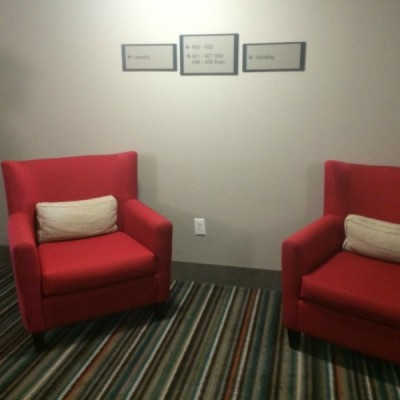 chairs near the fourth floor elevator
Our arrival night, we got room 400. We had a view of the port, which meant a sneak peek at the Disney Dream when we woke up the next day! Our departure day, we had room 213, with a view of the pool.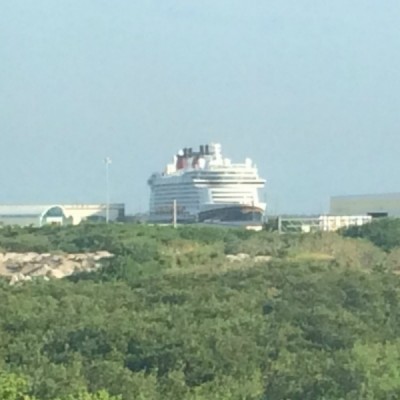 the view from Room 400 on our cruise embarkation day!
The two rooms were nearly identical in layout. Both had a comfortable chair positioned between the window and one of the two queen beds. The bathroom is large and the water pressure from the shower was great.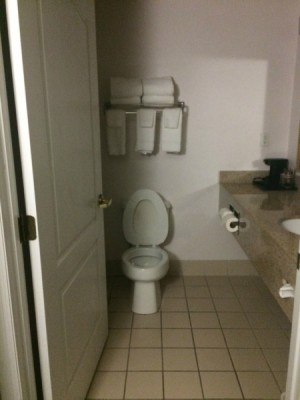 the shower is to the left
Both rooms were equipped with a microwave and refrigerator in the sleeping area and a coffee maker in the bathroom. A seating area is perfect for plugging in your laptop, and the hotel offers free WiFi. There is no password, though, so I wouldn't make any online purchases.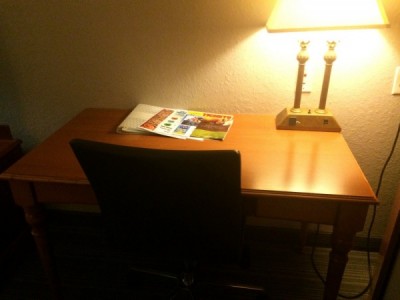 plenty of room for a laptop
We rented a car, but the hotel offers shuttle service to the cruise terminals and long term parking. (They request you move your car to the long term parking area before you depart on your cruise.)
There is no on site restaurant, but there is a vending area with drinks and snacks. Cocoa Beach is nearby and features many restaurants, including a great seafood place called Atlantic Seafood, and Waffle House, which, thank goodness, was still open at midnight so we could eat on our arrival night.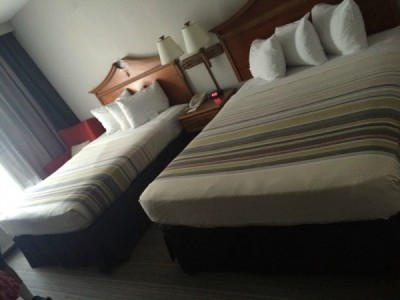 The Country Inn and Suites offers clean, reasonably priced rooms, a decent and filling complimentary breakfast, good access to both the cruise terminals and the Kennedy Space Center, and complimentary Wi-Fi. I'd stay here again.
Have you ever stayed at the Country Inn and Suites near Cape Canaveral? Share your thoughts and suggestions in the comments!