This post may contains affiliate links for your convenience. If you make a purchase after clicking a link we may earn a small commission but it won't cost you a penny more! Read our full disclosure policy here.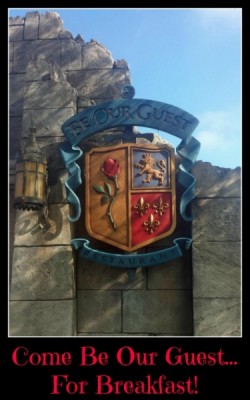 For months, rumors have been circulating that Be Our Guest Restaurant, one of the newest and most popular restaurants at the Magic Kingdom, would soon be offering breakfast.  Disney fans were delighted to finally find out last week that the rumors were true!
As soon as the new breakfast menu and hours were announced, reservations at the restaurant became the hottest ticket in town.  I knew that reservations would be tough to get, so at 6:00 am on the first day reservations were offered, my friend and I were at our computers ready to go.  The early wake-up call paid off and we were able to snag a reservation for this past Saturday.  So exciting!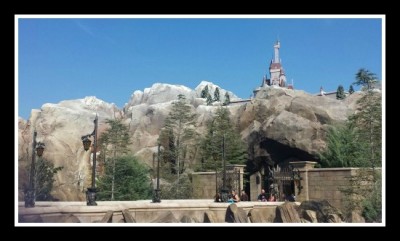 The Be Our Guest Restaurant is one of my favorites.  I really enjoy the decor and the feeling that you have just set foot into a real castle.  As you enter the restaurant, cast members direct you to an area where you will place your order on a touch screen.  Ordering for breakfast works the same way as lunch does (dinner is a table service meal rather than casual dining).  The names of the meals, as well as pictures, appear on the screen and you select your meal by tapping the item on the screen.
I asked some cast members if it is possible to modify any of the meals. They told me that since the breakfast offering is so new, making on-screen modifications is not yet possible for personal preferences, but if you have food allergies or sensitivities, be sure to let a cast member know.  They are willing to help you make any necessary changes to your meal and allergy information is available through the ordering system.  The chef is also more than willing to talk with guests about meals to ensure that any allergy needs are met.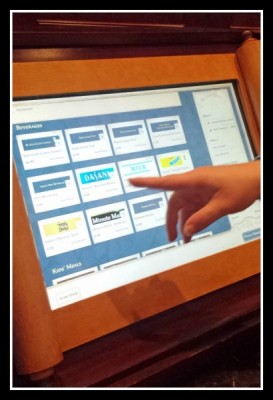 The breakfast menu is prix fixe, so all adult breakfast items are $19.99 and kids' menu items are $11.99.  These prices include a drink.  A variety of soft drinks, coffee, tea, milk, and juice are available. You can also purchase a souvenir light-up goblet, Ariel light-up cup, or pirate cup for those who want to truly feel like princes and princesses!
Choosing what to eat was difficult because there were so many things I wanted to try!  I found myself wishing for a "one of everything" option! It took some effort, but I managed to keep myself from ordering everything on the menu and we decided to order one savory breakfast and one sweet one and share.  We decided on the Eggs Florentine and the Croissant Doughnut (this one looked too amazing to pass up). The 8-year-old in our party selected French Toast from the kids' menu.
After ordering, we entered the main restaurant to choose a table. There are three rooms in the restaurant and each one has a very unique feel.  The largest is the ballroom which is decorated to make you feel like royalty.  The high ceiling is beautiful and ornate chandeliers glow to give the room a grand feel.  To the right of the ballroom, you will find the Castle Gallery.  This room is warm and cheery with a large figurine of Belle and the Beast dancing at its center.  On the other side of the ballroom, you will find the West Wing.
A favorite of many, myself included, this is usually the most popular room.  It is dimly lit and eerily decorated to really give it that "forbidden" feel.  The glowing rose sits delicately at the back of the room.  When lightning strikes, as it often does during your dining experience, be sure to look at the portrait of the prince on the wall.  You may find a beastly surprise there!  Although this is not a character meal, you can almost feel the presence of the Beauty and the Beast characters through the decor.
Drinks are self-serve, so we each selected our drink and brought it back to the table.   In no time at all, a cast member came to our table with a food cart containing our meals.  I knew as soon as I saw our breakfast that it was going to be fantastic!
Each meal begins with a selection of pastries.  They looked delicious and we would soon find out that they were.  Since we were two different parties sitting together and had ordered separately, we had two pastry trays brought to our table.
Once all of the food had arrived, it was almost overwhelming.  Any hesitations I originally had about a price tag of $19.99 were erased when I saw all that was included with the meal.  We decided to skip the pastries for the moment and dive right in to our entrees.
We had a hard time deciding between the Open-Face Bacon and Egg Sandwich and the Eggs Florentine. We ultimately decided on the Eggs Florentine, but the sandwich was a very popular choice among guests. I saw lots of clean plates, so it must be as yummy as the other items!
The Eggs Florentine was delicious and I definitely did not regret ordering it.   The eggs are served in a fluffy, pastry croissant-like shell that serves as a "basket" for all of the ingredients.  The eggs were cooked perfectly, not too dry and not too runny.  I also really enjoyed the spinach, but the Gruyere cheese was my favorite part.  It was creamy with a mild flavor that complimented the eggs well. The dish was served with two small slices of country ham and roasted tomatoes, creating a perfect medley of flavors. It all went together very well.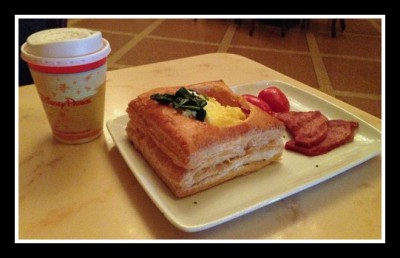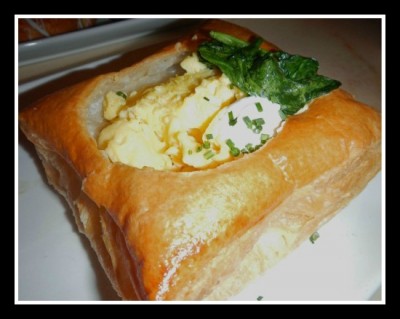 Next up, the croissant doughnut.  All I have to say is WOW!  If you want to indulge at breakfast, this is the way to do it. This entree could easily fall into the dessert category. The doughnut was light and flaky, similar in texture to the one you can find at Epcot, but the flavors are very different.  The Epcot version is very heavy on the cinnamon and sugar, but this one has a flavor more like a danish.  I fully expected a repeat of the Epcot doughnut and it was a pleasant surprise that they were so different.  I recommend trying both!
The hole of the doughnut is filled with a custard that was creamy and had a hint of citrus flavoring.  The doughnut is topped with fresh bananas, caramel sauce and a dash of chocolate.  If that is not decadent enough for you, they finish the topping with a dollop of whipped cream and a sprinkle of powdered sugar! This was the favorite of our group by far. It was incredibly sweet though and I was glad that we decided to cut both dishes in half.  Half of the doughnut was plenty for me and I think it would have been a bit too much without the eggs to balance out all that sugar.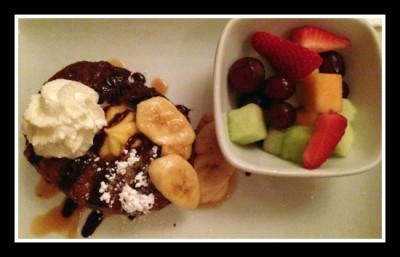 The kids' French toast was a bit of a disappointment.  Although it earned the stamp of approval from our young critic, I thought this dish was very bland.  I was happy that brioche was used instead of plain white bread and was expecting it to be tasty, but overall it was very dry, even with the maple syrup on top.  It probably didn't help that I had just eaten a few bites of the doughnut, so after that, the french toast just tasted like toast with powdered sugar and syrup.
The only other complaint I had was that the coffee was very weak.  It is possible that we just got a particularly watered-down pot. No worries though, we got our morning caffeine fix later on at Starbucks on Main Street.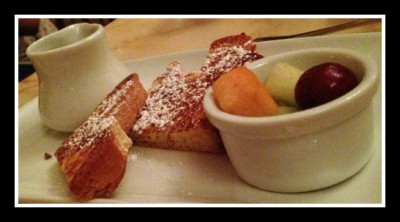 By the time we finished our meals, we were stuffed!  We asked for a to-go box and took our pastries with us.  This worked out well because we snacked on them throughout the day.  All of the pastries were yummy, but we had a few favorites.  My personal favorite was the danish.  The middle was filled with raspberry and a very creamy cheese filling.  It tasted almost like cheesecake.  The blueberry mini-muffin was also a big hit.  It was soft and fresh with a sprinkle of sugar topping.  Last, but most certainly not least, was the chocolate croissant.  Like the doughnut, this one goes in the dessert category. The pastry was flaky and buttery and it was loaded with chocolate. We absolutely loved this one!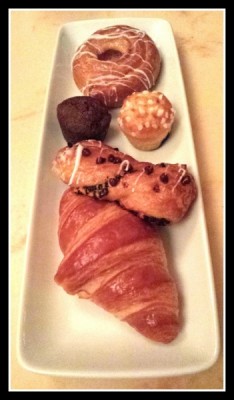 When we returned home, a friend asked if breakfast or lunch was the better meal choice at Be Our Guest.  For me, it is just too hard to choose.  I love the lunch the menu and the chance to relax in the middle of the day in the air conditioning.  I really enjoy slipping in the West Wing and escaping the hustle and bustle of the park for a while.
Breakfast had a much more relaxed feel.  The restaurant was not as crowded (though this may change if they begin allowing more reservations).  The food was great and the pastries felt like a bonus snack for later in the day.  Starting the day off with a substantial meal allowed us to eat lunch much later in the day and avoid the crowds.  I loved both and am looking forward to visiting again for breakfast and lunch!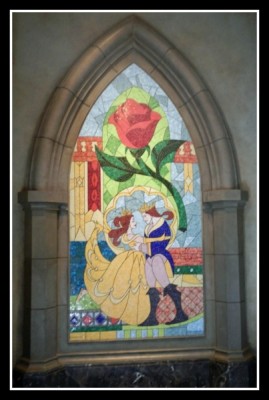 The Be Our Guest breakfast menu is currently in the testing phase and will be available until June 18.  If you aren't able to make it before then, I wouldn't worry too much.  I can't say for sure, but based on how popular it has been so far, I have a feeling this one is here to stay. I have my fingers crossed that it will!  I am already dreaming of the croissant doughnut and my next breakfast reservation!
Are you looking forward to trying the new breakfast at Be Our Guest Restaurant?  Let us know what you plan to try in the comments section!