This post may contains affiliate links for your convenience. If you make a purchase after clicking a link we may earn a small commission but it won't cost you a penny more! Read our full disclosure policy here.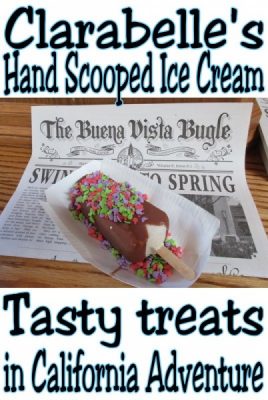 As summer hits, we'll all need something cool while we're braving a sweltering theme-park day. Whether you're just stopping by for an afternoon treat, or attempting to snack your way through the parks, Clarabelle's Hand Scooped Ice Cream in California Adventure serves special treats that you won't find anywhere else at the Disneyland Resort.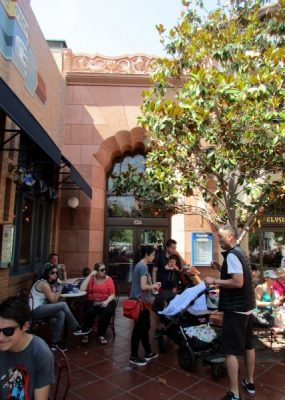 You can barely see the sign for Clarabelle's from the street (it's the little blue box)
But first you will have to find Clarabelle's! It's a little hard to spot on Buena Vista Street, off the central hub with the Walt and Mickey statue. Clarabelle's squeezes between the Trolley Treats candy shop on the corner and the Fiddler, Fifer & Practical Cafe (a Starbucks location). The stores connect so you can enter from any of the three. Look for the arched entrance and the people with delicious-looking desserts!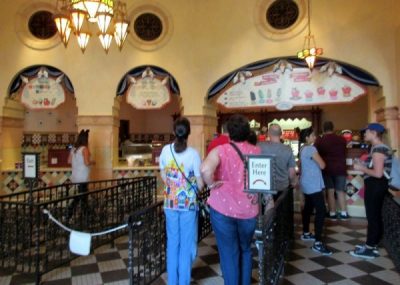 Ordering occurs via a walk-up counter that rarely gets long lines, even in mid-afternoon. You order and pay under the main menu, then the Cast Members will call your number for pick-up over to the side.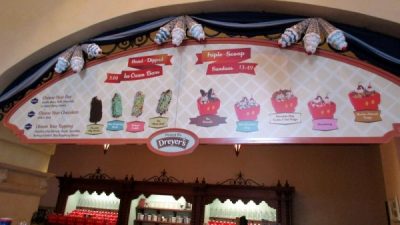 I love a menu with pictures!
Single- and double-scoop Dreyer's ice cream cones in eight to ten flavors are available. But here, you want to check out the unique offerings.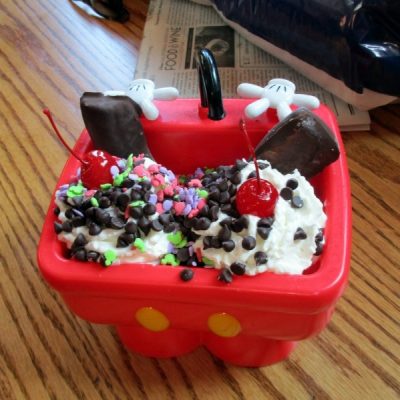 The Oswald Sundae with chocolate-dipped bananas
This is the only place you will find the "Kitchen Sink," also popularly know as the "Mickey pants sundae." This adorable tub holds three scoops of ice cream, plus special toppings depending on which of five sundaes you order. It's a very shareable, Instagram-able dessert. You get to keep the plastic container.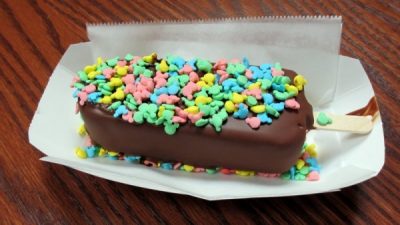 I'm personally partial to the hand-dipped ice-cream bars, which I knew as "Balboa bars" growing up in Southern California. I think it's perfect that Disney recognized a regional delicacy and incorporated it into the menu of a park focusing on California.
These bars come fully customized. You'll pick from three ice-cream flavors, milk or dark-chocolate coating, and several sprinkle and topping options. But I always get the Mickey head sprinkles!
Seating shares with the Fiddler, Fifer & Practical Cafe. It's a great arrangement as the Starbucks rush comes in the morning, and business picks up at Clarabelle's in the afternoon.
Next time you're at California Adventure and want something sweet and refreshing, skip the snack cart and head for Clarabelle's Hand Scooped Ice Cream.
What is your favorite treat to get from Clarabelle's Hand Scooped Ice Cream? Share in the comments!
Did you like this article? Make sure to share it with your friends! Check below for easy ways to share!