This post may contains affiliate links for your convenience. If you make a purchase after clicking a link we may earn a small commission but it won't cost you a penny more! Read our full disclosure policy here.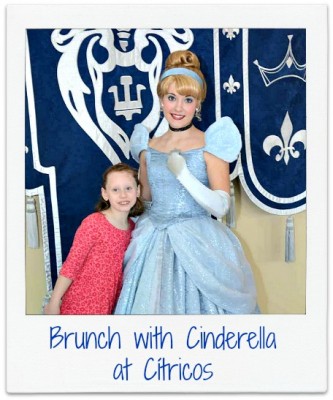 While Cinderella's Royal Table restaurant is undergoing refurbishment here in early 2015, Disney is offering a new, limited time character dining experience – Cinderella's Dining at Cítricos – Breakfast and Brunch with the Disney Princesses, available from January 8 to March 3. We had the opportunity to try the brunch at Cinderella's Dining at Cítricos on our most recent trip, and while it was fairly similar to Cinderella's Royal Table, there were enough differences to make this a unique dining experience. Read on for a full review!
The Princesses
If you've ever dined at Cinderella's Royal Table, you'll recall that upon checking in for your reservation, you're "greeted" by Cinderella and have a photo op with her in the lobby. Disney stays true to this format at Cinderella's Dining at Cítricos, although when we dined there, we found that the pace at Cítricos was much more relaxed and far less chaotic than at Cinderella's Royal Table.
After meeting Cinderella, we were ushered to our table by the windows, which had a lovely view of the Grand Floridian's grounds and the lake. We even saw a monorail come by a few times during our meal! Though while the view from Cítricos was an added bonus, we were really there to see the Princesses! During the course of our brunch, the following Disney princesses stopped by our table for photos and autographs:
Belle
Snow White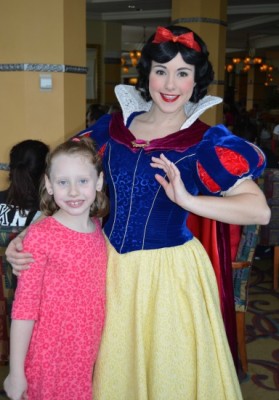 Ariel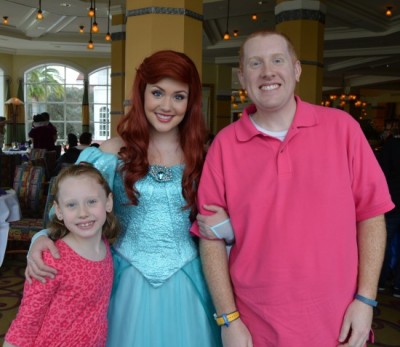 Jasmine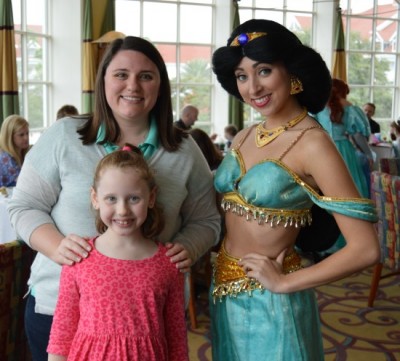 The Menu
The menu at Cinderella's Dining at Cítricos is one main aspect that differs from Cinderella's Royal Table. Because this limited time dining experience is billed as 'Breakfast and Brunch,' the menu varies from traditional breakfast items to more savory, dinner-type entrees.
The Specialty Beverages
Another unique aspect of Cinderella's Dining at Cítricos is that one specialty beverage per person is included in the price of the meal. For adults, these beverages included a Mimosa, Spiced Tomato Juice with Vodka, or a glass of Wine. For children, specialty beverages included the "Buzz Apple", the "Tink Drink", or a Strawberry Smoothie – all presented in a "souvenir" cup.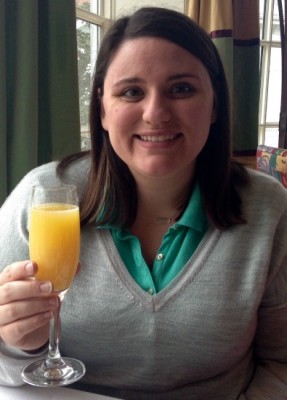 We both opted for the Mimosa, which was served in a champagne glass and was a nice start to our meal.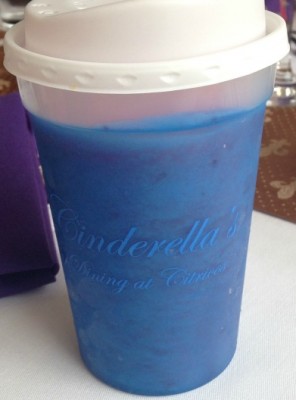 Our daughter ordered the Strawberry Smoothie, which she greatly enjoyed.
The Appetizers
When we received our drinks, we were also served a basket of fresh pastries, muffins, and whole-grain croissants. Elizabeth enjoyed the croissants, which were light and buttery; Scott enjoyed the pastries, which were light, sweet, and had a delightful apple filling; and our daughter enjoyed the mini blueberry muffins – so much so, that neither of us got the chance to try a bite before she gobbled them up!
As for the Appetizers on the menu, the selection was fairly minimal – with two options on the Children's menu (Cheddar Cheese and Grape bites or a Garden Salad) and four on the Adult's menu (a Garden Salad, Chicken Noodle Soup, Charcuterie, or Assorted Fresh Fruits).
Our daughter selected the Bite-size Cheddar Cheese and Grapes, which was served in a small bowl. The grapes were served with the stems still attached, and the dish was very basic – but our 7-year-old daughter absolutely loved this appetizer! And isn't that what really counts?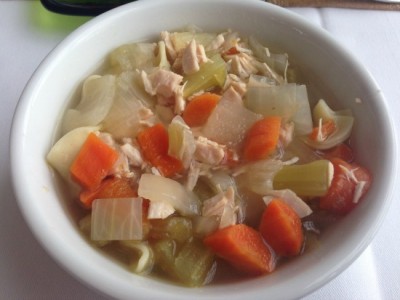 Elizabeth ordered the Chicken Noodle Soup, which was brimming with chunks of vegetables, chicken, and egg noodles. The soup was a bit bland and required some additional seasoning, but overall was tasty and very enjoyable on the cooler January day.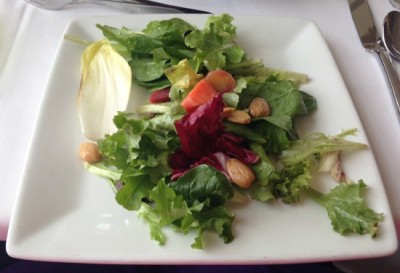 Scott opted for the Garden Salad, which was served with greens, endive, roasted carrots, sugar snap peas, almonds, and Riesling vinaigrette. The salad was fairly small and somewhat bland; Scott would have preferred a Caesar salad or something more substantial.
The Entrees
Because there is a flat price for this experience ($49.99 per adult and $31.99 per child, ages 3 to 9 – tax is not included, but gratuity is) we opted to order heavier, dinner-type entrees. We just couldn't justify spending $140.00 on the same scrambled eggs and Mickey waffles that you can find at any quick service restaurant for less than 1/3 of the price!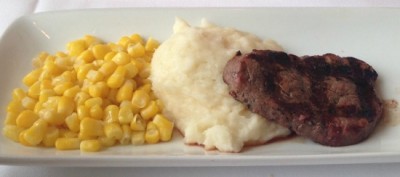 Our daughter chose the Steak from the Children's menu, which was served with Mashed Potatoes and Sweet Corn. This was essentially the perfect meal for her, and she ate every last bite! The steak was cooked perfectly, and she was pleased that it was served without any type of sauce (as she's been unpleasantly surprised by a well-meaning sauce at California Grill on a past vacation).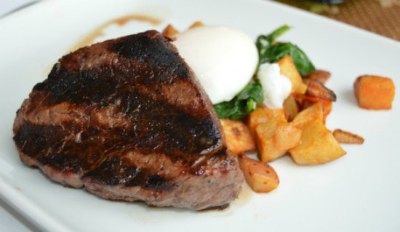 Elizabeth ordered the Steak and Slow-poached Egg, which was served with Breakfast Potatoes and Wilted Spinach. The steak was cooked as ordered, and was a very tender, flavorful cut. This being her first experience with a "slow-poached" egg, Elizabeth wasn't overly fond of the egg's gelatinous texture. Also, the seasoning on the breakfast potatoes didn't compliment the steak and spinach as well as it could have, although the potatoes were fine overall.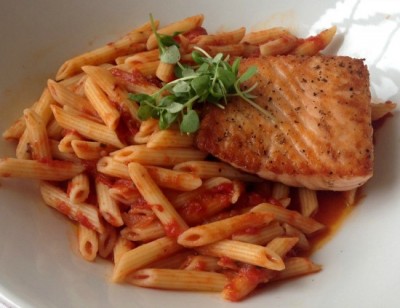 Scott selected the Market-inspired Fish, which turned out to be Salmon and was served on a bed of Penne Pasta with "Aromatic" Tomato Sauce. The salmon was cooked perfectly and the tomato sauce on the pasta was absolutely delicious! This was one of Scott's most enjoyable meals on our entire week-long trip, and he savored every bite.
The Dessert Trios
At the end of the meal, we were each served a Dessert Trio. The Children's dessert consists of 3 small vanilla cream puffs, which were okay, but nothing to write home about. The adult's dessert trio included 3 petite desserts – one of the vanilla cream puffs, a Crème Brulee cake, and a chocolate raspberry cake. While the dessert trio was fine, we would have preferred a stand-alone dessert of our choosing. But by this point, we were all sufficiently stuffed!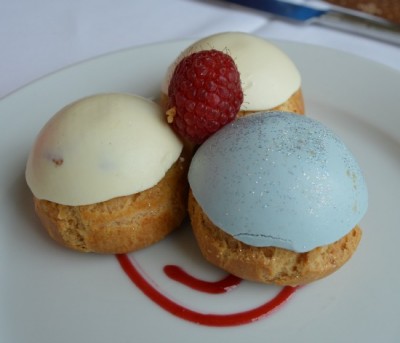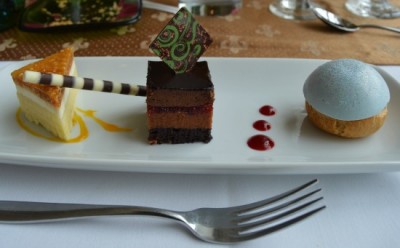 We opted for the brunch at Cítricos, as we wanted to get the most for our money and steak and salmon seemed a bit heavy for breakfast. We're not sure if we just chose an unpopular time (1:30 pm), if guests were simply unaware that this dining experience was available, or if perhaps the steep prices kept many away – but there were several open tables available the day that we dined at Cítricos.
In contrast, while searching for dining reservations for our week-long January stay, we noticed that Akershus seemed to picking up all of the displaced Cinderella's Royal Table diners, as there was not a reservation to be had. So, if you're planning a visit during the Cinderella's Royal Table refurbishment, and your child is set on dining with the princesses, you might have better luck securing a reservation for Cinderella's Dining at Cítricos than at Akershus.
One main downside to this is that like Cinderella's Royal Table, Cinderella's Dining at Cítricos will "eat up" two of your table service credits if you're using a Disney Dining Plan, making Akershus the far better value. Also, be sure to note that Cinderella's Dining at Cítricos does not accept Tables in Wonderland, or any other dining discounts (such as Annual Pass, DVC, or Disney Visa discounts).
Have you tried Cinderella's Dining at Cítricos, or do you plan to try it during its limited time availability? Would you like to see Cinderella's Dining at Cítricos become a permanent dining option?