This post may contains affiliate links for your convenience. If you make a purchase after clicking a link we may earn a small commission but it won't cost you a penny more! Read our full disclosure policy here.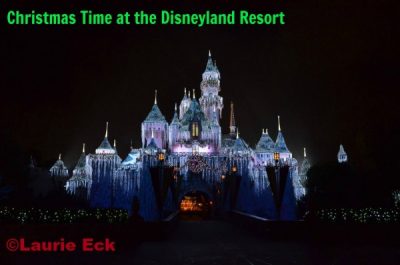 Sleeping Beauty Castle dressed up for the holidays
Ask my 11 year old daughter to list her favorite things, and "Christmas" and "Disneyland" will be on that list. Of course, if you put those two things together, you get a magical experience rivaled on few other places in the world.
When the winter holidays arrive, Disneyland practically glows with holiday spirit, not only in the two theme parks, but also in Downtown Disney and the three on-property hotels.
Here are a few of the highlights:
FESTIVAL OF HOLIDAYS AT CALIFORNIA ADVENTURE
New this year is the Festival of Holidays at Disney California Adventure. For many, the most exciting addition is the new World of Color: Season of Light. Disney has proven that they can tinker with this uber popular night time show and always add something new and exciting, and the new holiday version is turning out to be as wonderful as it sounds.
When you get hungry, there's the Festive Foods Marketplace, which to many Walt Disney World regulars will seem like a Food and Wine Festival Light. Naturally, since California Adventure is significantly smaller in size than Epcot, the festival is smaller as well. But the interesting thing here is that the foods are all holiday related; you'll be eating foods that different cultures really eat when they celebrate the winter holidays.
As with so many Disney parks worldwide, you should always be ready to catch some live entertainment. In this park, be on the look out for Viva Navidad! This features the traditions, music and dance typical in Latin America during Christmas time.
And how can you celebrate Christmas without the big guy himself, Santa Claus? The Redwood Creek section of the park has been given some holiday flair by Santa and his elves. You can meet Santa himself, so be sure to be good, for goodness' sake.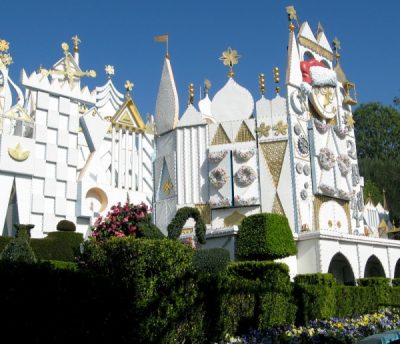 it's a small world holiday, Disneyland Park
DISNEYLAND PARK HOLIDAY HAPPENINGS
Although Disneyland doesn't have Mickey's Very Merry Christmas Party like they do in the Magic Kingdom, there are plenty of Christmas activities to keep you busy. My favorite is it's a small world holiday. Not only is the exterior of the ride done up with dazzling decorations (see it at night – trust me!) but inside, the dolls sing Jingle Bells in addition to that song which shall not be mentioned.
During this season, try to catch A Christmas Fantasy Parade, featuring your favorite Disney characters done up in their holiday finery. This parade always puts a smile on my face.
After nightfall, the fireworks show Believe…in Holiday Magic is not to be missed. Fireworks burst over Sleeping Beauty Castle to the tune of Christmas and Hanukkah songs. And when it's over, prepare yourself – it's about to snow in Southern California!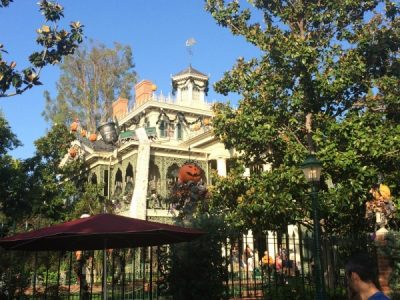 Halloween just took over Christmas at the Haunted Mansion!
The Jingle Cruise also sets sail during this season. Your Jungle Cruise skippers are missing home this holiday season, and their usual corny jokes get seasonal as you ride through the Christmas decorated jungle.
In case you didn't catch it during Halloweentime, the Haunted Mansion Holiday is still in full swing! Jack Skellington is still convinced that it's a good idea for the residents of Halloweentown to try their hand at Christmas this year, with hilariously spooky results.
DOWNTOWN DISNEY SHOPPING
As you might expect, this place gets very busy during the holiday season as visitors as well as California locals descend on Downtown Disney to shop! Pretty much every shop has Christmas items for sale, and the sweets tend towards gingerbread and peppermint.
CHRISTMAS CELEBRATIONS AT THE HOTELS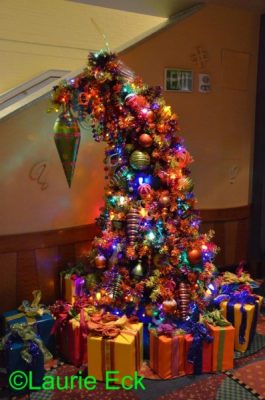 A Goofy Christmas Tree at Goofy's Kitchen, the Disneyland Hotel
The three official hotels of the Disneyland Resort are also decked out in their holiday best. Each lobby will have a fanciful, over the top Christmas tree, and the gingerbread replica of the Grand Californian, found it it's lobby, is staggering.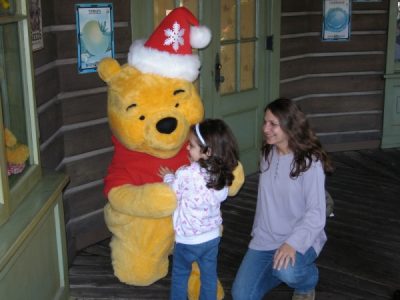 There's much to do and see here at Disneyland during the holidays, when it turns into the Merriest Place on Earth.
What holiday activity do you look most forward to experiencing at Disneyland? Share in the comments!