This post may contains affiliate links for your convenience. If you make a purchase after clicking a link we may earn a small commission but it won't cost you a penny more! Read our full disclosure policy here.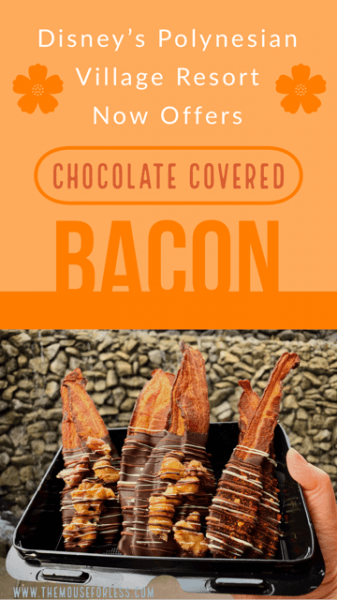 This weekend, a friend of mine and I were on a mission. You see, we had heard that a rumor that there was chocolate covered bacon being sold at Disney's Polynesian Village Resort. Now, I know what you're thinking – chocolate covered bacon sounds extremely odd…but that didn't stop us! We were up for the challenge. Bacon is delicious with the sweet taste of syrup, so chocolate shouldn't be too much of a stretch.
The question was….just where was this bacon located? Initially we thought, it might be at Captain Cooks, the counter service location, or maybe the Pineapple Lanai, which is where you pick up your Dole Whips, but lo and behold, as we were walking into the resort from the monorail, our eyes spotted exactly what we were looking for. You see, sitting there, in a lovely case, right next to Kona Cafe at the Kona Island was the coveted bacon.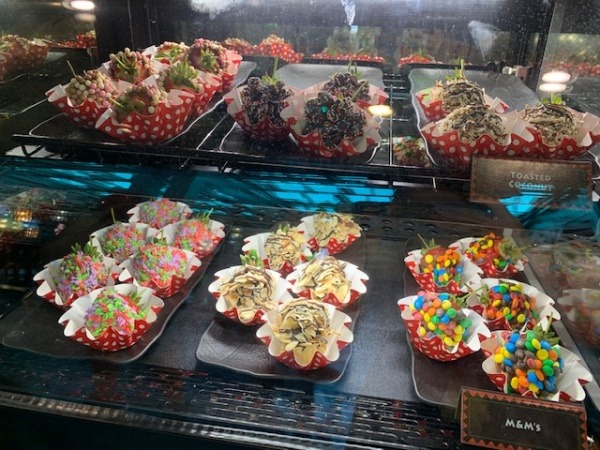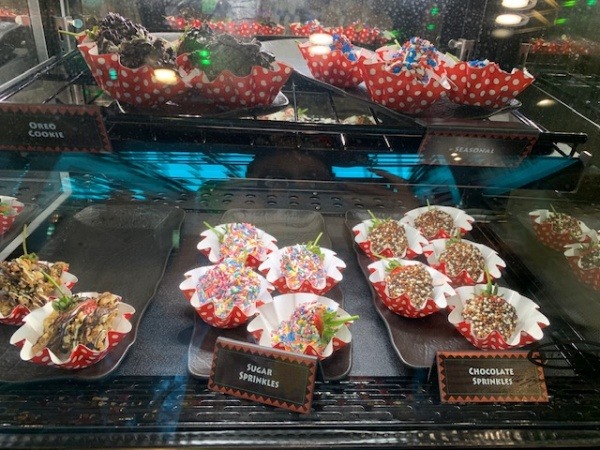 Well, actually what brought this spot to my attention was the fact that they were now selling beautiful chocolate covered strawberries that are coated in delicious toppings….but then the bacon caught my eye! Ah-ha!
So, my friend and I did our due diligence. We picked up the three different types of bacon to sample and report back!
There are three different types of chocolate covered bacon. The first was a seasonal flavor, which this day happened to just be dark chocolate with white, dark, and milk chocolate drizzle. Then there was the Dark Chocolate Chili Bacon. Finally, there was the one I was the most excited about – the Dark Chocolate Cinnamon Pecan Bacon.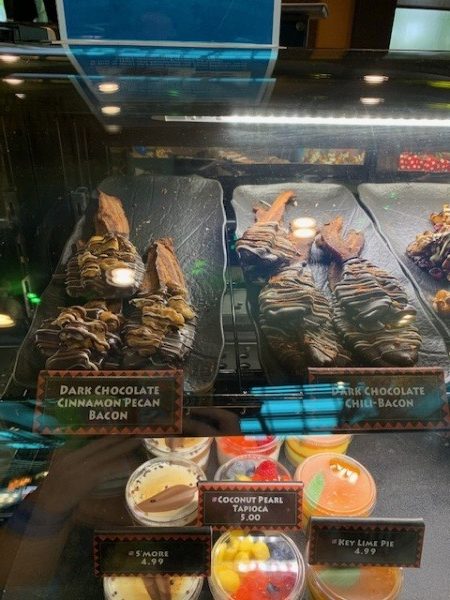 The bacon cost $4 for each cluster and each cluster contains two pieces of bacon. (The strawberries are also $4 each for those who are curious.)
Take a look at this gorgeous bacon!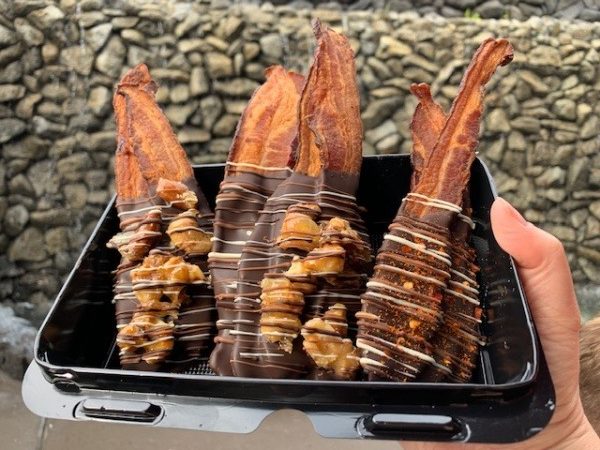 The Seasonal option was, of course, the most basic. With a nice chocolate flavor mixed with the bacon, it was certainly delicious, but the other flavors were more nuanced.
The Chili Bacon definitely had a bit of kick to it.
My favorite though was the Cinnamon Pecan Bacon. Now, I didn't taste a very strong cinnamon flavor. It mostly tasted like candied pecans. The sweet and salty paired together in a heavenly manner.  It was so yummy.
Keep in mind, the bacon can be a little difficult to eat, especially the pecan version. The bacon overall was crispy, not wiggly, which is just the way I like it!
I did find that the cost for the bacon wasn't terrible. Yes, it's only two pieces of bacon, but compared to the strawberries, which were the same price, I felt that this was a much better deal.
Overall, I would get this again and if you are even curious, I would suggest you try it too!