This post may contains affiliate links for your convenience. If you make a purchase after clicking a link we may earn a small commission but it won't cost you a penny more! Read our full disclosure policy here.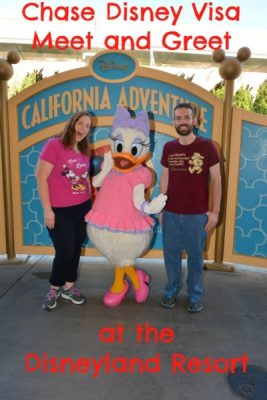 If you've been to a Disney Park, or maybe even thought about going to one you've probably seen them – ads for the Disney Chase Visa. You can look a variety of places to find all the benefits and reasons you might want to get one, but I wanted to share one particular perk that I was able to use for the first time during my recent Disneyland trip – the exclusive meet and greets.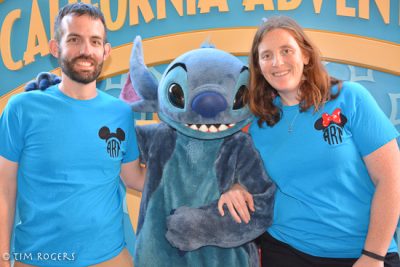 Even though I've been to Walt Disney World many times and seen the signs and information for the Chase Visa meet and greets, I only got my own card recently, so Disneyland was my first experience utilizing this perk. And as a spoiler to the rest of this story, even if you only got it for the gift cards, reward dollars, discounts, or because you wanted a credit card with Darth Vader on it, you should really take advantage of these exclusive meet and greets.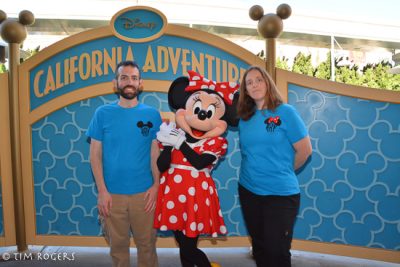 The first location we wandered upon was the one in Disney California Adventure. This location is pretty clearly marked, and is in a corner of Hollywood Land near Mike and Sully to the Rescue. It is open every day from 10:30 a.m. to 1:30 p.m.
When you arrive, you'll check your party in at the kiosk (where you verify that you are a cardholder), and then wait out of sight of the character until the group before you is completely done. This small procedural decision really makes this feel like a private meet and greet when you are with the character, and you don't seem to be rushed at all so there can be a lot of fun interaction.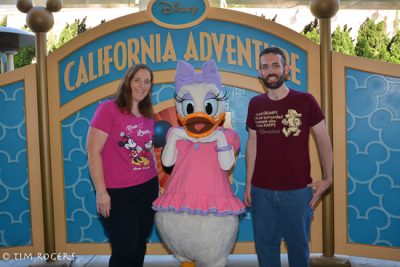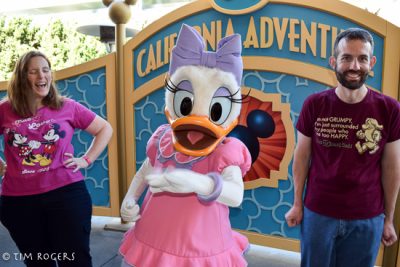 In Disney California Adventure, we had the opportunity to meet three different characters: Minnie, Daisy, and Stitch. The Cast Member at check-in was able to tell us when each would be there so we were able to meet them all without much trouble. Also, the longest wait we had at this location was maybe one group in front of us. It was much faster than any other character meets we tried throughout Disneyland.
In Disneyland park itself, the meet and greet is Star Wars themed. Located in Launch Bay and available from 2:00 p.m. – 6:00 p.m. First, a note: the check-in for this meet blends in very well and we missed it the first time through Launch Bay. It really just looks like a dark podium that blends in with the wall in a corner. We had to ask someone where to find it, but then it was pretty easy.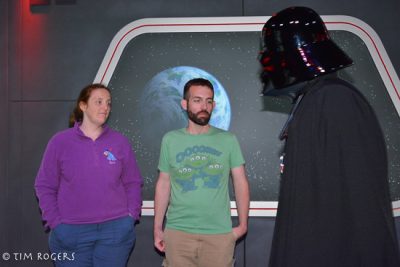 While it is possible that they might play around with different characters, for us it was just Darth Vader. We were able to walk right in, and then Darth Vader really played a scene with us, talking about scanning us (with the camera) and doing a menacing walk around the room. It's a sort of plussed-up meet and greet. While slightly awkward (for us) it was amusing and worthwhile.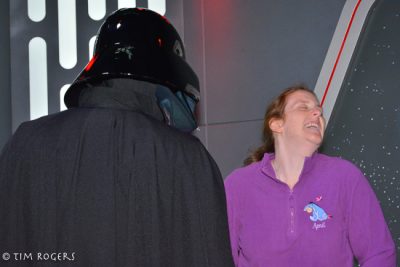 One last note for both of these – as a part of the meet and greet you get free downloads of the pictures via your account. You can check these out on the app or download them to a computer. It's the same process as doing Memory Maker or Photopass, but for these meets you automatically get them for free, which is a nice perk.
So if you have a Disney Chase Visa, or are thinking about getting one, whether you are heading to Disneyland or Walt Disney World, make sure you take advantage of these meet and greets.
Have you participated in the Chase Disney Visa meet and greets at either Walt Disney World or Disneyland? What were your experiences? Share them in the comments.
Did you like this article? Make sure to share it with your friends! Check below for easy ways to share!
Incoming search terms:
chase meet and greet orlando
https://www themouseforless com/blog_world/chase-disney-visa-meet-greets-disneyland-resort/#:~:text=This location is pretty clearly a m to 1:30 p m