This post may contains affiliate links for your convenience. If you make a purchase after clicking a link we may earn a small commission but it won't cost you a penny more! Read our full disclosure policy here.
What do you do when your 14th wedding anniversary coincides with Spring Break? You take your kids to Disney World, of course! At least that is what you do when your kids are 11, 8, and 4. Since the grandparents came too, we were able to have a night out for the big day. We were recommended several restaurants to choose from and we decided on the California Grill on the top floor of the Contemporary Resort overlooking the Magic Kingdom.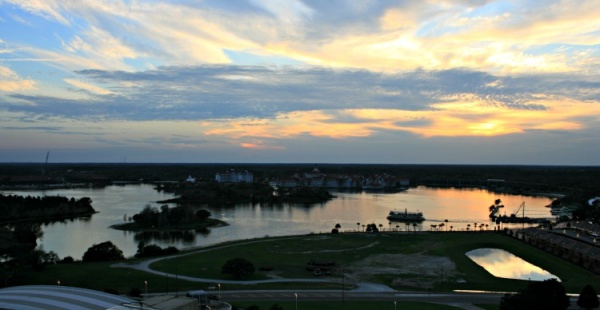 We lined up our baby-sitters (thank goodness for grandparents, they took the kids to the resort's movie night), dressed up a bit (there is a dress code for the restaurant), and grabbed a bus from our room at the Port Orleans Riverside Resort to the Magic Kingdom. We then enjoyed a leisurely, short, and beautifully landscaped walk to the Disney's Contemporary Resort and watched the monorail come and go. You check in on the second floor and are escorted up the elevator by an attendant. An elevator attendant!
I feel like you have to understand something about my dear husband and I. Our current tastes for dining out often involve toys in the kids meals, the occasional date night, or casual dining at chain restaurants. I began to get a little nervous that we were going to be eating at a stuffy, fancy-smancy place that we were going to feel uncomfortable in. I kept imagining that the wait staff would be walking around looking down their noses at everyone and wondered if I would know which fork went with what.
As soon as we stepped off the elevator, I actually forgot we were at Disney World! We were immediately greeted by a host saying "Happy Anniversary!" and a wall of wine bottles.  They offer over 300 different kinds of wine, Wow! We turned a corner and were confronted with the most incredible view of water, palm trees, and sunset that took our breath away through a wall made entirely of windows. Our host even paused a moment and let us soak that in before he gestured with a knowing smile, "Right this way." We closed our mouths and followed.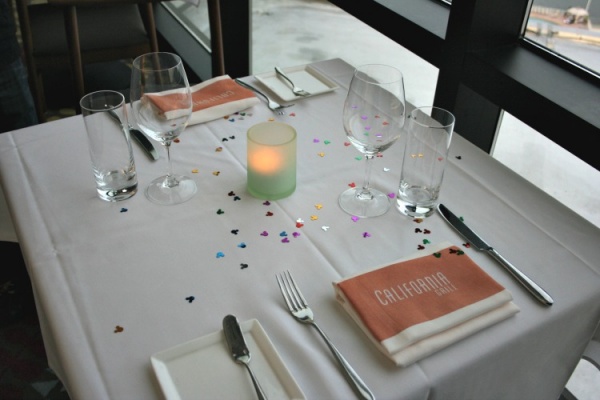 He seated us in a little side room that was perfectly romantic and quiet. I almost felt like it was just the two of us. It had been mentioned that it was our special day and our window table was ready for a celebration with little Mickey Mouse confetti sprinkled all over it.
Our waiter was fancy-smancy, but in a good way. He never once looked down his nose at us, but was professional, full of friendly smiles, and knowledgeable.  He was well informed about the different food options and answered our questions and made recommendations without hesitation.
The food was incredible and I kept wanting to take pictures of it. It was truly art and tasted even better. I had the Bison Tenderloin and my husband had the Pork Two Ways…melt in your mouth goodness.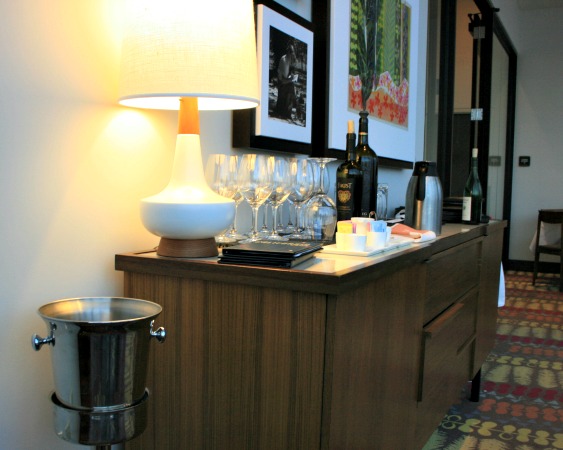 The decor was modern, mixed with some mid-century modern pieces like this lovely credenza and lamp near our table.
The view was really center stage and when we weren't staring at each other (hey, it was our anniversary!) then we were staring out the windows.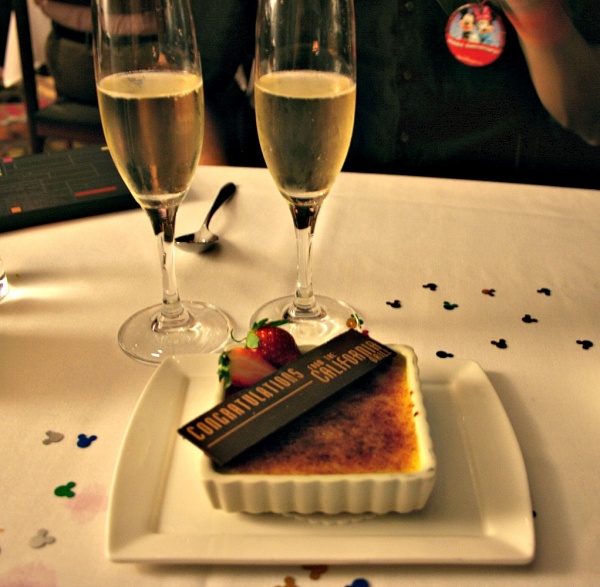 Our waiter then brought us another wonderful surprise in the form of two glasses of champagne and Creme Brûlée prepared perfectly and "on the house" for our special anniversary.  "On the house"…magic words for a budget-conscious family of five.  By the way, that little note on our dessert that says "Congratulations from the California Grill" is a piece of chocolate! Yummy!
Now that we were perfectly stuffed, we took our champagne glasses outside to enjoy the view. On either side of the restaurant, there are observation decks to take in the view from every angle.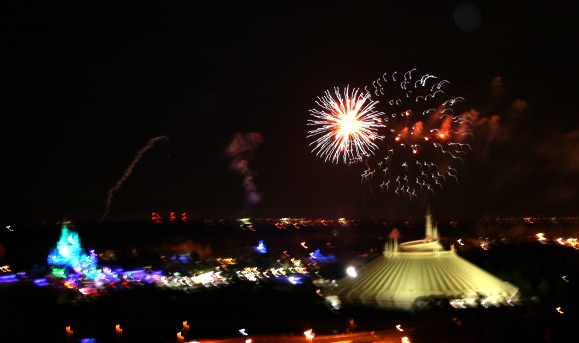 We found ourselves a good spot and waited for the Wishes Nighttime Fireworks Spectacular at the Magic Kingdom. The restaurant turns down its lights and pipes in the music and narration of the nightly show!  They even allow you to return to the observation deck with your receipt if you had a meal there at another time that day.  We didn't want the evening to end.
Champagne, romance, fireworks, music, amazing melt in your mouth food, friendly staff, long needed dinner sans our (most of the time) adorable kids and a whole lotta magic, but what else do you expect from Disney World?!